At least 31 people are dead after two Indian passenger trains derailed within minutes of each other on flooded tracks on a bridge in central India.
The Kamayani Express was en route to Mumbai when it derailed around midnight on Tuesday night near the town of Harda in Madhya Pradesh state.
The second train, the Janata Express, was travelling in the opposite direction and derailed soon after.
Officials have reportedly said that 300 people have been rescued.
The trains were crossing a small bridge near the Machak River, about 950km south of New Delhi.
An earlier train had passed on the tracks without incident but a flash flood caused part of the track to sink into the ground forcing the trains to derail, according to a senior railway officer.
Six coaches from the Kamayani Express and the engine and four coaches from the Janata Express were derailed. At least two coaches are believed to be partially submerged in mud.
Rescue workers got to the scene quickly but were delayed by the darkness and are still searching for survivors.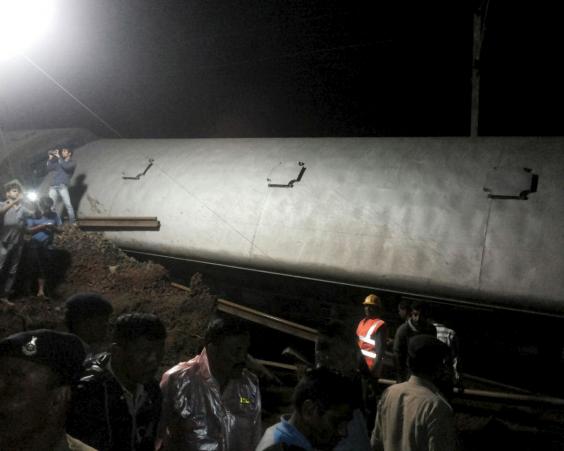 According to India Today, several children are believed to be among the dead.
One railway official, Anil Saksena, said: "We are getting reports that there were flash floods and the tracks caved in. Most of the coaches had passed but the last few carriages were derailed."
Passengers on one of the trains told local media that water was visibly overflowing on the tracks before the train attempted a crossing.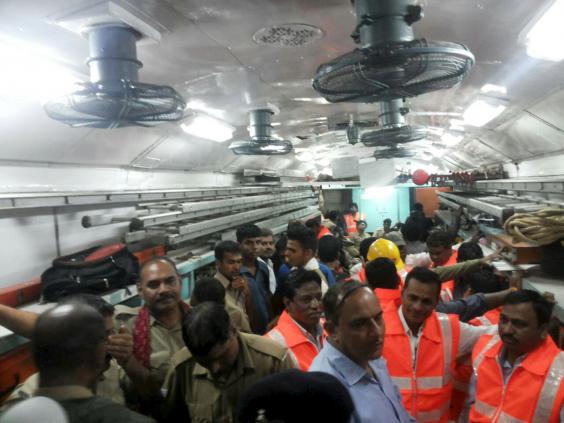 One passenger Shashi Bhushan Pandit told the Hindustan Times: "The water level on the track was almost waist-high. The current was swift...I cannot say how many people are trapped."
Indian Prime Minister Narendra Modi tweeted his condolences to the victims and said local authorities were doing everything they could to help people on the ground:
The two train accidents in Madhya Pradesh are deeply distressing. Deeply pained over the loss of lives. Condolences to families of deceased.

— Narendra Modi (@narendramodi) August 5, 2015
My prayers with the injured. Authorities are doing everything possible on the ground. The situation is being monitored very closely.

— Narendra Modi (@narendramodi) August 5, 2015
India has been hit by severe flooding in recent weeks due to heavy monsoon rains with 100 people killed in the past week.
In pictures: Floods devastate India and Pakistan
In pictures: Floods devastate India and Pakistan
1/10 India

Kashmiri residents struggle to withstand sudden and strong water currents while wading through floodwaters in their efforts to move to safer places in Srinagar

2/10 India

A girl stands in the rain as her family members salvage the items from their temporary tent after the recent flood in Srinagar

3/10 India

People stand on a damaged bridge which was swept away by floods on the river Tawi in Jammu

4/10 India

An Indian soldier carries a toddler as evacuated families alight from an Indian Air Force Mi-17 helicopter flying a rescue sortie in the Rajouri district of Jammu and Kashmir. Soldiers were battling to rescue thousands trapped by Indian Kashmir's worst flooding for half a century which has killed at least 150 people and left the main city of Srinagar under water

5/10 India

An aerial view of the flood hit area in Pargawal village of Akhnoor sector in Jammu the winter capital of Kashmir

6/10 Pakistan

Local residents with their livestocks wade through floodwaters as they move to safe place following heavy rains in Jafar Kot near Wazirabad, some 100 kilometers (65 miles) north of Lahore

7/10 Pakistan

Pakistani Army soldiers rescue people from flooded areas, outskirts area of Islamabad

8/10 Pakistan

People mourn the death of their family member killed after the roof of his house collapsed due to heavy rain in Lahore

9/10 Pakistan

People make their way through a flooded road caused by heavy rain in Lahore

10/10 Pakistan

Pakistani residents wash away silt from their home in the flood-hit area of Rawalpindi
The country has one of the largest and busiest railway systems in the world but much of it is poorly maintained and the Hindustan Times reports that there were nearly 28,000 deaths in accidents during 2014.
Additional reporting by AP