When four-year-old Raudhatul Jannah was swept from her parents' grasp by the Indian Ocean tsunami on Boxing Day 2004, they believed she was lost to them forever. Ten years on, a chance sighting has led to them being reunited with their daughter.
The family lived in Indonesia's Aceh province, the place closest to the epicentre of the earthquake which sparked the tsunami that killed 230,000 people in 14 countries. As the giant waves raced ashore, engulfing their village in West Aceh, Jamaliah and her husband clung to a floating plank of wood, clasping Jannah and her seven-year-old brother, Arif Pratama Rangkuti, tight.
But the two children were washed away by the raging waters, and after a month-long search their parents gave up hope of ever finding them alive. Even so, Jamaliah "prayed to God every night" that they were safe and she would see them again.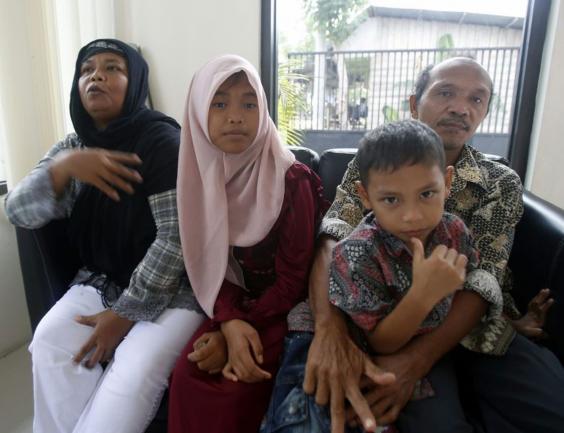 This June, Jamaliah's brother was visiting a village in another district, Aceh Barat Daya, when he saw a young girl walking home from school who bore a striking resemblance to his missing niece. He learnt that she had been caught up in the tsunami and swept to some remote islands south-west of Aceh.
There, a fisherman had rescued the little girl and taken her back to mainland  Sumatra, the island of which Aceh forms the far north-western tip. He gave her to his mother, who brought up her up and called her Wenni.
After the tip-off from her brother, Jamaliah and her husband visited the village on Wednesday and were astonished to discover that the girl really was their long-lost daughter. "My heart beat so fast when I saw her," she told Agence France-Presse yesterday. "I hugged her, and she hugged me back, and [she] felt so comfortable in my arms."
Jamaliah said she could not stop the "tears from flowing" during the emotional reunion. "I am so grateful to God for reuniting us with our child after 10 years of being separate. God has given us a miracle. My husband and I are very happy."
The couple have fresh hope that their son may be alive, too. Their daughter, who is now back in her home town, has told them that the two children were stranded together on Banyak Island. The family plans to travel to the sparsely inhabited island, 25 miles off Sumatra, to look for him. He would now be 17.
Meulaboh, where the family lived, was one of the worst hit places in Aceh, with an entire city flattened by the earthquake and tidal waves. The family's home, along with countless others, was destroyed.
Jamaliah told Indonesia's Metro TV: "I prayed day and night that if this disappeared girl was safe, that we might find her. Even just one  month ago, her father was contacting everyone he knows, and kept saying that 'my sweet child must be alive' every day after he came back from work."
Amid some scepticism about the story, Jamaliah has declared that "if anyone is in doubt, I'm ready for DNA tests". She also said that she recognised Jannah instantly, despite the passage of time.
In 2011, another Indonesian girl who was swept away during the tsunami was reunited with her parents, seven years on. The girl, then aged eight, had been adopted by another woman, but ended up having to beg on the streets.
Jamaliah said she was optimistic about finding her son. "We will look for him on Banyak, because we believe he is still alive."