The death toll from the Indonesian military plane, which crashed yesterday in the city of Medan, has risen to 142 as search-and-rescue teams continued to recover bodies throughout the night.
The military's chief spokesman, Major General Fuad Basya, confirmed that there were no survivors among the crew and passengers, 20 people had been killed on the street, and that the cause of the crash remained unknown.
122 passengers and crew were on-board the craft when it took-off from the Soewondo Air Force Base in Medan, shortly after which the pilot asked to return to the base because of an engine problem.
It was heading for Tanjung Pinang – a city on Indonesia's Bintan island – to drop-off supplies, said Indonesian Air Marshal Agus Supriatna.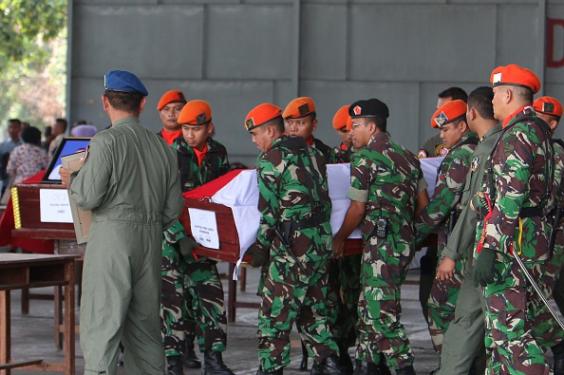 Witnesses said the plane was flying low –with flames and smoke streaming from it – before it ploughed into the streets with another Medan resident, Zani Nasution, telling Indonesian news channel, Metro TV, he saw the C-130 Hercules "wobbling before it fell, emitting sparks and fire."
Air Chief Marshal Agus Supriatna could also confirm that 101 of the people on the plane were family members of military personnel and that 12 military personnel were also aboard.
Early this morning, family members gathered at the city's Adam Malik General Hospital where the bodies were taken for identification.
Outside the building's mortuary, more than 100 wooden coffins were arranged in rows as cries and screams of loved-ones names permeated the air.
Local media reported how one group of students from a Catholic high school in the city became hysterical when a body bag was opened, revealing the corpse of a classmate, Esther Lina Josephine, 17, clasping her 14-year-old sister.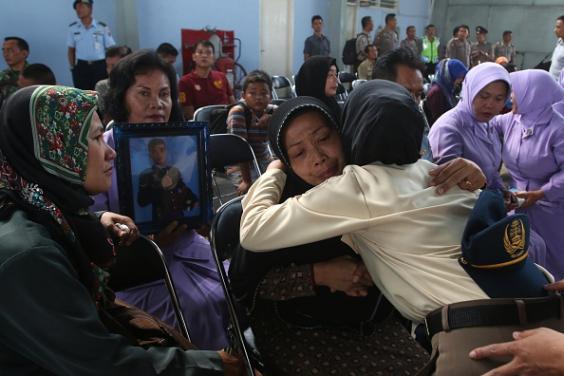 The school's principal, Tarcisia Hermas, offered her condolences and said: "She looks like she wanted to protect her younger sister.
"We've lost kind and smart students who had so many creative ideas."
Indonesia's aviation safety record will now be scrutinised even further after five fatal military plane disasters since 2008.
Indonesia's most recent civilian airline crash was in December when an AirAsia jet with 162 passengers and crew on board crashed into the Java Sea shortly after taking-off from Surabaya.
Reuse content