Afghanistan will not go the same way as Iraq, plagued by an al-Qa'ida-related insurgency, the Afghan president has said.
Outgoing premier Hamid Karzai was asked by the BBC whether Afghanistan may experience a militant comeback similar to that currently being waged in Iraq. "Never, not at all," he said.
Mr Karzai, who is due to make way for a new leader in six weeks' time, said al-Qa'ida has no presence in the country.
He also said that his government was in continual dialogue with the Taliban, speaking every day.
"There is even an exchange of letters, meetings, and desire for peace.
"[But they were] not able to bring peace on their own, just like I and the Afghan people and government were unable to bring peace on their own."
On Saturday between five and seven million Afghans took to the polls to vote for Mr Karzai's replacement, despite the Taliban warning citizens to abstain from voting, as well as threatening or actioning violence.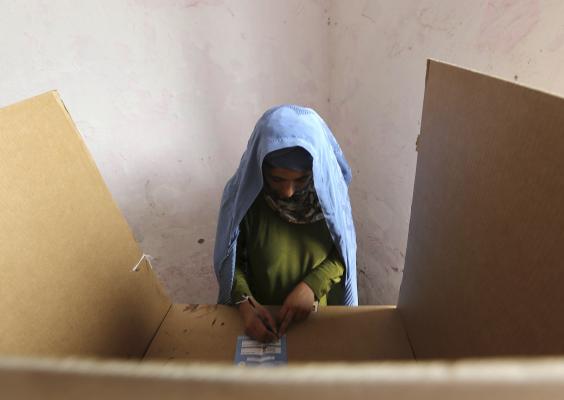 A roadside bomb killed five election workers in Samangan province, while dozens more were killed in separate assaults by the Taliban on polling day, officials said.
The candidate choice is between the former Foreign Minister Abdullah Abdullah and the former Finance Minister Ashraf Ghani Ahmadzai.
Both promise to improve relations with the West and even pledge to sign a security pact with the US – which Mr Karzai shunned – to keep almost 10,000 troops in the country for another two years.
NATO forces will be withdrawn from the region at the end of 2014, but the US will continue to keep almost 10,000 troops until 2016 so long as the pact is agreed. The UK currently has 5,2000 soldiers in the region.
Final results from the election are due to be announced on 22 July.
Mr Karzai added that he believed the "war on terror" should not have been fought in Afghanistan.
"I believe that the war on terror was not fought with honesty and not fought genuinely. The consequences are being felt across the region," he said.
His comments come as entrepreneurs in Afghanistan express worry at the spread of violence following the departure of NATO soldiers, the decreasing levels of aid and a more precarious economic environment.
Reuse content