Japan is battling to bring its first outbreak of dengue fever in almost 70 years under control after at least 22 people fell ill.
The disease is carried by mosquitoes and although it is frequently brought into the country by tourists catching the illness in tropical regions abroad, the cases are the first contracted locally.
One of the largest open spaces in Tokyo, Yoyogi Park, was being sprayed with insecticide on Monday and its ornamental ponds will be drained.
The health ministry believes dengue sufferers contracted the disease at the beauty spot, which is next to the Meiji Shrine and sees regular gatherings of music fans.
Signs placed around the park urged people to protect themselves from mosquito bites by covering up, avoiding wearing sandals and using insect repellent.
Japan's government is urging local authorities to be on the lookout for further outbreaks after confirming another 19 cases that were contracted at Yoyogi, bringing the total to 22.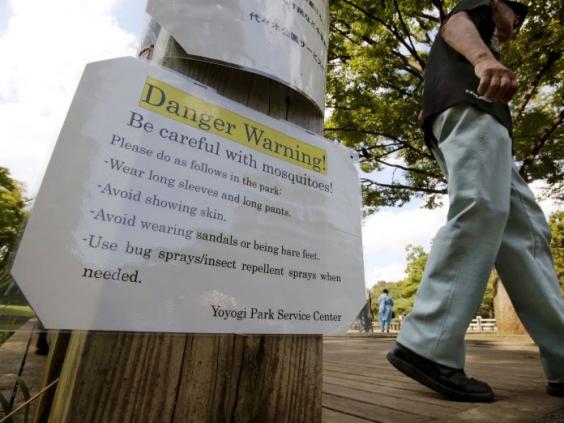 There is no treatment for dengue, which is not fatal in most cases but complications such as vomiting, bleeding and difficulty breathing can kill.
Symptoms include fever, severe headaches, muscle and joint pain and rashes.
The tropical disease was common in Japan during the Second World War but has since been eradicated.
Dengue cannot be transmitted directly from person to person and is carried by mosquitoes, which may have picked up the disease from infected tourists.
The spread of the disease has followed an unusually wet summer in Tokyo and should slow as autumn weather kills many mosquitoes off and makes others inactive.
At least 87 people died from dengue fever in Malaysia this year and an epidemic in India last year killed more than 130 people.
Reuse content