Japanese whalers could eventually hunt "even more whales", despite the ban on its Antarctic activities which has been imposed by the UN's highest court.
Authorities in Japan say they are going to abide by the ruling of the International Court of Justice (ICJ), which said the country had failed to justify its decades-old whaling programme on the grounds of scientific research.
Yet according to Japan's former chief whaling negotiator, one of the most likely courses of action available to the country now is actually to increase its activities while reducing the catch it takes home.
Tokyo has been ordered to withdraw all of its whaling permits for the Antarctic ocean, where hunting was disputed by officials in Australia.
Now, though there is a strong chance that Japan will submit a revamped research whaling programme for approval by the International Whaling Commission (IWC), which oversees international management of whales.
"One thing Japan needs to do is make its scientific goals match the number of whales that it takes," said Masayuki Komatsu, formerly Japan's chief whaling negotiator.
"It's actually okay to hunt even more whales. But what will happen is that the number of whales taken will decrease," added Komatsu, now a visiting research professor at the International Centre for the Study of East Asian Development.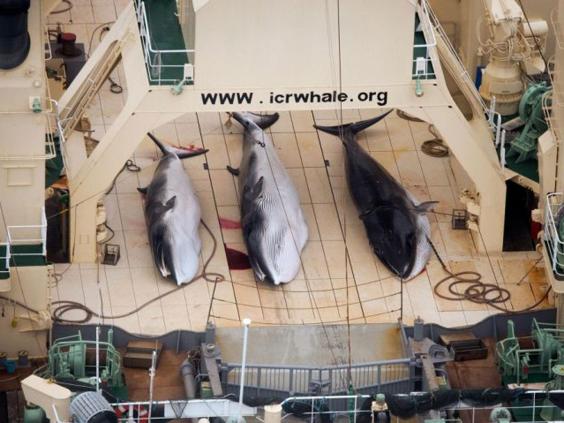 Earlier, Foreign Minister Fumio Kishida told reporters: "We want to accept this [the ICJ ruling] from a position that respects the international legal order. We want to properly consider our country's response after carefully examining the contents of the ruling."
Japan has long maintained that most whale species are in no danger of extinction and scientific whaling is necessary to manage what it sees as a marine resource that, after World War Two, was an important protein source for an impoverished nation.
But with its whaling fleet in need of refurbishing and consumer interest in whale meat low, some observers said the court ruling might give the government the chance to abandon an expensive programme - and improve its international standing.
Japan signed a 1986 ban on whaling but has continued to hunt up to 850 minke whales in the icy waters of the Southern Ocean, as well as smaller numbers of fin and humpback whales, citing a 1946 treaty that permits killing the giant mammals for research.
The research whaling is needed to assess whether whale stocks are recovering from overfishing, Japan has said.
Whaling was once widespread around the world but Japan is now one of only a handful of countries, including Iceland and Norway, that keep it up on a large scale.
But despite the fact that Prime Minister Shinzo Abe himself hails from one of Japan's whaling regions, the ruling might not be entirely unwelcome in some parts of the government, said Jun Morikawa, who has written on whaling and politics in Japan.
"It was an unexpected decision but if they say they accept it there are no other options," said Morikawa, a professor at Rakuno Gakuen University in the northern island of Hokkaido.
"I get the impression that a lot of people in government may be relieved ... It gives them a chance to stop, they can say that Japan fought hard but now needs to accept the result."
Additional reporting by Reuters