Scores of people are presumed dead after 31 bodies were found by rescuers following the violent eruption of a Japanese volcano on Saturday.
The hikers, which were discovered near the peak of Mount Ontake, were found in a state of "cardiopulmonary" arrest, according to police, while reports claim rescuers found them apparently not breathing with their hearts stopped.
Police are unable to confirm the deaths of the hikers pending a formal examination, in accordance with Japanese custom, and the search for a total of 45 missing climbers has now been called off for the night, the BBC reports.
Japanese broadcaster NHK has since reported that four of the bodies that were found and brought down from the mountain have been confirmed dead. All four were male.
Mt. Ontake: Rescue operation underway after volcanic eruption
Mt. Ontake: Rescue operation underway after volcanic eruption
1/10 Mt. Ontake eruption

In a Youtube video taken on the day of the eruption, hikers run for their lives as a huge cloud of ash travels down the side of the volcano

Youtube

2/10 Mt. Ontake eruption

A local fire brigade worker blocks the road to Mt. Ontake (rear), the 3,067-meter volcano, about 230km west of Tokyo, central Japan

EPA/KIMIMASA MAYAMA

3/10 Mt. Ontake eruption

Firefighters and members of the Japan Self-Defense Forces carry a person rescued from a cabin on Mount Ontake

KYODO NEWS/PA

4/10 Mt. Ontake eruption

A helicopter of Japan's Self Defence Force hovers above a volcanic ash covered mountain cottage on top of Mount Ontake at Nagano prefecture

AFP/Getty Images

5/10 Mt. Ontake eruption

Rescue workers carry a climber rescued from Mount Ontake into an ambulance, in Kiso, Nagano prefecture

AP

6/10 Mt. Ontake eruption

Dense plumes rise near the summit crater of Mt. Ontake as the volcanic mountain erupts in central Japan. The 10,062-foot mountain spewed large white plumes high into the sky, covering surrounding areas in ash

7/10 Mt. Ontake eruption

This aerial picture shows white smokes rising from Mount Ontake at Nagano prefecture, one day after Japan's volcano Ontake erupted in central Japan

JIJI PRESS/AFP

8/10 Mt. Ontake eruption

Rescue workers on Sunday found more than 30 people unconscious and believed to be dead near the peak of an erupting volcano, a Japanese police official said

KYODO NEWS/AP

9/10 Mt. Ontake eruption

Japan Self-Defense Force (JSDF) soldiers and firefighters make rescue works among mountain lodges, covered with volcanic ash near the peak of Mt. Ontake

Reuters

10/10 Mt. Ontake eruption

A climber is lifted by a helicopter as being rescued from the peak of Mount Ontake

KYODO NEWS/AP
Around 250 people were left stranded on Mount Ontake on Saturday after the volcano erupted suddenly around noon, sending ash pouring down its slope for more than three kilometres.
A video taken as the volcano erupted by someone attempting to escape the area shows the vast plumes of smoke travelling at speed down the side of the mountain before engulfing the hikers completely. 
People at the foot of the mountain described hearing a loud noise like "thunder" when the eruption happened, while those who were already climbing it were forced to descend the mountain through volcanic ash and falling rocks. One man told the BBC: "The volcanic rocks fell like hailstones.
"We couldn't breathe so we covered our mouths with towels. We couldn't open our mouths either."
The majority of people made their way down the volcano to safety, but more than 40 people were left injured, many with broken bones.
The Japanese Fire and Disaster Management Agency said that 45 people had been reported missing before the unconscious victims were found.
At least 31 people are known to have spent Saturday night near the volcano's 10,062 ft peak, with a total of 50 people thought to have stayed on the mountain overnight.
Eruptions continued on Sunday, sending smoke and ash hundreds of meters into the sky as search operations intensified.
Seven people are known to have been lifted off the mountainside by military helicopters on Sunday.
Japan's military has deployed seven helicopters and 250 troops as part of the rescue operation, with police and fire departments also utilized.

Convoys of red fire trucks with their sirens blazing were seen driving past rescue workers on foot as the teams headed past barriers into the restricted zone around the mountain.
The mountain is situated 125 miles west of Tokyo, and is a popular hiking site to view Japan's autumn foliage.
Japan is one of the world's most seismically active nations and monitors its volcanoes closely, shutting hiking routes at any sign of volcanic activity.
It sits on the "Ring of Fire," a horseshoe-shaped band of fault lines and volcanoes circling the edges of the Pacific Ocean, which is home to 110 active volcanoes.
However, Saturday's eruption was not predicted.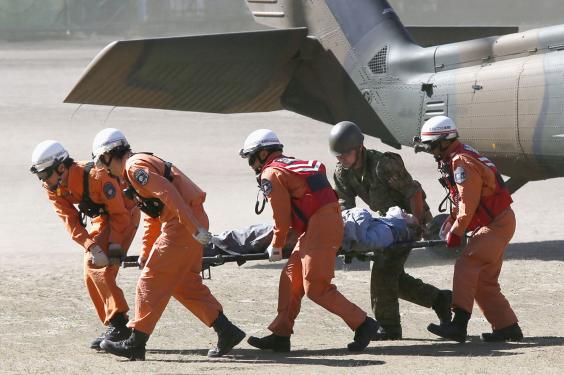 The volcano division of the Japan Meteorological Agency told Reuters news agency that while there had been a rising number of small earthquakes detected at Mount Ontake over the past week, it did not signify Saturday's eruption.
"There were no other signs of an imminent eruption, such as earth movements or changes in the mountain's surface," an agency official said.
"With only the earthquakes, we couldn't really say this would lead to an eruption," they added.
Despite the extent of volcanoes in Japan, there have been no recorded deaths from eruptions since 1991, when 43 people were killed on Mount Unzen by a pyroclastic flow of ash when the volcano violently erupted.  
Additional reporting by agencies
Reuse content