The mother of one of the Japanese hostages threatened with execution by Isis made an emotional appeal for the release of her son yesterday as the presumed deadline set for a ransom to be paid passed.
The group threatened on Tuesday to behead Kenji Goto, 47, and Haruna Yukawa, 42, unless Japan's government paid a ransom of $200m (£133m) within 72 hours.
While prayers were offered at Tokyo's largest mosque for the two, Mr Goto's mother pleaded yesterday for his release, saying her son, a freelance journalist, had left behind his two-week-old daughter and gone to Syria to rescue a colleague – thought to be Mr Yukawa.
"Please free my son," said Junko Ishido at a press conference in Tokyo. "He is not an enemy of the Islamic State. He has great respect and fondness for the nations of Islam."
Japan has been trying since the Isis ultimatum to leverage its influence in the Middle East. Prime Minister Shinzo Abe has spoken to the leaders of Turkey, Egypt and Jordan, where a crisis centre has been set up to help to find the men. The government's spokesman, Yoshihide Suga, said it was doing all it could to enlist co-operation in the region. "The situation is dire, but Japan's commitment to contributing to the international fight against terrorism remains unchanged."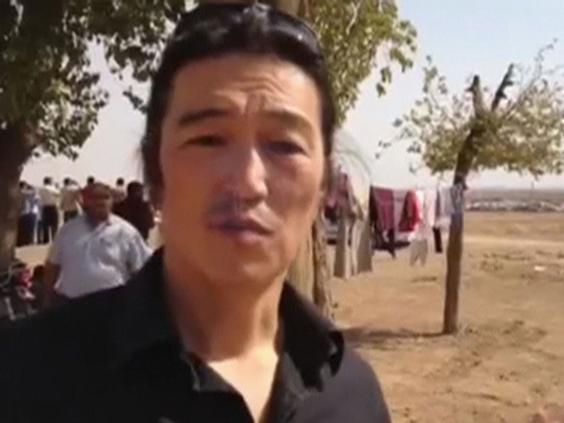 Japan's efforts to free the men have been questioned, however, after it emerged there were offers of help from several experts – with seemingly no clear response from the government. Ko Nakata, an Islamic scholar, said this week he was on his way to meet members of the jihadist group, while Kosuke Tsuneoka, a freelance journalist with years of experience in the Middle East, said direct dialogue with Isis was the only way to save the men. "We have a channel of communication with [the group]. But at the moment, the Japanese government doesn't seem inclined to ask for our help," he said.
Mr Abe, who held talks with his National Security Council on the crisis yesterday, was touring the Middle East, which supplies most of Japan's crude oil, when the threat to kill the two men was issued. His government insists the aid package is "non-military".
"We aim to provide only humanitarian aid such as helping refugees and providing sustainable medical care," said Yasuhide Nakayama, state minister for foreign affairs.
The plight of the hostages has divided Japan. Most feel sympathy but the two men have been criticised for travelling to a region known to be extremely dangerous. A video in which Mr Goto said the trip was entirely his responsibility has been repeatedly broadcast on the big networks.
Mr Goto's mother said her son was motivated only by a desire to help people, and cover the plight of children in conflict zones, saying: "He was always a kind child. Even before he could walk, he always cared about other people."
She said she was furious when she heard he had left behind his newborn to return to Syria. "I cannot quite come to terms with the decisions he has made here," she said.
Reuse content