The student who became the face of Hong Kong's massive pro-democracy movement last year says he has been assaulted in the street by an anonymous man in an 'unprovoked, politically-motivated' attack.
18-year-old Joshua Wong posted a picture of his injuries on his Facebook page this week and described how the man punched him in the face and ran off.
His girlfriend, Tiffany Chin, also sustained minor injuries while walking in the Mong Kok area after seeing a movie.
The pair said they ran after the man, in his 20s and accompanied by another female, to photograph him but they failed to catch-up with them in time.
Both students were treated for cuts and bruises at the city's Kwong Wah Hospital and, despite filing a police report, no arrest has been made.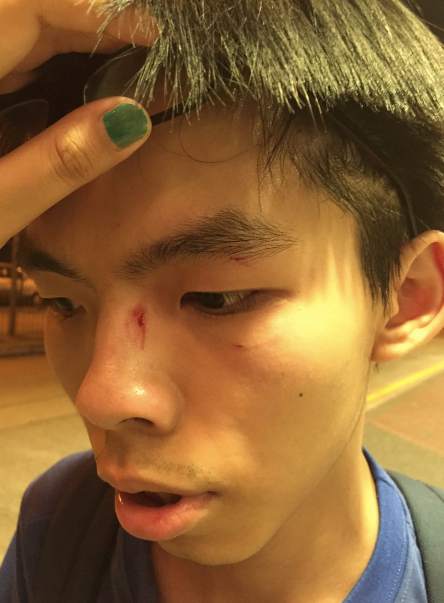 Speaking with the press on the hospital steps, post-treatment, Joshua called the attacked "unforgivable and ridiculous" and wrote on his Facebook page: "The man suddenly came [close]. He grabbed my neck and punched my left eye. My glasses flew off." He then posted a picture of his cut nose, cheek and eyebrow.
Joshua became synonymous with the mass sit-in protests last year when he helped to lead more than 100,000 students through the Chinese city to protest against proposed reforms to the Hong Kong electoral system.
Hong Kong, which is known to be one of the most densely-populated places in the world, was crippled by the protests as police became overwhelmed and retaliated with force in an attempt to restore order.
Because of his role in the movement – also known as the Umbrella Revolution – Joshua has been hailed as one of the most influential people of 2014 and Fortune Magazine listed him as being one of the world's greatest leaders in March this year.
In January, he was arrested and questioned for three hours for 'inciting civil-disobedience'.
Five weeks ago, Joshua was denied entry into Malaysia as he was considered a threat to Malaysia's ties with China – because of the 'anti-China' role he played in the 2014 demonstrations.
Reuse content