A shocking court case in Hong Kong is forcing its citizens to confront the hidden plight affecting thousands of the migrant domestic helpers living among them, some of whom face violence, financial exploitation and social exclusion every day.
A young Indonesian woman, Erwiana Sulistyaningsih, has accused her former employer of a catalogue of physical abuse over six months.
Law Wan-tung faces 20 charges in the landmark case, including inflicting grievous bodily harm, assault and criminal intimidation. There are two other alleged victims, both of them Indonesian helpers. Ms Law has pleaded not guilty to all the charges, except one, of failing to take out an insurance policy for an employee.
Helpers have become a huge part of Hong Kong's daily life since the 1970s when the then British colony started importing labour to cover a shortage of domestic live-in workers. There are more than 300,000 helpers in the territory – almost all women – with half from Indonesia and the rest from around south-east Asia.
But they are bound by a complex and restrictive legal framework, which campaigners say leaves them vulnerable to abuse. They must live with their employer, can never get permanent residency, and if they leave or are sacked from a job they have two weeks to find a new one or go home – the so-called "two-week rule".
They are also excluded from normal minimum-wage laws and rules on working hours. The current "minimum allowable wage" for helpers is HK$4,010 (£330) a month, with 16-hour working days common.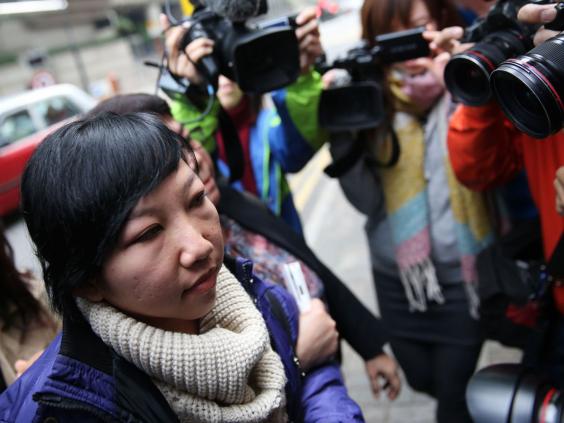 The eldest daughter of an Indonesian farmer, Ms Sulistyaningsih, 23, came to Hong Kong in May 2013. She left her job as a waitress back home and signed up with an agency that would arrange her a job. She had heard wages were good in the Chinese-controlled city – money she could send home to her family.
When asked about her family's financial situation in Hong Kong's District Court, where the trial began last week and is set to continue tomorrow, she said through her interpreter: "Poor. That's why I have to work all the time."
Ms Sulistyaningsih told the court that, upon her arrival, Ms Law didn't provide her with a bed, and she slept on the floor in a storage room, watched constantly by CCTV cameras. But what led the pair to face each other in that court was the physical abuse that, Ms Sulistyaningsih alleges, became a regular part of their life together.
She said she was punched – on one occasion so hard her nose broke. Another time, she said, she was stripped naked and blasted with a cold shower before being forced to stand in front of a cold fan for hours. Another allegation was that Ms Law shoved the nozzle of a vacuum cleaner into her helper's mouth and twisted it until her mouth bled.
She also said that she was allowed to sleep only from 1pm to 5pm, and was fed only six pieces of bread and a bowl of rice a day, according to local broadcaster RTHK.
In January this year, Ms Sulistyaningsih fled back to Indonesia, where former president Susilo Bambang Yudhoyono denounced her alleged treatment as torture.
Although the allegations are extreme, and there are plenty of helpers in Hong Kong treated humanely and legally, they are hardly isolated. Last year, a couple were jailed for a total of more than eight years after being found guilty of a two-year campaign of abuse against their Indonesian helper, Kartika Puspitasari .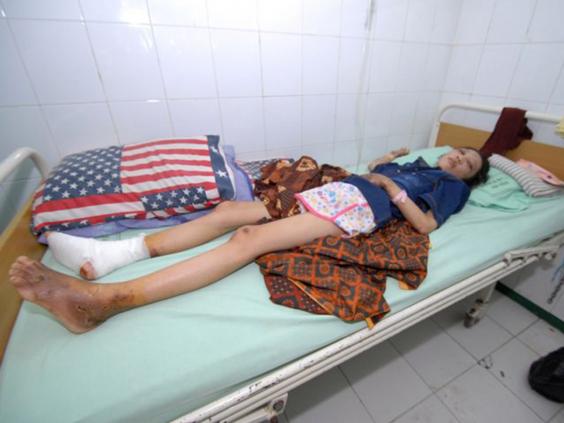 Tai Chi-wai and his wife, Catherine Au Yuk-shan, beat and tortured their employee, who had a child, with hot irons, a bike chain, a shoe, and other implements. She said they gave her so little food that she had to eat scraps from the bin.
Eni Lestari, another Indonesian helper in her thirties, said that for her first four months in Hong Kong she was underpaid by HK$2,000 from her monthly wage of HK$3,670 because of agency "fees". The industry for migrant domestic labour is mostly facilitated by agencies, which face multiple allegations of coercion and exploitation.
Ms Lestari also claims she had to share a room with a two-year-old boy, sleeping on wooden planks on the floor, and that although she was allowed out, she was not allowed to talk to other people, and was given only one day off a month.
"I was new to Hong Kong, and I didn't know what was the legal situation," she told The Independent on Sunday. "I thought this was the way it was." Eventually she was able to run away and report the employer to the authorities. It is not known whether the claims were investigated.
In a recent report to the UN's committee on female discrimination, Amnesty International condemned many aspects of the domestic help industry. The human rights group claimed that women were suffering "exploitation in conditions of forced labour, through the use of deception and coercion to recruit migrants and to compel them to work in situations which violate their human and labour rights".
It echoed many campaigners' complaints that the "two-week rule", coupled with the requirement that helpers live with their employers, mean the women are unlikely to risk losing their jobs – and the income important to their poor relatives back home – by complaining about mistreatment.
Ms Sulistyaningsih's case resumes tomorrow.
Reuse content