A Bangladeshi man who has been suffering for years from a rare skin disease is set to recieve specialist treatment.
Abul Bajandar, 25, from Khulna in the south west of the country, suffers from Epidermodysplasia Verruciformis, a skin condition causing extreme growths. The growths caused by the disease have been likened to that of tree bark and roots.
Mr Bajandar was forced to quit his job as a rickshaw driver after the growths became problematic.  
"Initially, I thought that they're harmless," said Mr Bajandar to AFP news agency. "But slowly I lost all my ability to work. There are now dozens of two-to-three-inch roots in both my hands. And there are some small ones in my legs."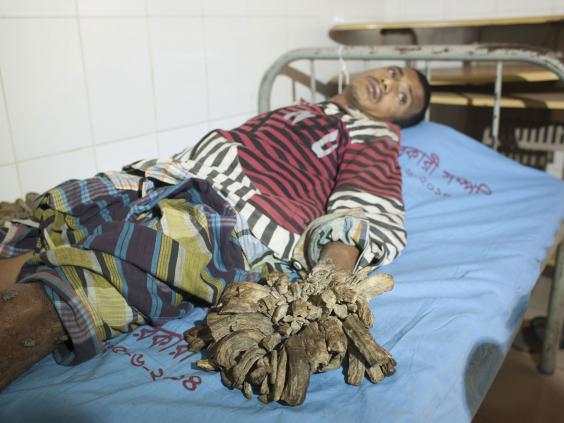 Mr Bajandar was admitted to Dhaka Medical College and Hospital earlier this week, reported the Daily Star Bangladesh.  A team of doctors from the National Institute of Burn and Plastic Surgery, led by director Dr Samanta Lal Sen, examined him.  
Dr Lal Sen said to The Independent: "We have decided to have some investigations including biopsy. After that we will improve his general condition and then slowly we we will go for series of surgical procedures. It will take few weeks to prepare him. All the treatment will be in our unit."
Dr Lal Sen added that the treatment would be undertaken at the expense of the government.  
Mr Bajandar was previously being treated in the burns unit of Gazi Medical College Hospital in Khulna.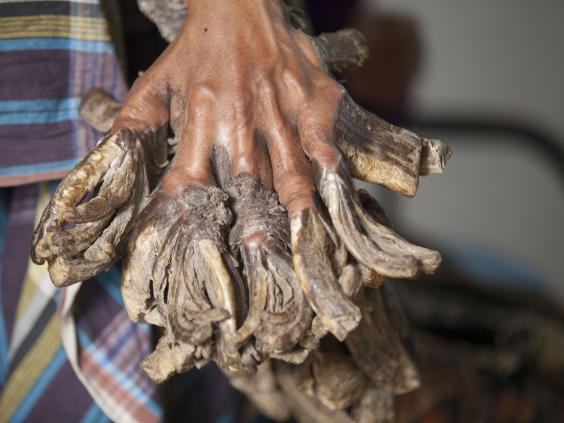 Epidermodysplasia Verruciformis is a rare hereditary condition, often causing skin tumours and chracterised by an "unusual susceptibility to infection with specific types of human papillomavirus" according to the US National Library of Medicine.  
Reuse content