India's new leader has been confronted by a massive security operation and almost empty streets as he makes his first visit to the long-contested region of Kashmir, where he vowed to boost development.
"Infrastructure is the centre-point of development," said Narendra Modi, as he flagged off a new train service in the town of Katra. "My objective is to win the hearts of the people of Jammu and Kashmir through development."
Ahead of Mr Modi's visit, separatist groups who consider Indian troops an occupying force, called for a one-day shutdown of shops, schools and businesses. This, combined with a curfew imposed in parts of the Kashmir valley, meant the usually traffic-clogged city of Srinagar, where Mr Modi also visited, was largely quiet.
The security forces had placed many of the separatist leaders under house arrest for the day and the city's main mosque, the Jamia Masjid, was off-limits for Friday prayers, though other, smaller mosques were open.
Kashmir is India's only Muslim-majority state and since Partition in 1947 it has been the focus of dispute and controversy. An insurgency launched in the late 1980s by separatist militants, backed by Pakistan, resulted in the militarisation of the Kashmir valley and violence that has taken the lives of at least 70,000 people. 
Visits to Kashmir by Indian prime ministers often result in demonstrations or protests. Yet security was especially tight given that Mr Modi's party has said it wants to end the semi-autonomous status Kashmir enjoys within India and because of his image as a Hindu nationalist leader.
As part of the security operation, the authorities detained a number of separatist leaders in their homes or else in police stations.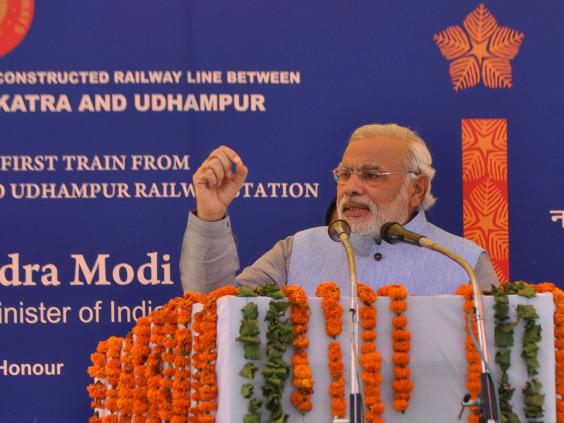 "I have been under house arrest since 8am this morning. It is the first Friday of Ramadan I was not able to go to the mosque," Mirwaiz Farooq, a leader of the All Parties Hurriyat Conference, told The Independent.
He claimed the move showed the authorities in Delhi were still looking at Kashmir as a security issue or a law and order issue and were not ready to think politically. "There has to be a political point of view."
Another separatist leader, Syed Ali Shah Geelani, who is usually considered more hardline, said he had been under house arrest since 16 April.
"Modi said he would give development to win the hearts and minds of the people of Jammu and Kashmir," said Mr Geelani. "Development is not the solution for the people of Jammu and Kashmir. We need freedom from Indian occupation."
The demands of the various separatist factions of Kashmir vary. Some want to become part of Pakistan, others say Kashmir should be independent of both Pakistan and India.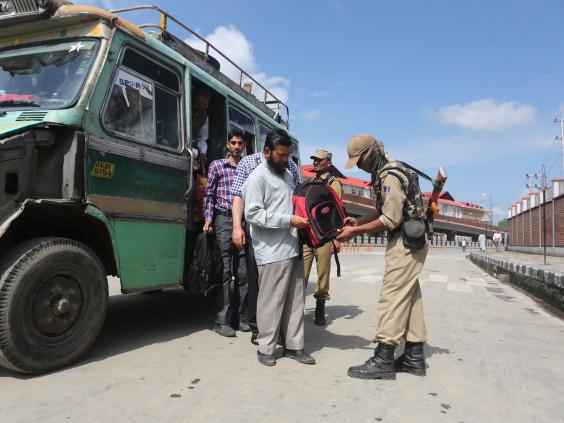 Yet a common complaint from all is that the Indian state rarely delivers justice. They point to the huge numbers of security forces – by some estimates as many as 600,000 – which operate with impunity because of the so-called Armed Forces Special Powers Act, which prevents prosecution of troops.
The militancy against the Indian state also saw the exodus from the valley of the Hindu pandit population, hundreds of thousands of whom fled to escape violence and threats in the late 1980s and early 1990s. Mr Modi, as with previous Indian leaders, has said he is committed to trying to resettle the pandit population.
The Reuters news agency said that the day before Mr Modi's visit, Kashmir's most senior Muslim cleric, Mufti Bashir-un-Din Ahmad, said the pandits would be welcome to return. But he also warned against a proposal to create separate settlements for them.
After flagging off the train service, which will help pilgrims travelling to Mata Vaishno Devi shrine, one of India's most popular Hindu sites, Mr Modi travelled into the mountains to inaugurate a hydroelectric dam. The dam was located barely a mile from the so-called Line of Control, the de facto border dividing Kashmir between India and Pakistan.
Reports said that on the Pakistan side of the border, an effigy of Mr Modi was set on fire, along with an Indian flag. Ahead of Mr Modi's visit, officials in Islamabad had repeated their claim that Kashmir should be part of Pakistan.
"Kashmir is not an integral part of India," foreign ministry spokeswoman Tasnim Aslam said during a briefing. "Our position is that Jammu and Kashmir is a disputed territory."
Reuse content