Malaysian newspapers were dominated by the possible discovery of the first ever trace of missing Malaysia Airlines flight MH370 this morning.
The metal object, believed to be a Boeing 777 "flaperon", is being tested in France after it was washed up on a beach on a remote Indian Ocean island.
If it proves to be a part of the plane, which disappeared on 8 March last year with 239 people on board, it could be the first piece of evidence available to investigators trying to solve the continued mystery of its disappearance.
But newspapers in Malaysia sounded a wary note this morning, cautioning against hopes for a swift conclusion to the tragedy affecting so many families.
Photos of the wreckage were carried on almost every single front page, but links to MH370 were couched very carefully after several false alarms.
The Star, which claims to be the biggest selling English-language newspaper in Malaysia, carried the headline: "MH370: Answer in two days."
"They will know for sure in two days," its front page story said.
"Until then, it's a painful and emotional rollercoaster for the families of the victims."
Another story on the front focused on news of MH17, which was the second Malaysia Airlines plane to go down in little over four months.
"We will never give up" said an article focused on the Malaysian government's push for a UN resolution bringing about an international tribunal.
Russia had used its veto to prevent such an investigation, drawing accusations that Vladimir Putin's government is trying to shield the separatist Ukrainian rebels widely suspected of downing MH17 from scrutiny.
Many Malaysian newspapers asked "is this part of MH370?" in their headlines, cautious of inferring anything conclusive before investigations are complete.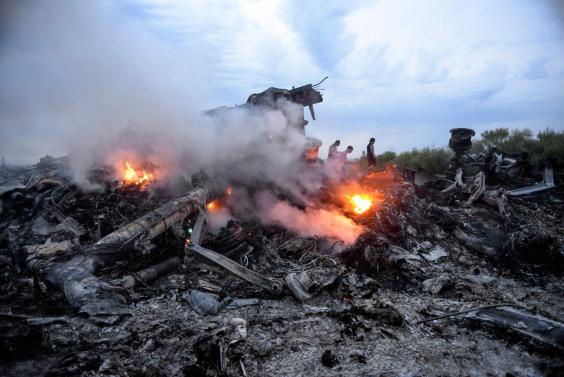 The possible MH370 part discovered in Reunion dominated the front page of almost every Malaysian newspaper, although some maintained their focus on corruption allegations within the government.
During his visit to Malaysia yesterday, David Cameron pressed his counterpart over allegations he had imprisoned political opponents and used more than £400 million of public money for personal gain.
Najib Razak called the claims politically motivated but journalists have accused him of trying to stifle coverage in the press.
Of those on board the flight from Kuala Lumpur, 50 were Malaysian and the country was tasked with co-ordinating international investigations.
Reuse content