Relatives of passengers of Flight MH370 have angrily turned on a senior Malaysian envoy – demanding that he provide them with answers as the fifth day of efforts to trace the missing aircraft once again came up empty.
Up to 400 relatives of Chinese passengers who had boarded the Malaysia Airlines jet attended a meeting at Beijing's Metropark Lido hotel with Malaysia's ambassador. Some shouted at him and one threw a bottle of water. "Is the envoy asleep?" one of the relatives yelled during the tense two-hour meeting.
The envoy, Datuk Iskandar Sarudin, told the relatives that the last words spoken with the pilots of the Boeing 777 were routine communications with air-traffic controllers in Kuala Lumpur, as the plane neared Vietnamese airspace. "We are handing you over to the zone under Ho Chi Minh," one of the controllers said. "All right, good night," a pilot replied.
The envoy assured the relatives Malaysia was doing all it could and that he would pass on all their concerns to the authorities in Kuala Lumpur. But in truth, there was very  little more he could tell them; five days after the Malaysia Airlines plane disappeared with its 239 passengers and crew, officials apparently still have no idea what happened.
The meeting between the relatives and Malaysia's ambassador – detailed by The Straits Times newspaper – took place hours before officials in Kuala Lumpur announced their search had again been extended and that 39 planes and 42 ships from 12 nations were now searching more than 27,000 nautical square miles of ocean.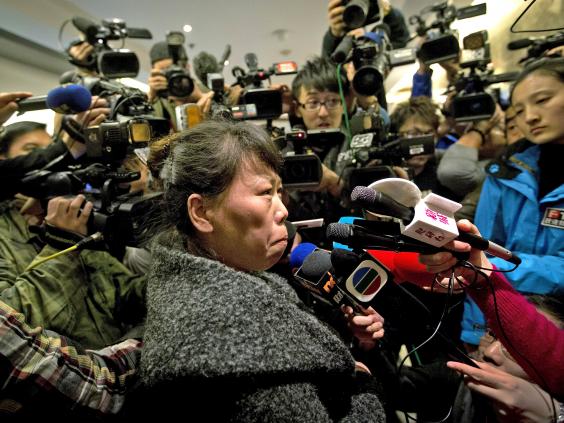 Satellite images were also being used, with thousands of amateurs trying to help the search through an internet crowd-sourcing tool.
China Central Television reported that Chinese satellites had spotted an object that might be crash debris. The state broadcaster published three photographs showing an indistinct object in the water and said "verification is in progress".
As Japan and India became the latest countries to join the effort in what has become a mystifying and at times almost farcical tragedy, officials said they were now searching in three areas – the South China Sea, the Andaman Sea and the Strait of Malacca.
On Tuesday, it was reported that military officials in Malaysia believed the plane may have veered west and flown for hundreds of miles after its last-known position fixed by civilian radar.
At a press conference, officials sought to explain the apparent confusion by revealing that the suggestion was based on examination of a secondary, military radar.
Analysis of recorded data showed a dot on the radar at 2.15am on Saturday, at a point around 200 miles north-west of the Malaysian island of Penang. This would be about 45 minutes after the last confirmed sighting of the plane on civilian radar and around 250 miles from its last confirmed location.

"We said there was a possibility of a turnback. But we are not sure it was this aircraft. We are not sure," said Malaysia's air-force chief, Rodzali Daud. "We did not track it in real time. We saw a recording of the data."
It appears that officials know little more now than they did on the first day the plane went missing. Two passengers who boarded the flight using stolen passports, and who triggered concerns that the plane may have been downed in a terror plot, have since been shown to be young Iranians seeking to migrate to Europe.
There have been numerous reported sightings of possible debris and oil from the plane, but all have proved to be mistaken. In the latest report, the Vietnamese authorities said they were investigating information emailed from a worker on the Songa Mercur oil rig who contacted them to say he had spotted what he believed could have been a plane on fire, to the east of Vietnam's Ca Mau peninsula.
More than two-thirds of the passengers on the flight were Chinese. China has been increasingly vocal in its criticism of Malaysia's faltering operation, accusing it of providing too little information and of working too slowly.
"There's too much information and confusion right now. It is very hard for us to decide whether a given piece of  information is accurate," the Chinese Foreign Ministry spokesman Qin Gang said.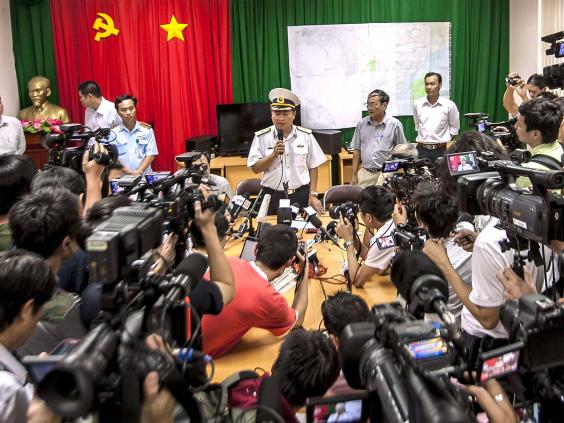 Flight MH370 took off from Kuala Lumpur on what should have been a six-hour flight to Beijing early on Saturday morning and last made contact with ground-control officials about 35,000 feet above the Gulf of Thailand between Malaysia and southern Vietnam before vanishing from the radar screens of controllers at 1.31am.
Today, Malaysian officials denied that their operation was chaotic and insisted their information was consistent. Transport Minister, Hishammuddin Hussein said that as time passed, it was more likely that the search-and-rescue operation was turning into simply a search.
Yet he insisted Malaysia would not stop until the plane had been located. "We will not give up. We owe it to the family members," he said.
Meanwhile, Malaysia Airlines said in a statement that it was shocked by reports made against its First Officer Fariq Ab Hamid, who was the co-pilot of the missing flight.
Jonti Roos, a South African tourist, told Australia's Channel Nine that she and her friend Jaan Maree were invited to sit in the cockpit during a flight in 2011, in an apparent breach of airline rules. Malaysia Airlines said it took the reports "very seriously".
"We regret and empathise with the families and we will do whatever we can to ease their burden," the airline said in a statement.
Malaysian officials have not ruled out any possible cause for the plane's disappearance, including mechanical failure, pilot error, sabotage or terrorism. Both the Boeing 777 and Malaysia Airlines have excellent safety records.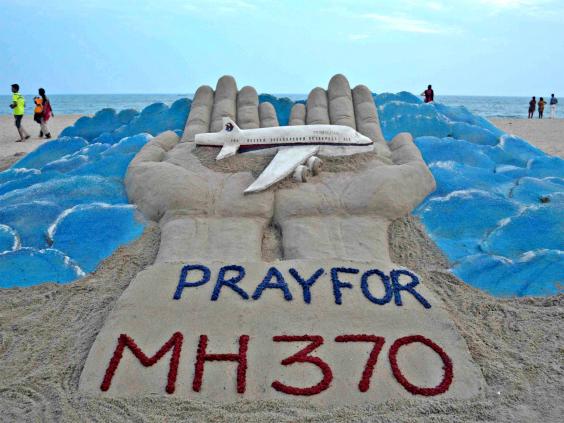 Reuse content