There is a new apartment. Three floors up, walls a shade of pastel yellow with a balcony overlooking a tree-lined street and a hoarding that advertises a nursery school. The family moved in two weeks ago. They are still getting the place in order.
It is a considerable move up from their previous, tiny home, part of the £40,000 or so compensation the family received in the aftermath of the rape and murder of their daughter, but they have had bitter-sweet feelings about moving in. They know why they are here; every day her absence burns inside them.
"The house we lived in previously was the place into which we had put all our efforts. It was hard to leave," said the student's father, a baggage handler at Delhi airport. "Now is the season of the Hindu festivals, a time to come together. It's very hard. Her absence is so painful."
It is nine months since the family received a phone-call informing them that their daughter had been involved in some sort of incident and that they needed to come to the hospital as quickly as they could. Two weeks later, the 23-year-old died in Singapore, having been flown there for specialist treatment. She had been the victim of a brutal gang-rape on a bus through Delhi that became one of the most discussed cases in Indian history.
In the days and weeks since, the parents have become front and centre of the campaign for justice for their daughter, steadfast in their view that the only appropriate punishment for the six males who carried out the attack was the death penalty.
Today, they received their wish when a Delhi court sent four men – bus cleaner Akshay Kumar Singh, gym instructor Vinay Sharma, fruit-seller Pawan Gupta, and Mukesh Singh – to be hanged. One juvenile had earlier been given the maximum sentence of three years' detention, while the sixth member of the gang had killed himself in his cell earlier this year.
Following the sentence, the victim's father told reporters: "This is the verdict we were waiting for. I can't express my happiness when the judge said they would be hanged. I feel my daughter has now got justice."
Yet, speaking to The Independent on the eve of the sentencing, the family described how they have also become campaigners for other victims of sexual assaults and indeed for India's women in general, demanding equal rights and protection for females – a radical position in this conservative society.
"I am aware that I have become the voice of all these people and the society in general. I am not going to stop this flame that [my daughter] lit," said the father. "I will take it forward. I urge the world to change."
His wife, dressed in a red sari and cross-legged on a bed, said she wanted girls to be able to go out into the world and study or take jobs without fear. "But they should know how to protect themselves. My life altered when this incident happened and my life has not moved forward since then. I am still as I was when the incident took place. I have to tell people about it every day."
How many lives have been ruined by the events of 16 December, when the males lured the 23-year-old physiotherapy student and her friend on board their bus and launched their savage attack? How far has the acid spilled?
In the Ravi Das colony in south Delhi, named for a medieval saint and where the clean-swept alleys are home to migrants from across India, there is also anger. Four of the attackers lived here and residents now feel their neighbourhood of hard-working families will forever be associated with a night of barbarity.
A 23-year-old woman called Khanak lives a door away from the one-room home that was occupied by brothers Mukesh and Ram Singh. Like the young woman who was fatally assaulted, Khanak's parents moved from a rural area in the belief their children would have a better chance of being educated. Like her, Khanak wanted to follow a medical path and now works as a nurse in one of Delhi's most prestigious private hospitals.
"Whoever lives here is doing so from compulsion," she said, adding that she easily identified with the young woman who was attacked. She said she always tried to be home by 8pm.
Scrubbing clothes beside her, her mother, Ram Devi, said she had always "shooed away" Mukesh and Ram Singh. She often imagines herself in the shoes of the young woman's parents. "I cry every evening when I think about that mother's plight." A few yards away, the acid pools again. The mother of Vinay Sharma lives with her husband and three other children in a single-room home measuring 6ft sq. She claimed her son had fallen out with Mukesh and Ram Singh and that they had framed him. She insisted her son played no part in the attack.
The 40-year-old said she attended the court hearings every day, making the most of a few hurried minutes to speak with her first-born child and even reaching out to touch him. "He has been pleading his innocence. He has been saying 'I am not at fault'."
She again repeated her insistence that her son was not involved in the attack, and added: "If he had been involved – let's just say that – then I would like to seek forgiveness on behalf of my family since he would have not been in the right frame of mind."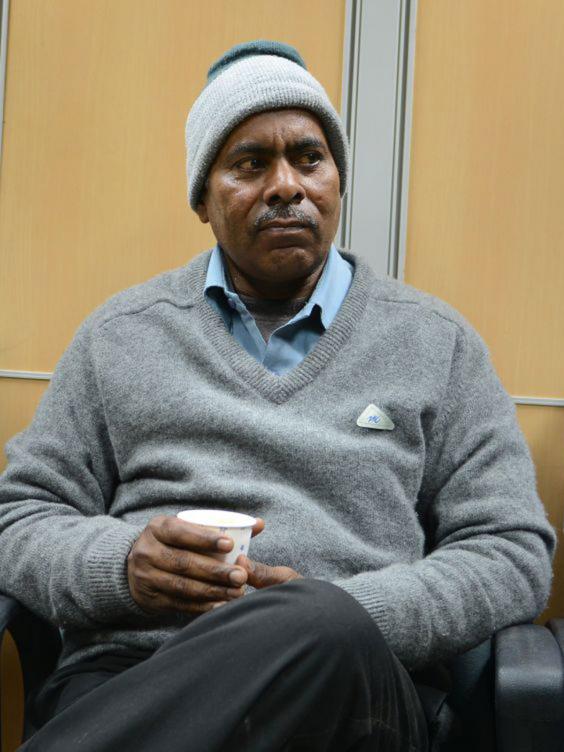 At their apartment on the third floor, the parents of the young woman who was raped and killed are quiet but firm. In court, the mother had been barely able to bring herself to look at the four men, she said.
To opponents of the death penalty, the parents said they believed it was the only way to "bring about a change" in society. People should imagine how they would feel if such a crime had befallen their child. Anything other than the death penalty would have been immoral, they said.
"People are saying [the four men] are Indian citizens and should not be hanged," said the mother. "But my daughter was an Indian citizen and she did not receive mercy."