Many Indians woke up Monday to a surge of outrage on Twitter and Facebook against their Prime Minister Narendra Modi. It revolved around the words "DespiteBeingAWoman."
The hashtag #DespiteBeingAWoman was triggered by Modi's praise for his Bangladeshi counterpart Sheikh Hasina on Sunday during his visit.
"I am happy that Bangladesh Prime Minister, despite being a woman, has declared zero tolerance for terrorism," Modi said in a speech on Sunday at the Dhaka University.
It is not uncommon for Indian politicians -- and Modi's colleagues in his Hindu nationalist Bharatiya Janata Party -- to make sexist and misogynist remarks. But since he was elected to the nation's highest post a year ago, Modi has carefully constructed a pro-woman image. During the Independence Day speech last year, he spoke about rising sexual assaults on women and blamed Indian parents for not raising their sons well. He has promoted programs against female feticide and discrimination against female children child in Indian families.
India protests against sexual violence
India protests against sexual violence
1/19 April 2015

School girls wear black bands on their faces during a protest rally against the rape case of a 16-year-old girl at Dhupguri town in the eastern Indian state of West Bengal

Reuters

2/19 March 2015

Students of Convent of Jesus and Mary School participate in a protest against the alleged gang rape of a nun in her 70s

AP

3/19 March 2015

Official figures for the number of women raped in India are often disputed by Women's Rights experts who claim the numbers are far higher

SAJJAD HUSSAIN/AFP/Getty Images

4/19 March 2015

Women protest after the horrific rape and murder of Jyoti Singh in India

BBC

5/19 June 2014

Women in India protest against rape and other attacks on women and girls in the country

AP

6/19 June 2014

Indian activists from the Social Unity Center of India (SUCI) shout slogans against the state government in protest against the gang rape and murder of two girls in the district of Badaun in the northern state of Uttar Pradesh and recent rapes in the eastern state of West Bengal, in Kolkata

AFP/Getty

7/19 May 2014

Members of Jawaharlal Nehru University Students Union shout slogans during a protest against a gang rape of two teenage girls in Katra village, outside the Uttar Pradesh state house, in New Delhi. A top government official said the northern Uttar Pradesh state has sacked two police officers who failed to respond to a complaint by the father of the two teenage girls who went missing and were later found gang raped and killed. The placard at right reads, "Punish the culprits of gang-rape and murder of two Dalit girls"

AP Photo/Manish Swarup

8/19 January 2014

Student protesters outside a Suri hospital where a rape victim is being treated

Andrew Buncombe

9/19 January 2014

West Bengal Women's Forum activists walk a protest rally against a rape case in Calcutta, eastern India. A young girl was gang-raped on October 25 and afterwards repeatedly threatened by the accused, following which the disturbed girl set herself on fire December 23. She was admitted to the hospital with 40 percent burns and finally succumbed to her burn injuries on 31 December

EPA

10/19 August 2013

Republican Party of India supporters protest in Mumbai against the rape of a female photographer

Reuters

11/19 May 2013

Indian demonstrators shout slogans at the police during a protest calling for better safety for women

AFP/Getty Images

12/19 April 2013

An Indian woman holds a poster as she protests with others against how Indian authorities handle sex crimes near the Parliament in New Delhi, after a second suspect was arrested in the rape of a 5-year-old girl. Child rights activists say the rape of the girl is just the latest case in which Indian police failed to take urgent action on a report of a missing child. Three days after the attack, the girl was found alone in locked room in the same New Delhi building where her family lives

AP

13/19 March 2013

Indians protests against all-too-common gang-rapes in their country

Getty Images

14/19 January 2013

Indian students of various organisations hold placards as they shout slogans during a demonstration in Hyderabad

Getty Images

15/19 January 2013

A protester chants slogans as she braces herself against the spray fired from police water canons during a protest against the Indian government's reaction to recent rape incidents in India, in front of India Gate on December 23, 2012 in New Delhi

Getty Images

16/19 January 2013

Indian children paint messages during a gathering to mourn the death of the 23-year old rape victim. Her statement was used in the trial

AP

17/19 January 2013

Indians hold a candlelight vigil in Delhi in memory of a gang-rape victim. Five men have been charged with murder

AP

18/19 December 2012

Indian protesters are escorted by police as they demonstrate against the brutal gang-rape of a woman

AP

19/19 December 2012

Indian protesters destroy a police van during a violent demonstration near the India Gate against a gang rape and brutal beating of a 23-year-old student on a bus

AP
But Sunday's gaffe created a stir. Overnight, the hashtag gained ground.
"Even though the remark was meant to be a gesture of praise, social-media users interpreted it as an insult women around the world," wrote news portal Scroll.in. "Twitter started buzzing with tweets attached with pictures of women achievers of India; scientists from the Indian Space Research Organisation, foreign ministers, sportswomen and more."
Here is a sample: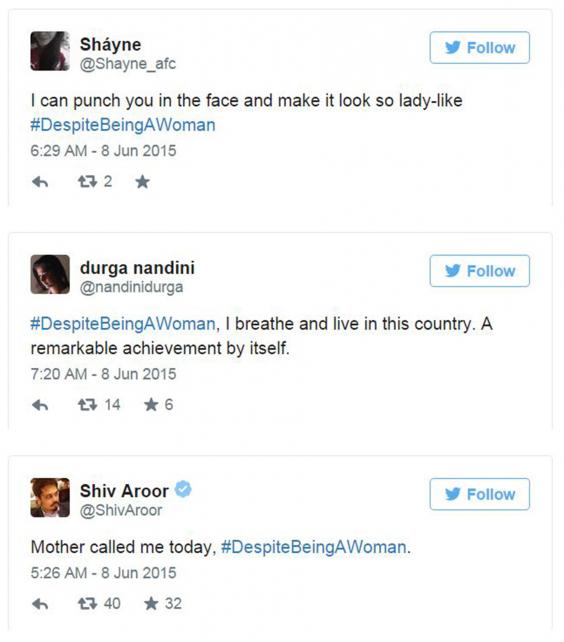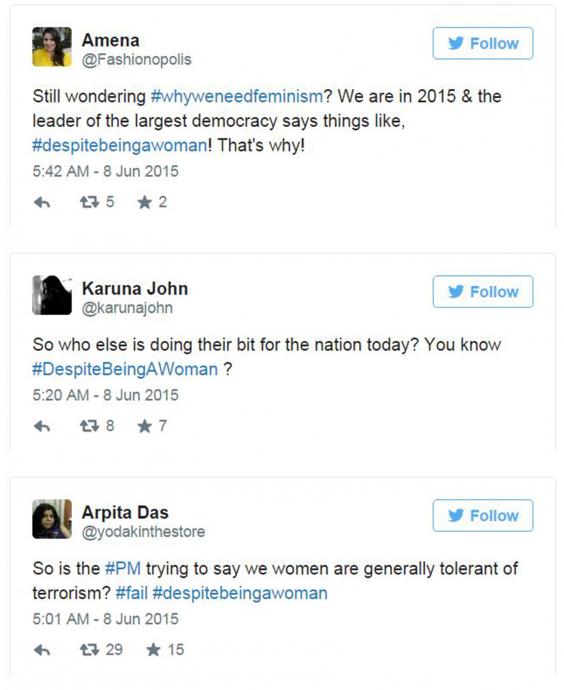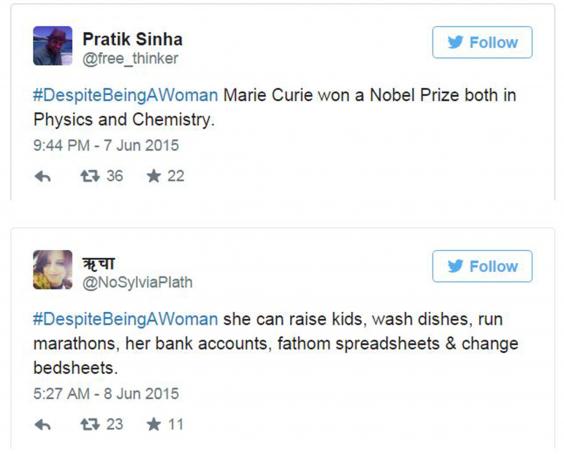 © Washington Post
Reuse content