The Nepalese army has confirmed that the wreck of a missing US military Huey helicopter and three bodies have been found.
The helicopter went missing earlier this week while assisting in the humanitarian effort in the wake of the devastating Nepal earthquake.
Six members of the United States Marine Corps (USMC), and two Nepalese soldiers were on board the helicopter when it went down.
Nepal's defence secretary Ishwori Prasad Paudyal confirmed that the rescue team found three bodies near the crash site. The identity of the dead people, and the fate of the passengers has not yet been confirmed.
The crash occurred when the helicopter had to make a landing on steep terrain in a remote area of Nepal.
A search and rescue mission began immediately after the helicopter disappeared, near the town of Charikot in Nepal, around 35 miles east of Kathmandu.
High terrain where wreckage of @USMC Venom found Friday Mt Gauri Shanker (Chomo Tseringma) in background pic.twitter.com/dUjKCT4Pz1

— Kunda Dixit (@kundadixit) May 15, 2015
The wreckage is apparently on a steep slope next to the village of Kalinchok, around 11,000ft (3,353 feet) above sea level.
There are currently around 300 US military personnel in Nepal, providing aid and emergency relief to people following the massive earthquake on 25 April, that killed around 9,000 people.
This first earthquake was followed by an aftershock earthquake on 12 May. At least 110 people were killed in the aftershock, and 2,500 were injured.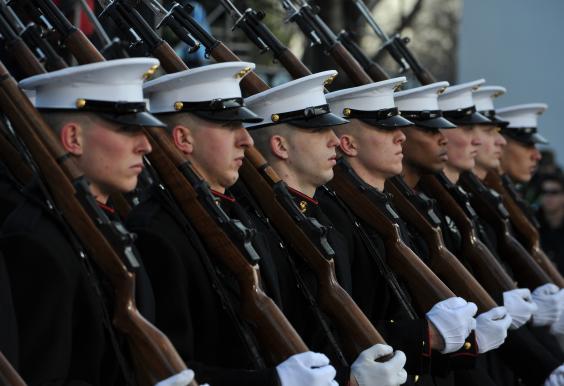 The aftershock was of a similar magnitude, but caused fewer deaths as many people were living in the open after having been displaced from their homes following the first earthquake.
Locating missing aircraft in the region can be difficult - if an aircraft goes down in a lower-lying area surrounded by mountains, then radio transmissions usually cannot reach it.
Reuse content