A judge in Pakistan has thrown out charges of attempted murder against a nine-month-old baby on Saturday, lawyers said, after the infant appeared in court for a second time.
At his first appearance in court last week, baby Musa Khan cried while his fingerprints were taken by a court official.
He appeared in court in the city of Lahore again today, calmly sitting on his grandfather's lap and drinking from a bottle of milk after being bailed.
But the judge said the case should never have come to court
The baby was charged with attempted murder, threatening police and interfering with state affairs along with his father and grandfather after a mob protesting against gas cuts and price increases stoned police and gas company workers trying to collect overdue bills.
The report lodged a complaint against the whole of Muhammad Yaseen's family,which unilaterally included his nine-month-old grandson whom he brought with him to court.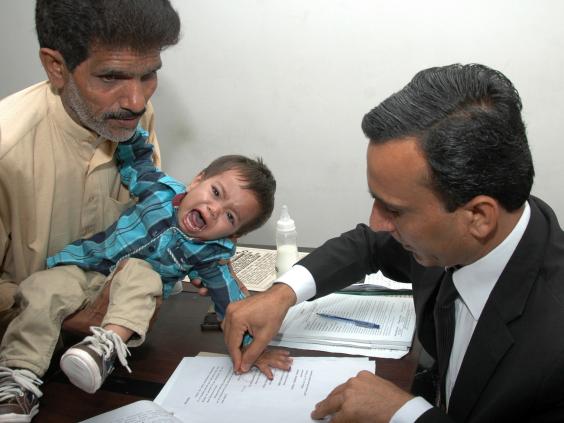 The baby's grandfather, Muhammad Yasin, and his three sons still face the charges.
The assistant superintendent who filed the charges has since been removed from their position, Senior Superintendent of Police Rana Jabbar told  The Times of India .
Mr Jabbar said: "A nine month old can never commit such a crime. This incident took place due to sheer misunderstanding on the police's part and was not done on purpose."
Punjab's Chief Minister Muhammad Shahbaz Sharif has asked for clarification over the incident and demanded "stern action" against those who registered the case.
Reuse content