North Korea marked the second anniversary of the death of former leader Kim Jong Il today, just days after the country was rocked by a political purge that saw his brother-in-law Jang Song Thaek executed.
Kim Jong Un watched on in silence at a service in Pyongyang, where military and party officials paid tribute to his late father.
The day's main event comes as the latest in a series of highly-publicised events which seek to portray the country of "single-minded unity" claimed in official government messages.
Choosing not to speak at the ceremony, Mr Kim was accompanied by Kim Yong Nam, the ceremonial head of state, and Vice Marshal Choe Ryong Hae, representing the military, occupying the spaces where his once-powerful uncle might have been.
All those attending in the Pyongyang Indoor Gymnasium bowed their heads to observe the North Korean national anthem, and three minutes of silence were observed at the start of the ceremony, with proceedings overseen by a huge portrait of the late leader.
"Once more, our people's army is firmly determined to guarantee the victory of our great general's revolutionary cause," Vice Marshal Choe said, adding that the military would "hold high the flag of the party" and follow "the ever-victorious leadership of our supreme commander".
Mr Jang's wife, Kim Kyong Hui, who is Kim Jong Un's aunt and was Kim Jong Il's sister, did not appear at Tuesday's memorial. But she was acknowledged by state media over the weekend in relation to the funeral of another top official, a sign that she has survived Jang's removal.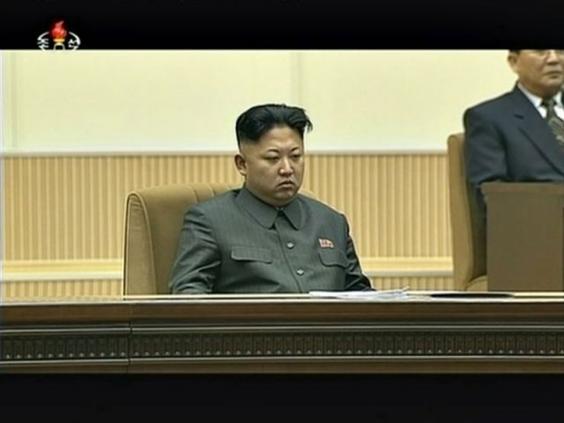 Despite constant assertions of unity and strength, North Korea was forced to admit its government had indeed felt the impact of the leadership challenge by Kim's former mentor and uncle after the death of his father in 2011.
There were no mass public displays of grief today to match the mourning that followed Kim Jong Il's death two years ago. The anniversary was not made a public holiday, though citizens were expected to attend workplace memorial gatherings.
The purge which saw Jang executed no longer makes state media headlines in the country, in keeping with his deletion from at least one recent documentary.
Reuse content