North Korea has deployed amphibious landing craft to its frontline with South Korea, the clearest indication yet that it is preparing for an invasion.
South Korean military sources told the Yonhap news agency that around 20 air-cushioned landing ships had departed from their base and travelled within a short distance of the two countries' Yellow Sea border.
The latest show of strength after Kim Jong-un declared a "quasi-state of war", it follows reports that the North has deployed its two other core tools of "infiltration" - special artillery troops and a flotilla of around 50 submarines.
South Korea has itself taken a hard line in ongoing negotiations between the two sides, after a land mine attack on loudspeakers broadcasting anti-North Korea propaganda maimed two South Korea soldiers.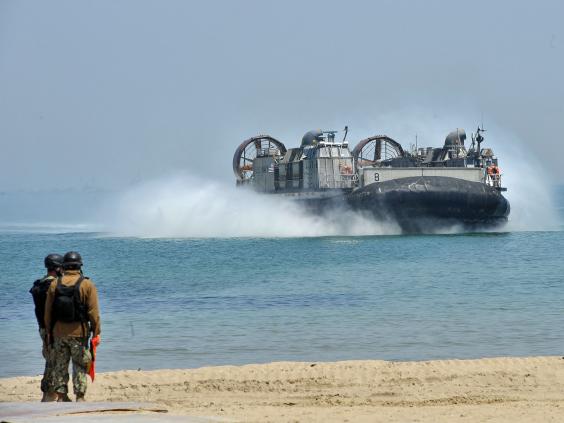 President Park Geun-hye said that without a clear apology for the incident, the cross-border broadcasts would continue.
North Korea has denied it laid the mines in the Demilitarised Zone (DMZ) separating the two countries.
But its state media has continued to deploy fierce anti-South rhetoric as relations have deteriorated. The KCNA news agency said one million young people had signed up to express their willingness to join or rejoin the armed forces.
Amid the claims of mobilisation and public warnings, peace talks behind the scenes have continued to take place.
Negotiations being held at a border village of Panmunjom began on Saturday evening, broke up before dawn on Sunday and then restarted later that afternoon.
Chung Young-chul, a North Korea expert at Sogang University in Seoul, told the Reuters news agency the South Korean president's strong statement did not bode well for the peace talks.
Countries with the worst relations with neighbours
Countries with the worst relations with neighbours
1/8 1. Ukraine (score: 5.0)

Getty

2/8 2. Syria (score: 5.0)

Getty Images

3/8 3. Russia (score: 5.0)

VASILY MAXIMOV/AFP/Getty Images

4/8 5. Lebanon (score: 5.0)

AFP/Getty Images

5/8 11. Libya (score: 4.0)

6/8 12. South Korea (score: 4.0)

PA

7/8 13. Israel (4.0)

EPA

8/8 14. Iran (score: 4.0)

Getty Images
"I am not really optimistic about the talks because they both have heavy demands that can't be dropped," Chung said. "It seems difficult to get any agreement and I think they are locking horns and tension will persist for a while."
Additional reporting by agencies
Reuse content