North Korea has claimed to have carried out a successful hydrogen bomb test, prompting condemnation from leaders around the world.
South Korea announced on Thursdayit will retaliate against the claimed thermonuclear test by restarting propaganda broadcasts on loudspeakers across the border, something Kim Jong-un's government has previously described as an act of war.
Seoul has joined with the US and Japan in pledging a united response against North Korea's actions, while the UN Security Council is expected to take action.
International observers say seismic tests show a large explosion of some kind likely took place, but that it fell well short of the sort of yield to be expected from a genuine hydrogen bomb, the most powerful kind of weapon ever created by mankind.
In pictures: North Korea hydrogen bomb test
In pictures: North Korea hydrogen bomb test
1/15

Officers from the Korea Meteorological Administration point at the epicenter of seismic waves in North Korea, at the National Earthquake and Volcano Center of the Korea Meteorological Administration in Seoul

2/15

Officers of the Korea Meteorological Administration check seismic waves that were measured in South Korean cities, at the Korea Meteorological Administration center in Seoul

3/15

A lab employee from the Korea Institute of Nuclear Safety's regional office in Gangneung, east of Seoul, checks for radioactive traces in the air, in Gangneung, soon after North Korea announced it successfully conducted a hydrogen bomb test. The office in Gangneung is the closest one to the site of the North's claimed test. Officials said it will take three to four days to analyze air samples in detail for any traces of radioactivity, the Yonhap news agency reported

EPA

4/15

5/15

South Korean President Park Geun-Hye (C) speaking as Foreign MInister Yun Byung-Se (2nd R) listens during an emergency meeting of the National Security Council at the presidential Blue House in Seoul, South Korea

6/15

North Korean leader Kim Jong-Un signing a document of a hydrogen bomb test in Pyongyang

7/15

People watch a TV news program showing North Korea's special announcement at the Seoul Railway Station in Seoul, South Korea

AP

8/15

Getty Images

9/15

Getty Images

10/15

South Korean Foreign Minister Yun Byung-Se (R) talks with US Ambassador to South Korea Mark Lippert (C) and US General Curtis Scaparrotti (L), Commander of the US Forces Korea, during their meeting following North Korea's hydrogen bomb test at the Foreign Ministry in Seoul. North Korea said it had carried out a "successful" miniaturised hydrogen bomb test - a shock announcement that, if confirmed, would massively raise the stakes in the hermit state's bid to strengthen its nuclear arsena

11/15

Hua Chunying, spokeswoman of China's foreign ministry, speaks at a regular press conference at the Ministry of Foreign Affairs in Beijing. China's foreign ministry spokeswoman Hua Chunying told reporters that China 'firmly opposes' the first hydrogen bomb test claimed by North Korea while maintaining that they did not have prior knowledge of the test

12/15

South Korean people watch TV news at Seoul station

EPA

13/15

Japan's meteorological agency officer Yohei Hasegawa displays a chart showing seismic activity, after a North Korean nuclear test, at the agency in Tokyo

Getty Images

14/15

Ko Yun-Hwa, administrator of Korea Meteorological Administration, briefs reporters showing seismic waves from the site of North Korea's hydrogen bomb test, at his office in Seoul

Getty Images

15/15

North Korea's border county of Kaepoong is seen from a South Korean observation post in Paju near the Demilitarized zone dividing the two Koreas as North Korea announced it had successfully carried out its first hydrogen bomb test

Getty Images
On Thursday, the state-run Rodong Simnun news agency carried a statement from the North Korean government justifying the test. It read as follows:
"There took place a world startling event to be specially recorded in the national history spanning 5 000 years in the exciting period when all service personnel and people of the DPRK are making a giant stride, performing eye-catching miracles and exploits day by day after turning out as one in the all-out charge to bring earlier the final victory of the revolutionary cause of Juche, true to the militant appeal of the Workers' Party of Korea (WPK).
"The first H-bomb test was successfully conducted in Juche Korea at 10:00 on Wednesday, Juche 105 (2016), pursuant to the strategic determination of the WPK.
"Through the test conducted with indigenous wisdom, technology and efforts the DPRK fully proved that the technological specifications of the newly developed H-bomb for the purpose of test were accurate and scientifically verified the power of smaller H-bomb.
"It was confirmed that the H-bomb test conducted in a safe and perfect manner had no adverse impact on the ecological environment.
"The test means a higher stage of the DPRK's development of nuclear force.
"By succeeding in the H-bomb test in the most perfect manner to be specially recorded in history the DPRK proudly joined the advanced ranks of nuclear weapons states possessed of even H-bomb and the Korean people came to demonstrate the spirit of the dignified nation equipped with the most powerful nuclear deterrent.
"This test is a measure for self-defence the DPRK has taken to firmly protect the sovereignty of the country and the vital right of the nation from the ever-growing nuclear threat and blackmail by the US-led hostile forces and to reliably safeguard the peace on the Korean Peninsula and regional security."
The statement goes on for another 14 paragraphs, describing the US as "a gang of cruel robbers" and a pack of "ferocious wolves". The regime vowed to "escalate its nuclear deterrence".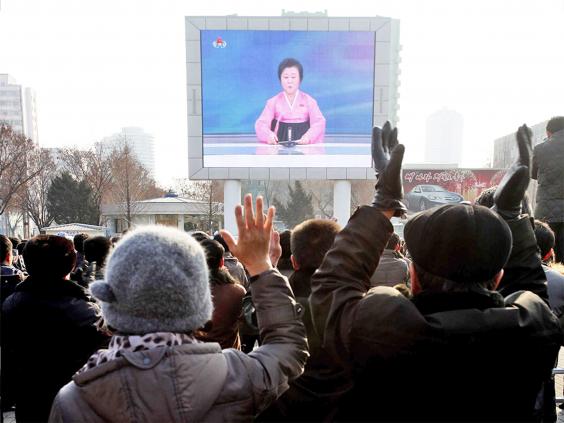 What is a hydrogen bomb?
Because of the way that they are made, hydrogen bombs are usually much more powerful than less advanced atomic bombs.
Both are kinds of nuclear armaments, but the way they release energy is different. While atomic bombs use nuclear fission, which splits a bigger atom into two smaller ones, to create their energy, hydrogen bombs use fusion, which is done by fusing two or more atoms into a bigger one.
Hasn't North Korea tested nuclear bombs before?
Because of the way that they are made, hydrogen bombs are usually much more powerful than their atomic counterparts.
That is why people are so worried about North Korea's announcement — it has already launched atomic bombs, but this is the first time that it has tested a hydrogen one.
North Korea did its first known nuclear test in 2006, and has done two more since. Initial measurements suggest Wednesday's detonation was on a similar scale to the last in 2013 – but Pyongyang has said it tested a "miniaturised" device.
Reuse content