The launch of a long-range rocket by North Korea has heightened tensions in north-east Asia and pushed South Korea and the US into talks on the deployment of a controversial high-altitude missile defence system that China and Russia both bitterly oppose.
The announcement of talks over the Terminal High Altitude Area Defence (THAAD) came just hours after North Korea announced that it had successfully put a new Earth observation satellite into orbit. North Korea's adversaries believe the real purpose of the launch was to test a ballistic missile, just one month after its fourth nuclear test. 
Following an emergency meeting on Sunday night, the United Nations Security Council condemned the rocket launch and said it would soon adopt a new sanctions resolution in response. A statement said that launches using ballistic missile technology, "even if characterised as a satellite launch or space launch vehicle", contribute to North Korea's development of systems to deliver nuclear weapons. It added that using ballistic missile technology was a violation of four Security Council resolutions dating back to 2006. 
The launch was widely condemned, including by the British Foreign Secretary Philip Hammond, who said North Korea's actions "continue to present a threat to regional and international security". But China and Russia both stressed the importance of finding a diplomatic solution. 
If deployed, THAAD would usher in a new era of Star Wars in north-east Asia. South Koreans have long been lukewarm about US insistence on the need to deploy multibillion-dollar missile launchers capable of shooting down enemy missiles hurtling more than 100 miles overhead. 
One of South Korea's objections has been concern about offending Beijing, which has repeatedly expressed alarm about THAAD and its potential for use against China.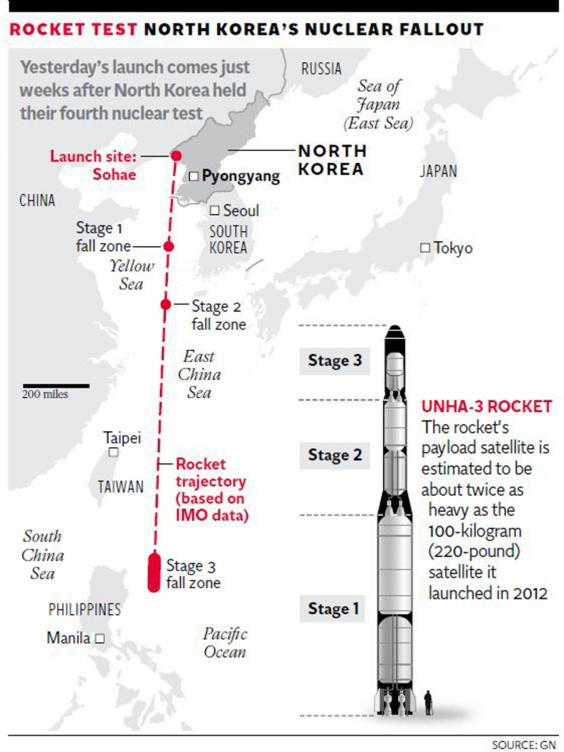 But China's tepid response to North Korea's fourth underground nuclear test on 6 January as well as this weekend's missile launch has convinced South Korea's President Park Geun-hye of the need for strong measures, and South Korea and the US said they would seek to deploy the system "at the earliest possible date". 
China expressed "regret" over the launch, saying North Korea had "ignored universal opposition of the international community". While North Korea "should have the right to the peaceful use of space", an official Chinese response said, "this right is limited by the United Nations Security Council resolutions."
In pictures: North Korea hydrogen bomb test
In pictures: North Korea hydrogen bomb test
1/15

Officers from the Korea Meteorological Administration point at the epicenter of seismic waves in North Korea, at the National Earthquake and Volcano Center of the Korea Meteorological Administration in Seoul

2/15

Officers of the Korea Meteorological Administration check seismic waves that were measured in South Korean cities, at the Korea Meteorological Administration center in Seoul

3/15

A lab employee from the Korea Institute of Nuclear Safety's regional office in Gangneung, east of Seoul, checks for radioactive traces in the air, in Gangneung, soon after North Korea announced it successfully conducted a hydrogen bomb test. The office in Gangneung is the closest one to the site of the North's claimed test. Officials said it will take three to four days to analyze air samples in detail for any traces of radioactivity, the Yonhap news agency reported

EPA

4/15

5/15

South Korean President Park Geun-Hye (C) speaking as Foreign MInister Yun Byung-Se (2nd R) listens during an emergency meeting of the National Security Council at the presidential Blue House in Seoul, South Korea

6/15

North Korean leader Kim Jong-Un signing a document of a hydrogen bomb test in Pyongyang

7/15

People watch a TV news program showing North Korea's special announcement at the Seoul Railway Station in Seoul, South Korea

AP

8/15

Getty Images

9/15

Getty Images

10/15

South Korean Foreign Minister Yun Byung-Se (R) talks with US Ambassador to South Korea Mark Lippert (C) and US General Curtis Scaparrotti (L), Commander of the US Forces Korea, during their meeting following North Korea's hydrogen bomb test at the Foreign Ministry in Seoul. North Korea said it had carried out a "successful" miniaturised hydrogen bomb test - a shock announcement that, if confirmed, would massively raise the stakes in the hermit state's bid to strengthen its nuclear arsena

11/15

Hua Chunying, spokeswoman of China's foreign ministry, speaks at a regular press conference at the Ministry of Foreign Affairs in Beijing. China's foreign ministry spokeswoman Hua Chunying told reporters that China 'firmly opposes' the first hydrogen bomb test claimed by North Korea while maintaining that they did not have prior knowledge of the test

12/15

South Korean people watch TV news at Seoul station

EPA

13/15

Japan's meteorological agency officer Yohei Hasegawa displays a chart showing seismic activity, after a North Korean nuclear test, at the agency in Tokyo

Getty Images

14/15

Ko Yun-Hwa, administrator of Korea Meteorological Administration, briefs reporters showing seismic waves from the site of North Korea's hydrogen bomb test, at his office in Seoul

Getty Images

15/15

North Korea's border county of Kaepoong is seen from a South Korean observation post in Paju near the Demilitarized zone dividing the two Koreas as North Korea announced it had successfully carried out its first hydrogen bomb test

Getty Images
Analysts saw that statement as a pro forma reaction that indicated China would not support calls in the United Nations for strengthening current sanctions – or, indeed, for enforcing the sanctions already in place after the previous missile launch in 2012 and after North Korean nuclear tests in 2006, 2009 and 2013.
"Nothing's going to happen," said Tom Coyner, a Seoul-based business consultant. "The debate in the UN will go nowhere. Nobody will do anything."
Ms Park reflected South Korean outrage as well as frustration, declaring that North Korea had "committed an unacceptable provocation of launching a long-range missile after conducting a fourth nuclear test" and demanding that the UN Security Council "quickly come up with strong sanctions."
South Korea's Foreign Minister, Yun Byung-se, said he might go to New York to try to drum up support at the UN. He also planned to talk on the phone to the US Secretary of State, John Kerry, and Japan's Foreign Minister, Fumio Kishida.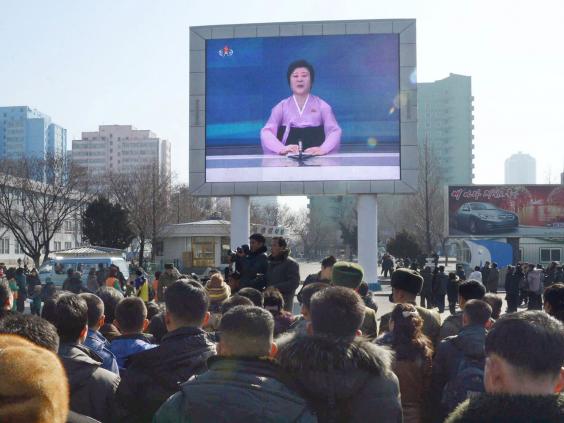 In North Korea, the launch was met with praise, with the National Aerospace Development Administration, describing "the fascinating vapour of Juche satellite trailing in the clear and blue sky". It said the launch was timed to coincide with the 16 February birthday of its former "Dear Leader" Kim Jong-il. 
Japan threatened fresh retaliation against North Korea over the rocket, which flew over Okinawa in Japan's far south-west, triggering a military alert. 
"We absolutely cannot allow this," Prime Minister Shinzo Abe said. "We will take action to protect the safety and well-being of our people." Mr Abe said he had instructed his staff to prepare options for unilateral sanctions, a tacit admission that his government's policy of cautious engagement with the regime of Kim Jong-un has failed. Mr Abe's government deployed destroyers and missile interceptors around Tokyo and on remote islands around Okinawa, in a largely symbolic show of strength against the launch.
In 2014 Japan relaxed what were probably the world's toughest sanctions against the North, after Pyongyang promised to reinvestigate the abductions of Japanese citizens. 
Tokyo also broke diplomatic ranks with Washington and Seoul by secretly sending an advisor, Isao Iijima, to Pyongyang in 2013. 
Andrei Lankov, a veteran Pyongyang watcher, said Tokyo's uncompromising stance on the abduction issue had essentially locked Mr Abe's government out of debate over what happened to the reclusive pariah state.  
Japan's Defence Minister, Gen Nakatani, said the North was using the improvement in its technology for long-range ballistic missiles as a way of highlighting the achievements of Kim Jong-un. "It's too early to tell if the North succeeded in putting a satellite into orbit," he said.