North Korea has said it is suffering its worst drought in a century, as concerns are raised over food shortages in the isolated state.
The official Korean Central News Agency said rice-growing areas across the country had been badly damaged by the drought, with more than 30 per cent of rice paddies drying up.
In a report released on Tuesday, the KCNA said: "Water level of reservoirs stands at the lowest, while rivers and streams (are) getting dry."
Hundreds of thousands of people are believed to have died during a devastating famine in North Korea in the 1990s.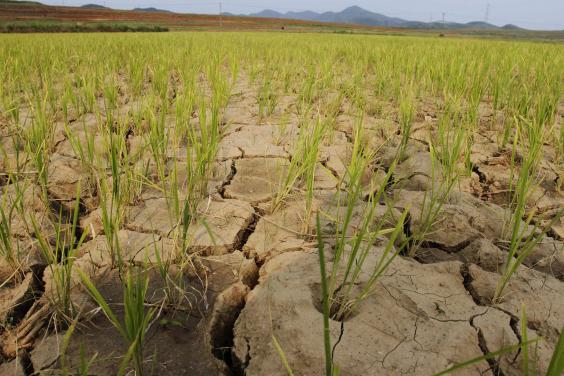 The drought is also understood to have loosened the state's control over the economy, by damaging the public food distribution system and opening the door to private economic activity in unofficial markets, the Associated Press has reported.
The World Food Program (WFP), which has been providing food assistance to the country since 1995, is now looking at sending emergency assistance should the situation worsen.
The WFP has said regular food shortages are experienced in the country, where it says almost one in three children are "chronically malnourished".
North Korea's worst human rights abuses
North Korea's worst human rights abuses
1/11 Starvation

A UN report said that policies leading to mass starvation in North Korea amounted to crimes against humanity. Deaths peaked during the 1990s North Korean famine.

Al Jazeera

2/11 Executions

Defence minister Hyon Yong Chol is believed to be the latest official executed after falling foul of Kim Jong-un. As well as gruesome public executions, thousands of people have been killed in state 'purges' and for alleged anti-state crimes

Getty

3/11 Torture

Torture is prevalent in prison camps, as well as in police and security service custody.

AP

4/11 Freedom of religion

American missionary Kenneth Bae was one of the many people detained after trying to practice their religion. The DPRK Constitution claims to protect freedom of religion but not if it as alleged of being used a a pretext for 'drawing in foreign forces or for harming the state and social order'. Christianity is frequently considered a political crime

5/11 Freedom of expression

All media is tightly-state controlled and expressing facts of opinions critical of the government or Juche ideology can lead to arrest and imprisonment. As well as being under extensive surveillance, people are encouraged to 'inform' on friends and neighbours

Getty

6/11 Freedom of thought

A UN report found that the 'DPRK operates an all-encompassing indoctrination machine which takes root from childhood to propagate an official personality cult and to manufacture absolute obedience to the Supreme Leader, effectively to the exclusion of any independent thought from the official ideology and state propaganda'

Reuters

7/11 Forced labour

Prisoners are subjected to forced labour in camps, including children as young as five. Some workers are also reportedly being sent abroad to fund the government's projects

AFP

8/11 Sexual discrimination

Although women are permitted to serve in the military, their role is restrained by the Juche ideology and the UN reports that 'discrimination against women remains pervasive in all aspects of society'

AP

9/11 Freedom of movement

Freedom of movement is severely restricted within North Korea and very few citizens are allowed to leave the country. Immigrants found in China can be forcible repatriated and punished on their return. The right for foreigners to enter is also severely restricted.

Reuters

10/11 Prison camps

Many of the worst abuses reported take place at prison camps, some specifically for political crimes. The camps officially do not exist but have been photographed using satellite. Inmates are 'forcibly disappeared' and usually imprisoned until death

REUTERS

11/11 Reproductive rights

Forced abortions have been reported for imprisoned women, often after being raped by guards. Mothers and babies frequently die in childbirth because of a lack of adequate care, often delivering babies unaided at home.

AP
An official from South Korea's Unification Ministry, who asked not to be identified, told AP that rain fall in North Korea had been abnormally low in May.
He said production of rice and potatoes could fall by 20 per cent if the drought continues into July.
The official could not confirm the claim by North Korea that the drought was the worst in a century.
The KCNA said in its report that other crops were now being planted in paddy fields in a bid to reduce the shortfall.
Additional reporting by AP
Reuse content