The US and South Korea have put their annual joint military exercise on temporary hold as tensions rose between the two Koreas and residents of the South showed signs of unusual jitters.
South Koreans are normally blasé about the North, inured for years to its rhetorical threats to turn Seoul "into a sea of fire" and wipe out their country with a bombardment of short-range Scud missiles. But this weekend a sense of mounting crisis is, unusually, beginning to take hold.
North Korea's leader Kim Jong-un declared a "semi-state of war" on Friday and ordered frontline troops onto a war footing, leading residents of the busy capital, Seoul, to express fears that never seemed to disturb them during the distant shoot-outs in the Yellow Sea that over the years have killed dozens, mostly South Korean sailors.
"Old people are getting especially worried," said Lee Nam-bok, a woman in her 70s with memories of being forced to flee her home to escape the attacking North Koreans during the Korean War. "Another war will break out."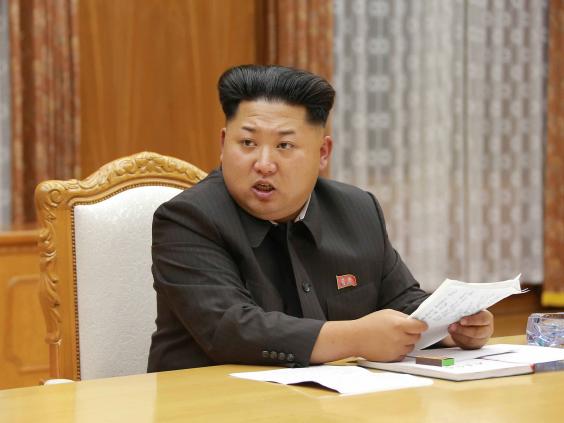 Everywhere, people of all ages fear that Kim Jong-un may actually make good on his threats to "fire indiscriminately" on targets south of the demilitarised zone that divides the two Koreas, if South Korea persists in broadcasting propaganda over loudspeakers. Seoul is just 25 miles from what is widely seen as the world's most dangerous border, and is easily within range of the rockets and artillery pieces trained across it by the North.
"It's very irritating," said Park Sung-eun, an office worker, scanning the headlines. "Kim Jong-un is not even a human being, he's an animal." A US official said the joint manoeuvres, seen as part of the deterrent to Pyongyang, had been suspended only for a "pre-scheduled pause" to examine the lessons learned so far.
But that did not ease the war hysteria that swept the country after Pyongyang's Korean Central News Agency broadcast Kim Jong-un's order for troops to be "ready for combat" and reported that military commanders were "hastily dispatched to the frontline troops" to lead them in attacking the loudspeakers that have proved so upsetting to the North.
With the troops primed for war at 5pm Pyongyang time (5.30pm in Seoul), nuclear-armed North Korea gave South Korea 48 hours to shut down the loudspeakers or face action to silence them.
Kim Jong-un issued the order to be ready for war at an emergency meeting of the military commission of the ruling Workers' Party. North Korean television showed images of the North's new Defence Minister, Pak Yong-sik, whose predecessor, General Hyon Yong-chol, was sacked and is believed to have been executed in May. Shown alongside the new minister was Hwang Pyong-so, director of the general political department of the Korean People's Army.
Kim Jong-Un - North Korean leader in pictures
Kim Jong-Un - North Korean leader in pictures
1/3 Kim Jong-Un in pictures

Kim inspecting a firing contest of AA artillery personnel at an undisclosed location

AFP

2/3 Kim Jong-Un in pictures

Kim visits Farm No. 1116, under KPA (Korean People's Army) Unit 810. Reclusive North Korea said on june 16, 2015 it has been hit by the worst drought in a century, compounding chronic food shortages in a country where the United Nations says almost one third of children under five are stunted due to malnourishment.

Reuters

3/3 Kim Jong-Un in pictures

Kim inspects a night naval fire strike drill of a navy warship sub-unit and ground artillery sub-units

AFP PHOTO / KCNA VIA KNS
Fears the North might make good on it threats this time were heightened when North Korean gunners fired a rocket and artillery shots at the loudspeakers on Thursday – the largest-calibre fire to be directed across the land border for several years. South Korean gunners responded with a barrage of several dozen 155mm artillery rounds.
Although nobody was injured on either side, the prevailing sense is the next phase of the confrontation could turn bloody.
"I think it's going to escalate," said Choi Jinwook, director of the Korea Institute of National Unification. South Korea, he said, could not back down under North Korean threats. "There is nothing we can do to stop the speakers," he said.
South Korea's President Park Geun-hye talked tough in a surprise visit to a military headquarters near Seoul, vowing she would "never tolerate  North Korean provocations".
Reuse content