North Korea has threatened to "blow up" South Korea's loudspeakers after they began spouting "anti-North psychological warfare" over the border.
Seoul started up the broadcasts of anti-Pyongyang propaganda after 11 years this week when North Korea denied planting land mines in the Demilitarized Zone south of the border.
The denial came after two South Korean soldiers had been maimed by land mines in the Zone.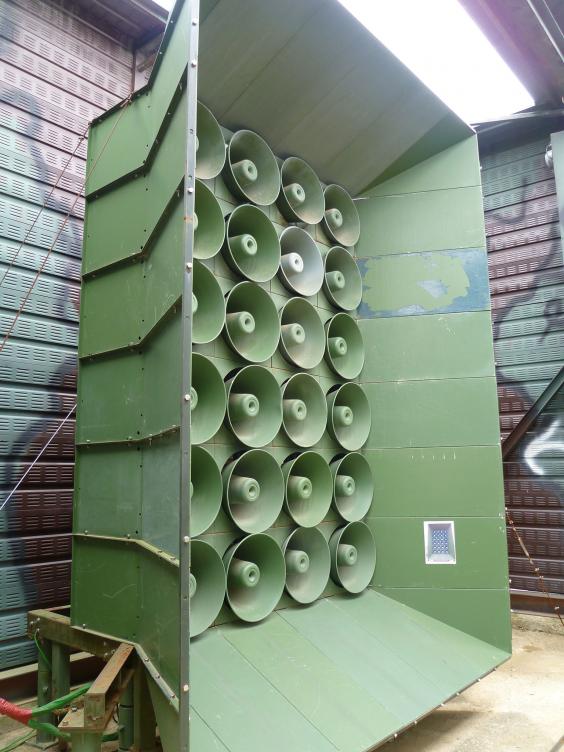 A statement from North Korea's army on Saturday said that the broadcasts are equivalent to a declaration of war and that a failure to immediately stop them and take down the loudspeakers would result in "an all-out military action of justice to blow up all means for 'anti-North psychological warfare'" on the frontlines.
North Korea is extremely sensitive about insults thrown at its leader Kim Jong Un and tries to isolate its people from any criticism or suggestions that Kim is anything other than powerful and revered.
But South Korea's President Park Geun-huy told Pyongyang to "wake up" from the delusion it could maintain its government through provocation and threats that would only result in isolation and destruction.
In pictures: Pyongyang propaganda posters
In pictures: Pyongyang propaganda posters
1/10 Slogan: 'Seed revolution is the core of agricultural development' (1980s)

'I've been to farms and seen the technical officers there checking everything is being done correctly. They do go around with magnifying glasses like in this poster.'

2/10 Slogan: 'Let's destroy the manoeuvres of the US imperialists' (2006)

'This image was around during George W Bush's presidency.'

3/10 Slogan: 'We build small and medium power stations by ourselves' (1980s or 1990s)

'It's the same mentality as Made in Britain, reinforcing independence and self-reliance.'

4/10 Slogan: 'Love our machines like the anti-Japanese guerrillas who loved their weapons like the pupils of their own eyes' (1990s)

'This is just about looking after machinery, basically. It is pure health and safety at work.'

5/10 Slogan: 'US imperialists cannot let their children know the truth' (1980s or 1990s)

'You see this in some of the later ones too: the simplistic use of colour to get across the powerful image. Prior to this you saw more obvious comic styles.'

6/10 Slogan: 'Destroy US imperialists!' (2000s)

'You don't need the slogan. It's like advertising, they know how to deliver a message well.'

7/10 Slogan: 'Let's increase electricity production by reconstructing thermal power stations and building large hydroelectric plants' (late 2000s)

'In Chinese posters subjects usually look at you directly, but in North Korean posters it's rare.'

8/10 Slogan: Don't be fooled by their art of disguise!' (1980s or 1990s)

'It's about internal security with Japan, and the US and South Korea as the big enemies.'

9/10 Slogan: 'Three revolutions, let's advance the march of grand construction with Chollima [mythical winged horse] speed' (late 2000s)

'It's about the building of the new railways, and she's even got a Kimjongilia flower that represents Kim Jong-il.'

10/10 Slogan: 'Let the exploits of the northern railway conductors shine! (2000s)

'That's the mythical Chollima horse with the soldier, the intellectual and the peasant to represent culture, technology and agriculture. After the Korean War Kim Il-sung used the Chollima as a way of saying, 'We are going work at lightning speed' and the country produced enormous amounts of iron.'
Park said her government would firmly respond to any provocation, but added that if the North chooses to have a dialogue and co-operate with the South then it will find opportunities to improve the lives of its people.
Park also urged North Korea to accept her government's proposals for building a "peace park" in the Demilitarized Zone and for reunions of families separated by the border, which is the world's most heavily armed.
Additional reporting by AP
Reuse content