The US student being held by North Korea amid accusations he committed a "hostile act against the state" was travelling with a group of young people who were out drinking vodka until 5am the night before, according to a man who was due to be on the same flight.
Darragh, an Irish national who has asked for his surname not to be published, told the Independent he had spoken to people on the plane who had travelled with the 2l-year-old man identified by North Korea as Otto Warmbier during his trip to the hermit kingdom. 
"We were all talking about that and how it was quite strange that you would choose to go to North Korea on your first trip out of your home country," he said.
"I don't know if it's connected at all but my tour group that I was with were a lot older. But the other tour group [the Young Pioneers] were really young. Between 18 and 25. They were up until four or five in the morning drinking vodka and having fun basically. We had to be up at 7am for the actual flight. I don't know whether there's any connection there – that he may have just said something if he was hungover or if he did something stupid while he was drunk the night before
According to Darragh, Mr Frederick – a 21-year-old Virginia student - was yelled at by armed officials at Pyongyang airport terminal before being dragged away:
"We were told there were only 100 tourists in the country at the time and there were 100 people on my flight," he said. "When we were leaving one of the other tour group's [the Young Pioneers] tour leader said 'we're missing Otto'.  
"I always remember Otto because it's such a German or an Austrian name… she [the tour leader] got up and was really frantically running up and down the plane. She ran to the air hostess and was trying to say to the air hostess that 'we're missing Otto'. She then went up to business class and he wasn't there. 
The 25-year-old added: "The tour operator eventually got through to Otto on the phone. He said to her that he didn't want to leave and had a headache and that he wanted to go to hospital. She preferred him to get on the plane and go to a hospital in China….He hung up the phone and that was the last they heard of him. There was a frantic search when they landed in China.
"There was another person sitting next to me on the plane. This person said he [Otto] had said something to the guard. At the gate for the plane there was a woman collecting tickets and an armed soldier. According to the person next to me he [Otto] said something to the soldier and then the soldier started yelling at him and dragged him off. 
"We don't know what he said but he kept telling his tour leader – she was sitting right behind me – that he had a headache and needed to go the hospital."
Darragh approached the Independent after the North's state-run KCNA news agency identified a student it has recently arrested as Warmbier Otto Frederick from the University of Virginia. The state sometimes lists English-language surnames first.
It said he entered North Korea as a tourist and was "was caught committing a hostile act against the state," which it said was "tolerated and manipulated by the U.S. government". An official at the US embassy in Seoul, the South Korean capital, said it was aware of the reported arrest.
The Korean-language KCNA report said the detainee was a Virginia university student and had entered the country with an "aim to destroy the country's unity". It did not elaborate.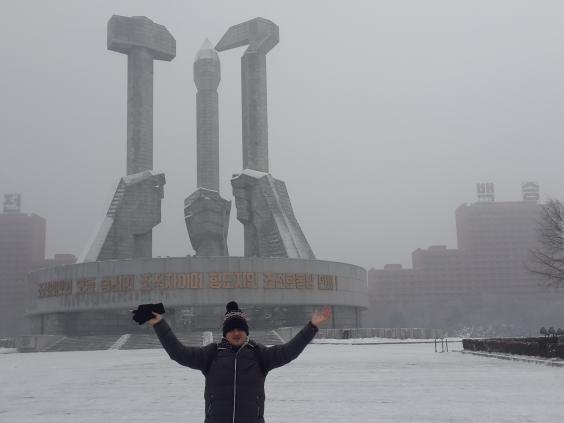 "We were told constantly that the smallest thing was considered a hostile attack: I bought lots of magazines and books there and we were told not to fold them in a way that creased Kim Jong-un's face. They said that would be an attack on their country.
"There were four or five rows of people who were aware that something was happening and everyone was really nervous. We'd had a really good trip. I actually forgot that I was in country like that…so this all brought it back home."
A few thousand Westerners are thought to visit North Korea each year, and Pyongyang is pushing for more tourists as a way to help its dismal economy. The U.S. State Department has warned against travel to the North, however, and visitors, especially those from America, who break the country's sometimes murky rules risk detention, arrest and possible jail sentences, although most have eventually been released.
Reuse content