Pakistan's army says it has killed more than 100 "terrorists" in 24 hours of mass security operations following an Isis suicide bombing that killed more than 80 people.
Maj Gen Asif Ghafoor said raids were still underway across the country, including in the province of Punjab where several militants have died in gun battles in recent days.
A spokesperson for Pakistan's Chief of Army Staff said the military would act for security against "all types of threat".
"Nation to stay steadfast with full confidence in their security forces," he added. "We shall not let the hostile agenda succeed whatever it may cost."
Authorities said a large number of arrests were also made as intelligence agencies work to uncover terror networks liked to Isis, the Taliban and al-Qaeda.
Amnesty International cautioned that while effectively responding to the "grave attack" on Pakistan's cultural heritage, authorities must adhere to international law and afford terror suspects fair treatment under the judicial process.
Nadia Rahman, the Pakistan campaigner at Amnesty International, told The Independent: "The authorities have a responsibility to protect people's lives but must do so while adhering to international law."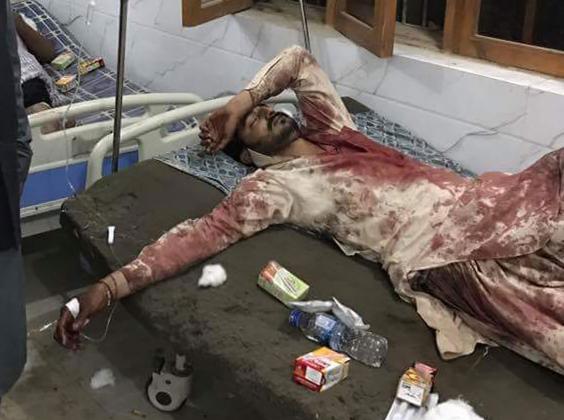 The Pakistani armed forces said the country's border with Afghanistan had been closed since Thursday night and all unauthorised entry would be stopped.
It has accused its neighbouring country of sheltering terrorists, sending a list of 76 people suspected of planning or supporting attacks in Pakistan, while Afghanistan has made the same allegation.
Afghan diplomats were summoned to the military's general headquarters in Rawalpindi over the allegations, with Pakistan demanding their counterparts either took "immediate action" against named suspects or hand them over.
Government officials said the crackdown would continue nationwide over the coming days, following a week of bloody terror attacks claimed by both Isis and a faction of the Taliban.
Isis claimed responsibility for a suicide bombing at the famed Lal Shahbaz Qalandar shrine in Sehwan, where Sufi Muslims had gathered to perform the dhamaal ritual.
At least 83 people were killed and hundreds injured in the blast, which was the deadliest attack in Pakistan for two years.
Isis claimed responsibility for the massacre via its Amaq news agency, saying a "martyr of the Islamic State" detonated his vest at what the group described as a "Shia gathering".
Sufis, who can be both Sunni and Shia, practice a form of Islamic mysticism that is held to be heretical by salafi jihadist groups like the Taliban, Isis and al-Qaeda.
Police Academy attack in Quetta, Pakistan
Police Academy attack in Quetta, Pakistan
1/11

Pakistani Army Major General Sher Afgun speaks to journalists as Balochistan's provincial interior minister Mir Sarfraz Bugti looks on after an attack by suspected militants at a police training centre in Quetta, Pakistan

EPA

2/11

Pakistani troops deploy outside the Police Training Centre after an attack on the center in Quetta, Pakistan

Reuters

3/11

An ambulance carries injured officers to a hospital outside a police training school attacked by militants in Quetta, Pakistan

AP

4/11

Medical workers treat an injured policeman at hospital after militants attacked the Balochistan Police College in Quetta

Getty

5/11

A police cadet from the Police Training Centre lies in the hospital after being injured after an attack on the center in Quetta, Pakistan

Reuters

6/11

Relatives of police cadets wait for word outside the Police Training Center after an attack on the center in Quetta, Pakistan

Reuters

7/11

Pakistani men take care of injured relatives at a hospital in Quetta

Getty

8/11

The death toll from an overnight attack on a police academy in southwest Pakistan has risen to 58 people with dozens more wounded

Getty

9/11

Pakistani soldiers pass through the entrance to The Police Training College in Quetta

Getty

10/11

Pakistani rescue workers transport an attack victim in Quetta

Getty

11/11

Pakistani security personnel stand guard as an ambulance carrying the coffins of attack victims drives past in Quetta

Getty
Thursday's attack came after four days of continuous atrocities claimed by Jamaat-ul-Ahrar, a faction of the Pakistani Taliban that has also been linked to Isis, and the group was blamed for the shrine massacre by some politicians.
The Taliban faction, which expressed support for Isis before re-joining its parent group in 2015, claimed responsibility for a bombing that killed 13 people in Lahore on Monday and the assassination of security forces and judges in the following days.
Jamaat-ul-Ahrar said they were launching of a new campaign of violence against the government, police, military, the judiciary and secular political parties.
An army offensive launched in 2014 aimed to push militants out of their strongholds near the Afghan border but terrorist groups are now competing with each other after Isis launched the "Khorasan Province" in Pakistan and Afghanistan in 2015.
The wave of violence has raised tensions between Pakistan and Afghanistan, with Islamabad summoning an Afghan diplomat to voice concern about militant "sanctuaries" over the border.
Pakistani authorities claim jihadis launch attacks from Afghanistan, where the government and international troops are fighting to oust al-Qaeda and the Taliban in the continuing war.
Afghanistan and the United States have in turn accused Pakistan of harbouring Afghan Taliban leaders fighting to topple the Western-backed government in Kabul, which it denies.
Defections and suspected cooperation between factions of the Taliban and Isis led some observers to question whether the bloodshed points to a new threat or to longstanding militant groups operating under a different name.
Recent high-profile attacks have put pressure on the government to tighten security at potential targets, which have included shrines, Easter celebrations and a training college.
As the blood still lay on marble floors at Lal Shahbaz Qalandar on Friday, protesters gathered outside to demonstrate against police.
Ali Hussain told Reuters that local Sufis had asked for better protection but "no one bothered to secure this place".
Anwer Ali, 25, rushed to the shrine after he heard the explosion and described seeing dead bodies and chaos as people fled the scene.
"There were threats to the shrine," he added. "The Taliban had warned that they will attack here, but authorities didn't take it seriously."