The Taliban came at night, slipping into the village of Sarwan Qala and scaling the roofs of its mud-baked homes to fire on police and army checkpoints nearby.
The incursion by hundreds of fighters in June sent residents fleeing to neighbouring hamlets by donkey and on foot. It was the first salvo in a massive, ongoing Taliban offensive against Afghan security forces in south-eastern Afghanistan. The increasingly bloody campaign shows the strength of the insurgents, who have been emboldened by the US military withdrawal from the area in May, local residents and Afghan security forces said. The outcome of the fighting in the Sangin district, which includes Sarwan Qala, will be a bellwether for how Afghanistan's national police and army might fare after foreign troops leave the country at the end of the year.
Sangin is critical to both sides because of its prime spot in Helmand province, a poppy-growing region that has long provided the Taliban with drug and weapons-smuggling routes. It also borders Kajaki to the north, where a US-built hydro-power dam is supposed to churn out electricity for much of southern Afghanistan. But insurgents cut the cable long ago, leaving the province without power.
Fifty US Marines lost their lives in fierce battles in 2010 and 2011 aimed at depriving the Taliban of a base in Sangin. The current campaign, too, is causing heavy casualties. The governor of Helmand province, Mohammad Naeem, said recently that as many as 900 people, both civilians and combatants, have been killed so far in the fighting.
In pictures: Afghanistan election: Voters defy Taliban to cast votes for new president
In pictures: Afghanistan election: Voters defy Taliban to cast votes for new president
1/5 Afghanistan elections

Afghan women stand in line as they wait to vote at a polling station in Kabul April 5, 2014.

2/5 Afghanistan elections

An Afghan woman shows her inked finger after voting at a polling station in the northwestern city of Herat

3/5 Afghanistan elections

Afghan voters queue at a local polling station in the Jamee mosque of Herat on April 5, 2014.

AFP

4/5 Afghanistan elections

An Afghan woman leaves the booth after casting her vote at a polling station in the northwestern city of Herat

AFP/ Getty Images

5/5 Afghanistan elections

Afghan election workers are escorted by armed policemen as they transport election materials and ballot boxes to remote polling stations in Balkh Province this week

Getty Images
"Sangin is a big test," he said in an interview at his fortified residence in Lashkar Gah, Helmand's capital. He said Afghan troops were "moving slowly" because Taliban fighters had laid hundreds of land mines across the district. "But God willing they will not take the district centre," he said. If the militants overran the centre, he said, they would be able to seize several volatile districts nearby. "If they take it, it will be a huge problem." British troops first deployed to Sangin, a verdant patch of melon and poppy fields, to curb Taliban advances in 2006. But they struggled to tame the insurgency. In 2010, the Marines arrived in the district, where they would suffer the US military's worst concentration of fatalities in the war. The Marines withdrew from the district in May, turning it over to Afghan security forces.
Video: Five hanged by Taliban earlier this month
Now, US troops are operating in a strictly advisory role, and no foreign advisers or soldiers from the Nato-led coalition's command in southern Afghanistan are operating on the ground in Sangin, a coalition spokesman said.
"The fighting has been difficult at times, and some checkpoints have exchanged hands," said US Marine Lieutenant Garth Langley, a media officer for the coalition in south-western Afghanistan.
According to General Ghulam Sakhi, a brigade commander with an elite Afghan national police unit in Sangin, Afghan forces took back seven key checkpoints in Sarwan Qala earlier this month. But beyond checkpoints and the district's central bazaar, a roughly one-mile stretch lined with small shops, the Afghan government controls little in the area.
Daily battles between the security forces and insurgents keep residents confined to their homes. Residents and police say security outposts come under constant fire from Taliban insurgents. While the militants used to engage with US forces only briefly – often staging hit-and-run attacks – they are now fighting for prolonged periods.
Police say they feel outgunned by their opponents, who they claim are armed with sophisticated equipment such as precision sniper rifles, night-vision goggles and thousands of potent improvised explosive devices.
"This is the worst fighting in the eight years I have been a policeman in Sangin," said Said Jan Agha, 45, who commanded a checkpoint in the village of Gumbat, about a half-a-mile from the district centre. Mr Agha suffered a bullet injury to his spine during a firefight with insurgents and was being treated at the province's only war trauma facility, the Surgical Centre for War Victims in Lashkar Gah.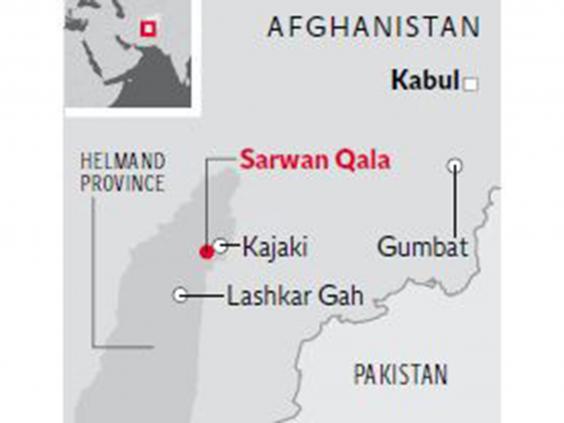 In the ward next door, policeman Khoday Noor said he was wounded in a battle with Taliban fighters at a separate checkpoint in Gumbat, after insurgents tunnelled 200 yards to ambush the officers at their outpost at night.
"We can't go far – the villages are dangerous," said Mr Noor, 23. "Maybe they [villagers] are with us, but maybe they are with the Taliban."
Insurgents "have covered a lot of area" in Sangin, he said, adding: "Our security belt around the district centre is uneven, and they are very close in some places."
In the intensive care unit at the surgical centre in Lashkar Gah, run by the international non-profit organisation Emergency, the intensity of the fighting is reflected in horrific injuries and a constant stream of trauma patients. More than 3,000 people with war-related injuries were treated between January and July at a separate field clinic operated by Emergency in Sangin, the organisation said. About 600 of them received care in July alone.
On a recent day, a police officer who was delirious after a roadside bomb shredded his legs arrived at the hospital in Lashkar Gah mumbling his name, Matiullah. He had come from Sangin. An elder from the district, Juma Khan, was recovering from a bullet injury to his arm. He suffered the wound when shots were fired at him and his children on the road to the local market, killing his 10-year-old  daughter, Islamiya.
"When the government took over [from the US Marines], the fighting started," said Fathi Momand, a white-bearded poppy farmer from Sarwan Qala who was injured in the legs and abdomen by a shell the night the Taliban came to his village in June. "Then the government retreated and told us they could not help us anymore."
"The Taliban want to take the districts," he added, wincing from a gaping bed sore he acquired from weeks in the hospital. "If there is one power in the districts, there will be peace. If not, there will be fighting."
©Washington Post
Reuse content