Thousands of police in riot gear have moved in to force anti-government protesters from a site in the centre of Bangkok they had occupied since December. Yet the police were unable to clear another site after protesters refused to leave.
In what appears to have been a sharp change in tactics from the government of Thailand's Prime Minister Yingluck Shinawatra, police dismantled a sprawling camp in Bangkok's old quarter that is close to the premier's compound and known as Government House. The office has been closed since December by the protesters camped nearby.
As police entered the protest zone, they called for cooperation through loud-hailers. There was no resistance from protesters, who had already given up the site and regrouped elsewhere. "It is necessary for the police to clear this area. For your own safety please strictly follow instructions," police told the protesters who were there, according to the Associated Press.
Parts of Bangkok have for months been besieged by protesters seeking to oust Ms Yingluck and who have forced her to dissolve the parliament and call a snap election.
Yet the government has been cautious and keen to avoid doing anything that could trigger further violence. It has also been concerned about creating conditions that might persuade the military to step in and seize control.
As a result, even when tens of thousands of protesters poured through the streets and occupied government buildings, the police did not try to stop them. Instead, the police stood back.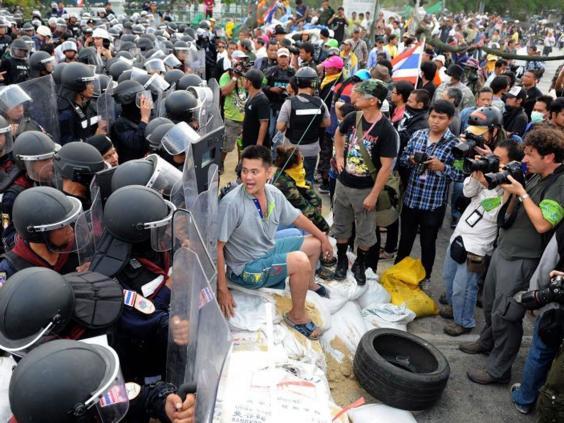 The labour minister, Chalerm Yubamrung, who oversaw the operation, said officials would return to work at Government House from Monday. He claimed that drugs, sling-shots and even bomb-making materials were discovered at the rally site.
"Protesters, you should return home," he said in a televised address. "If you're still stubborn we will gently enforce the law. The police are ready to disperse protesters but the prime minister told us not to use force to avoid loss of life."
Friday's move is the latest twist in a drama that dates back to 2006 when the then prime minister, Thaksin Shinawatra, was forced out in a military coup. Mr Thaksin, the elder brother of Ms Yingluck, has been living in exile in Dubai but remains a powerful force within Thai politics.
The most recent protests were sparked by moves by the government to introduce a blanket amnesty bill that would have allowed Mr Thaksin, who was convicted in absentia over corruption charges, to return to Thailand.
Yet the bill was very unpopular, not only among his opponents but also among many of his supporters who said it would have allowed opposition politicians involved in a deadly crackdown in 2010 to escape justice.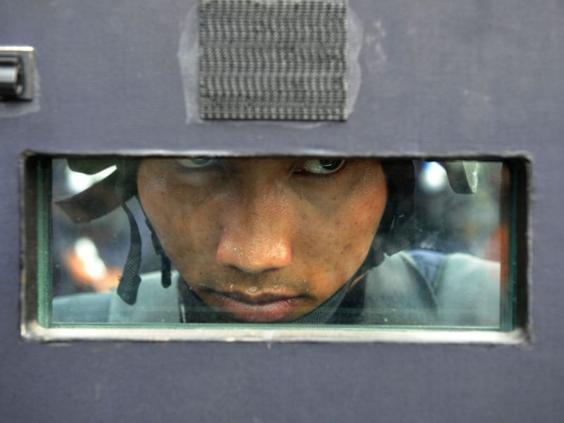 Those opposed to Mr Thaksin include middle-classes citizens of Bangkok, who accuse him of corruption, along with farmers from the south of Thailand. He is also opposed by elements with the establishment surrounding Thailand's monarchy.
The protesters, who call themselves the People's Democratic Reform Committee (PDRC), also include a number of political leaders who resigned from the opposition Democrat party to head the demonstrations. The leader is Suthep Thaugsuban, a former deputy prime minister who faces a murder charge over his alleged role in the 2010 security operation that left up to 90 people dead.
The protesters want Ms Yingluck to resign and for the current parliament to be replaced by a series of "people's committees". These unelected groups would then oversee reforms of the electoral system before fresh polls went ahead.
Friday's operation to clear the protesters took place on a national holiday when offices were closed. Officers moved in as the total number of full-time protesters dwindled to about 5,000 from more than 150,000 late last year, according to police estimates. At least 10 people have been killed and scores injured since the protests began last year.
Reuse content