Singapore's central bank has apologised after it misspelled the name of city-state's first president on the packaging for a commemorative banknote.
The Monetary Authority of Singapore (MAS) will reprint the folder used to hold the banknote marking the city-state's 50th anniversary, after President Yusof Ishak's name was misspelled as "Yusok Ishak".
The mistake appeared both on a foldout portion of the folder and a booklet.
Ravi Menon, the managing director of MAS, said he took full responsibility for the error.
"This should never have happened, [it] is not acceptable, and I take full responsibility.
"I apologise on behalf of my colleagues who worked hard to prepare the notes and folders but are deeply disappointed that we made this most unfortunate mistake. We will put this right," he said, according to The Singapore Strait Times.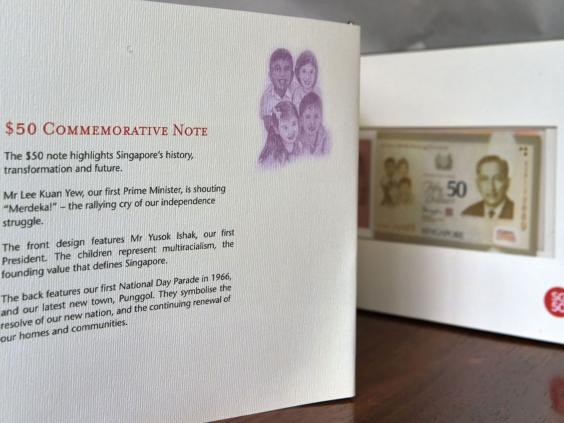 While the new folders are printed, banks will give out notes in the misspelled packaging with a corrective sticker which will be issued on Tuesday, Channel News Asia reported.
However, customers will be able to exchange the incorrect folders at a later date, the MAS said.
The commemorative $50 and $10 notes, which feature a portrait of Mr Ishak, were not defective.
A former British colony which fell to Japan, Singapore became a sovereign state in 1965.
Reuse content