A new island which has emerged following volcanic eruptions off the coast of Japan has sparked delight online after satellite images showed it bears a startling resemblance to a cartoon character.
"Snoopy Island", as it has been dubbed by Twitter users, has resulted in something of a ripple across social media after it sprouted from the waters around the Ogasawara island chain.
One user described it as a "complete match" for the profile outline of Charlie Brown's famous pet dog, right down to the strip of volcanically-discoloured water making up his collar.
Experts from the Japan Meteorological Agency warned that the island – in fact made up of two landmasses which are gradually fusing – remains highly volatile.
Unperturbed, user @astralpouch said: "Holy crap … Snoopy island … I don't care what they say I'm going over there."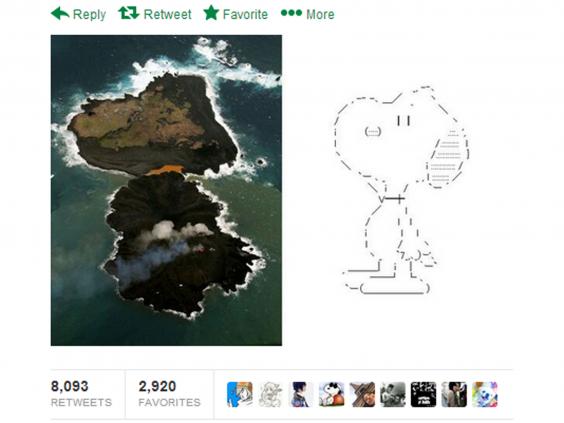 The new island caused great excitement after it was pictured by the Japanese Coast Guard – not least among the government, excited by the prospect of a slight increase in the country's territorial waters.
The extraordinary landmass's path to fame began when a volcano erupted in the sea around 500 metres from the existing island Nishino-shima, some 600 miles (1,000km) south of Tokyo in waters nonetheless under Japanese administration.
Soon afterwards it was pictured as part of Nasa's Earth Observatory programme, which noted that the island could have grown large enough to survive for at least a number of years.
The new mass was named Niijima, and was awarded Global Post's 2013 End of the Year Award for Best Island (its Award for Best Rock went to Gibraltar).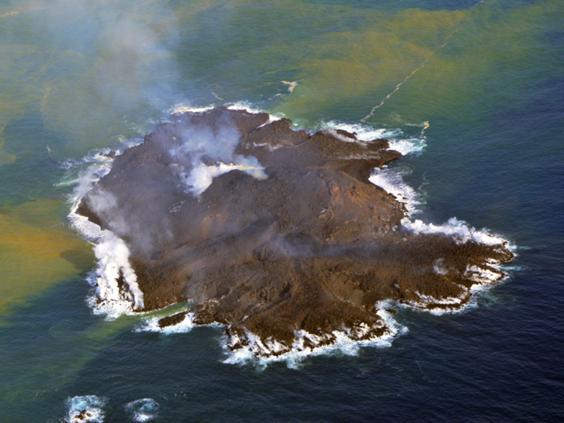 Nasa's satellite passed over again on Christmas Eve, and found that "only a narrow channel of water appeared to separate the two" islands. It added that "the two islands may soon fuse into one".
With the emergence of those pictures – also showing the heated volcanic activity around "Snoopy's body" – Japanese blogs noticed the resemblance emerging.
Though still not officially named as a single entity, "Snoopy Island" was destined then destined for online notoriety.
There remains uncertainty over how long "Snoopy" will survive in its current shape.
Hiroshi Ito, a volcanologist with the Japanese coastguard, told the FNN news network the island could erode after the eruptions cease. "But it could also remain permanently," he added.