A 62-year-old law banning adultery in South Korea has been abolished by the highest court in the land, in a ruling which has sent shares in the country's biggest condom manufacturer surging.
While supporters of the law, which made extramarital affairs punishable by up to two years in prison, claim it promotes monogamy and keep families intact, opponents have argued it was an infringement on personal freedom.
Now, seven members of a nine-judge panel at the Constitutional Court have deemed the law to be unconstitutional.
Reading an opening representing five justices, Seo Ki-seok, a Constitutional Court justice, said: "The law is unconstitutional as it infringes people's right to make their own decisions on sex and secrecy and freedom of their private life, violating the principle banning excessive enforcement under the constitution."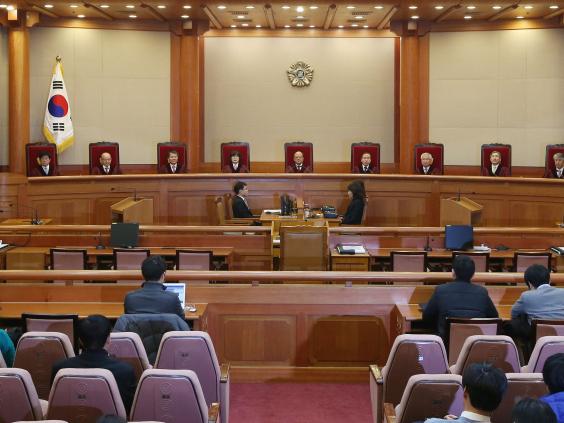 A court official has said the ruling could affect thousands who face trial or have been found guilty of breaking the law since late 2008, when the ban was previously upheld by the court.
Under the law, sex with a married person who was not your spouse was punishable by prison.
Nearly 53,000 South Korean have been indicted on adultery charges sine 1985, although it has been rare for people to be jailed.
South Korea's 'Love Land' theme park
South Korea's 'Love Land' theme park
1/6 Love Land

A woman visits the theme park 'Love Land'

Chung Sung-Jun/Getty Images

2/6 Love Land

Love Land is an outdoor sex-themed sculpture park

Chung Sung-Jun/Getty Images

3/6 Love Land

Love Land opened in 2004 on Jeju Island.

Chung Sung-Jun/Getty Images

4/6 Love Land

The park runs sex education films and features 140 sculptures representing humans in various sexual positions.

Chung Sung-Jun/Getty Images

5/6 Love Land

It also has other elements such as large phallus statues, stone labia, and hands-on exhibits such as a 'masturbation-cycle.'

Chung Sung-Jun/Getty Images

6/6 Love Land

Men examine statues at Love Land

Chung Sung-Jun/Getty Images
Current charges could be thrown out following the ruling, while those already found guilty would be eligible for a retrial, a court official has said.
Debate over the law, which was enacted in 1953, has grown in recent years as conservative traditional values in the country were challenged.
Following the ruling, shares in Unidus Corp, which makes latex products including condoms, rose to the 15 per cent daily limit, Reuters has reported.
Several thousand spouses file criminal adultery complaints each year in South Korea.
While 892 people were indicted on adultery charges last year however, nobody was jailed, prosecutors have said.
Legal experts have said the ban had lost much of its effect as people increasingly settled disputes in civil courts, Associated Press has reported.
"Recently, it was extremely rare for a person to serve a prison term for adultery," Lim Ji-bong, a law professor at Sogang University in Seoul, said. "The number of indictments has decreased as charges are frequently dropped."
Additional reporting by AP and Reuters
Reuse content