The Queen of Jaffna, a once-popular train linking the ethnic Tamils' northern heartland to the rest of Sri Lanka before a civil war cut the link 24 years ago, chugs back into service this week, reinforcing the government's authority in a region once controlled by Tamil rebels.
For the old, it is a piece of nostalgia. For the young, the train represents something novel and opens opportunities to explore the north. For the central government, the resumption of the Yarl Devi, as it is known in Tamil, marks a step towards restoring national unity five years after the government declared victory over Tamil separatists to end the war.
President Mahinda Rajapaksa will inaugurate service along the 250-mile route between Jaffna and Colombo, Sri Lanka's capital, in a ceremony tomorrow. Rebuilding the railroad, stretches of which disappeared as rebels and residents used the rails and sleepers to build bunkers and houses, is one of the government's big infrastructure projects to contribute to the economy in the north.
Like the old version, the new Queen of Jaffna making the six-hour journey is not a luxury train, although some of its coaches will have air conditioning, internet access and televisions. The line was shut down in 1990 as Tamil Tiger militants stepped up attacks in the north. Since the service stopped, Jaffna has had no trains, meaning that many of the city's children have never seen one.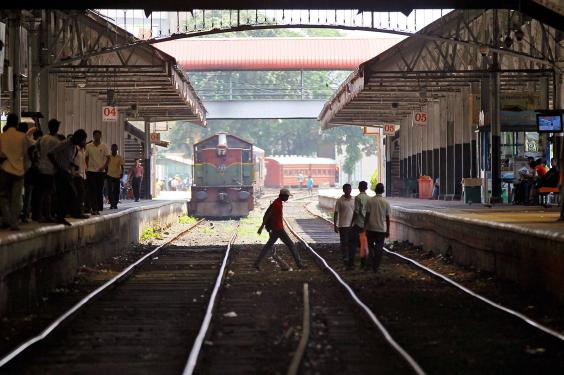 "In the past, it was not only a mode of transport, but it was also a cultural bridge between the Sinhalese people here and the Tamils there," presidential spokesman Mohan Samaranayake said, adding that the project was an "incentive to enhance communal harmony and friendship".
But many Tamils feel such projects won't bring true national unity. Deep wounds have been left by the war, which took at least 100,000 lives. Earlier this year, the UN Human Rights Council voted to open an investigation into alleged war crimes.
"The people welcome this because they have transport difficulties, but they also think it is the military that will benefit from this more," said Shanmuganathan Sajeevan, an activist campaigning for the return of private property seized from Tamils.
AP
Reuse content