Animal welfare campaigners have restarted a petition against the slaughter of thousands of cats and dogs marking the summer solstice in Yulin, China.
Government officials have ostensibly "banned" the controversial annual Yulin Dog Meat Festival after it attracted protesters from around the world to descend on the city in Guangxi province.
But the slaughter of cats and dogs for meat is not outlawed in China, and the local government in Yulin says it cannot stop legitimate businesses preparing meat in the run-up to this year's solstice, 21 June.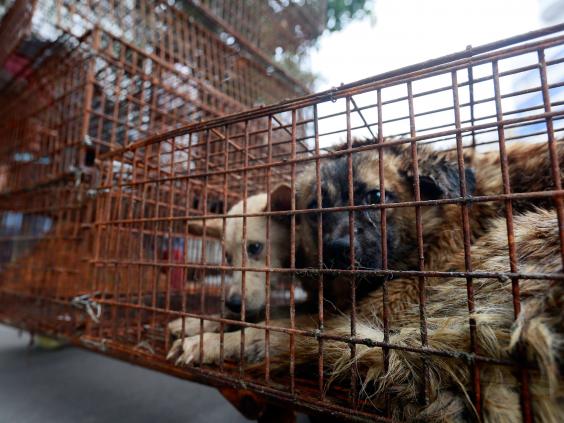 Campaigners say that whether it is called a "festival" or not, the slaughter will take place more or less as usual this year.
As a result, a petition launched last year by Andrea Gung from the US-based welfare charity the Duo Duo Project has been re-opened, and now has more than 210,000 supporters.
In pictures: Inside the Yulin cat and dog meat trade
In pictures: Inside the Yulin cat and dog meat trade
1/13 China

A cat climbs up the cage at the slaughterhouse, trying to escape. This cat was later rescued by Peter Li

2/13 China

A slaughterhouse butcher transfers a cat to a cage, to be handed off to Peter Li. Shortly after, Li rescued the cat from the slaughterhouse

AP/Humane Society International

3/13 China

Two kitchen knives are shown stuck in an iron cage, which are used to butcher dozens of dogs and cats every day. These knives have to be sharpened daily due to the number of animals they're used to slaughter

4/13 China

Caged dogs sit on the side of Renminzhong Road, waiting to be transferred to a slaughterhouse in a narrow alley

AP/Humane Society International

5/13 China

Workers are shown getting the day's dog and cat meat prepared for sale in the morning

6/13 China

Dog meat is displayed in the marketplace

7/13 China

Residents pick their dog meat from a stand on Riverside Road

8/13 China

A woman on her moped transports more than 10 dogs, which had just been slaughtered, to her market shop for sale

AP/Humane Society International

9/13 China

Hundreds of pet dogs await their own death in a slaughterhouse, while they watch as their companions are slaughtered in front of them

AP/Humane Society International

10/13 China

A group of cats from Sichuan Province arrive at Renmin Middle Road on a truck, and wait to be transported on carts to a slaughterhouse in a narrow alley

11/13 China

A truck arrives in Yulin with nearly 1,000 dogs of various breeds crammed into narrow wire cages with no space to extend their limbs. According to the driver, the truck came from Sichuan, 800 miles west of Yulin. The traumatized dogs waited in silence for the next stop on their journey

12/13 China

Dogs are hung up for sale for meat in Dong Kou market, as a dog looks on

13/13 China

Peter Li holds a puppy's collar found at a slaughterhouse

AP/Humane Society International
Ms Gung told The Independent: "I witnessed the Dog Meat Festival in 2014. Some dogs were still wagging their tails when they were being killed in the slaughterhouse.
"The trust dogs put in humans is much greater than other animals. With the worldwide homeless dogs problem we already betrayed them once – now eating them is what I call the ultimate betrayal."
Protesters say the festival encourages a rampant black market for dog and cat meat in Yulin, where traders avoid government regulation designed to prevent the spread of diseases like rabies.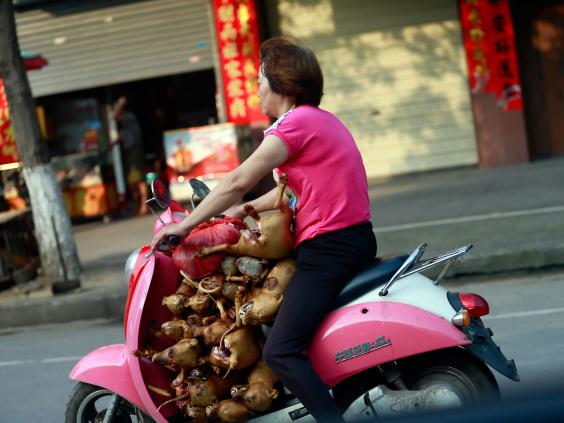 Another welfare organisation, Humane Society International, sent an undercover investigator to visit a Yulin slaughterhouse two days after the government said it was banning the festival.
Posing as a meat vendor, he found that dogs and cats were transported, caged and killed in squalid conditions at dark slaughterhouses where the smell was "offensive" - before being sold on to illegal markets.
Based on their breeds and the fact they wore collars, many appeared to be former pets who had either been stolen or abandoned, Li said.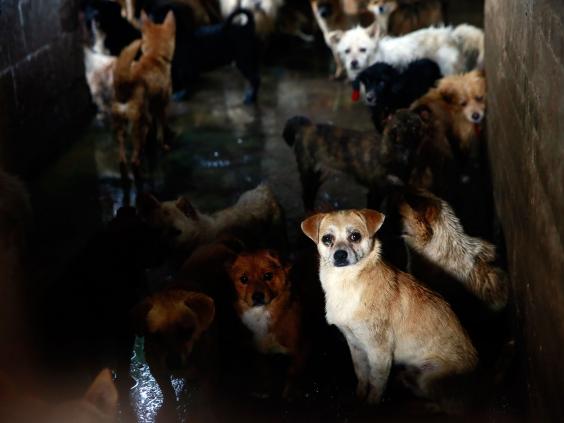 Speaking to the Mail Online he said: "Mass dog slaughter is still going on at Yulin despite the local authorities trying to give the impression that's it's ended.
"The Yulin government has declared the 'festival' will not happen, but this is mere semantics and thousands of dogs will still die for their meat whether it's called a festival or not."
The government's announcement is unlikely to stop campaigners from travelling to Yulin this year to fight the dog and cat meat trade – but local vendors have found ways of turning this to their advantage.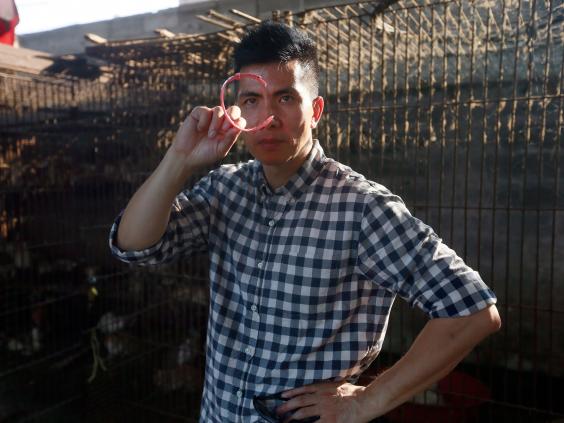 The annual backlash against the festival has represented something of a tourist boom for the city in recent years.
And according to local media reports, dog meat traders have started threatening to kill the animals in violent and inhumane ways unless the protesters agree to buy their freedom.
Humane Society International has launched its own petition against what it calls the "festival of cruelty", which can be signed here. To join the original Duo Duo Project petition, click here.
The campaigns are among a number of online petitions receiving growing support among social media users as the date of the summer solstice draws closer.
Please help stop the #YulinDogMeatFestival https://t.co/8qjoVQ1Y6X pic.twitter.com/MoCSgYlIfw

— Ricky Gervais (@rickygervais) June 7, 2015
Another, organised by the charity Raise Ur Paw, has received more than 60,000 signatures and was backed by the actor and comedian Ricky Gervais - a prominent backer of animal rights.