A powerful typhoon has swept through the Luzon Strait separating the Philippines and Taiwan today, as heavy winds and rain continued to batter island communities and the storm headed straight for Hong Kong.
Typhoon Usagi has already triggered landslides and power outages in parts of the north of the Philippines, including the Batanes island group, where it made landfall today.
In Taiwan, nearly 2,500 people have been evacuated from flood-prone areas and remote mountainous regions as the government deployed military personnel into potential disaster zones.
The storm is the most powerful meteorologists have see this year, holding sustained winds of 139 miles per hour and gusts exceeding 163 mph on Saturday.
It is 342 miles south of Taipei, Taiwan's capital, according to the US Navy's Joint Typhoon Warning Center.

Taiwan's Central Weather Bureau said Usagi was veering west, likely sparing southern Taiwan from the most destructive winds near its eye.

But gusts exceeding 144 mph were recorded on the Taiwan island of Lanyu, and the bureau warned that dangerous winds were buffeting the holiday resort of Kending on the Hengchun peninsula as the storm makes its closest approach to the area.

The government's weather bureau advised storm surges and heavy waves could cause damage in the Batanes and other islands in the Luzon Strait before Usagi blows past the Philippines on Saturday night.

China's National Meteorological Center announced a red alert, its highest level, as the storm maintained its track toward Hong Kong and the manufacturing heartland of the Pearl River Delta. The observatory warned that Usagi would impact coastal areas of Guangdong, Zhejiang and Fujian provinces.


The Hong Kong Observatory said Saturday night that Usagi was 570 kilometers (354 miles) east-southeast of the city. It said the storm's maximum sustained winds would weaken to 165 kph (103 mph) as it approaches Hong Kong on Sunday afternoon before making landfall overnight. The observatory was maintaining a No. 1 Standby Signal and warned that the storm posed a "severe threat" to the city. 
 
The storm system has dropped more than eight inches of rain along the eastern and southern coasts in a 13-hour period, with officials warning that a total rainfall of 39 inches could fall before the storm leaves on Sunday.

The cyclone a massive diameter of 680 miles, with its outer rain bands extending across Luzon and all of Taiwan across to the Chinese coast.


The Office of Civil Defense in Manila said landslides destroyed houses and roads, and caused power cuts in pockets of at least five northern provinces, where several roads and bridges were impassable.

Cathay Pacific Airways and Dragonair announced flights Saturday were unaffected except for one canceled journey, but both airlines said flights to and from Hong Kong International Airport would be canceled from 6 p.m. Sunday and resume Monday if conditions permit. Passengers were urged to postpone nonessential travel on those two days.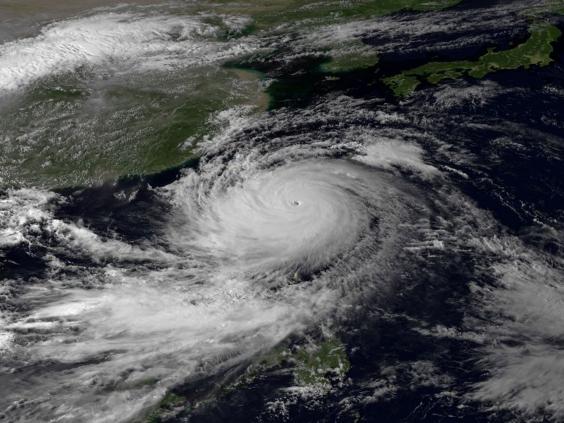 Additional reporting by Associated Press
Reuse content