This toddler was one of at least 240 people rescued by emergency services from a collapsed residential complex after a 6.4 magnitude earthquake hit Taiwan.
The earthquake struck Tainan City in Southern Taiwan around 4am while most people were home asleep.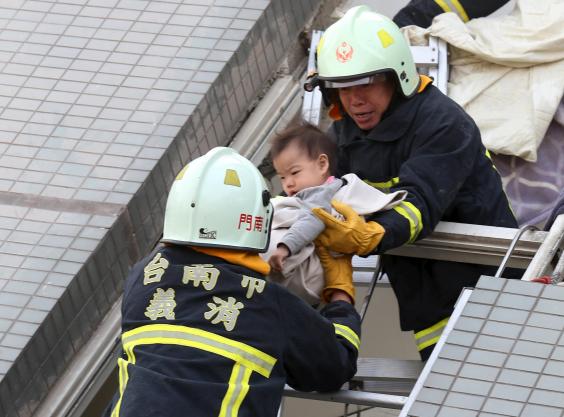 The current death toll from the high-rise Wei Guan residential complex stands at 11 with about eight more still reported missing.
More than 1,200 firefighters were involved in the rescue of trapped residents using ladders, cranes and other equipment to climb the ruins of the formerly 17-storey complex.
The emergency response center said seven people were killed, including a 10-day-old infant, a small child and at least two other residents inside a high rise building.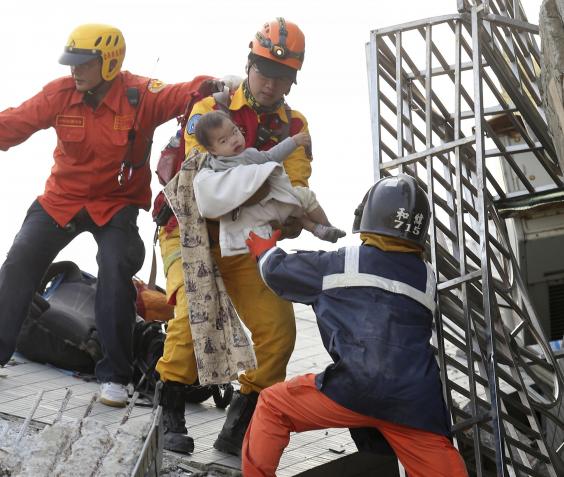 One death was caused by falling objects. No details were immediately available for the two additional deaths. 
Recently-elected President Ma Ying-jeou has toured the city, pledging to build shelters for homeless residents.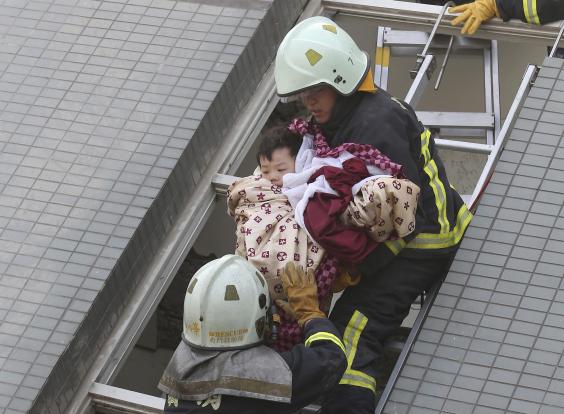 Second-hand car salesman Lin Bao-gui said: "It first starting shaking horizontally, then up and down, then a big shake right to left.
"I stayed in my bed but jumped up when I heard the big bang that was the sound of the building falling."
His cars were smashed when the residential complex across the street from him collapsed. 
The disaster response center said 1,236 rescuers were deployed, including 840 from the army, six helicopters and 23 rescue dogs.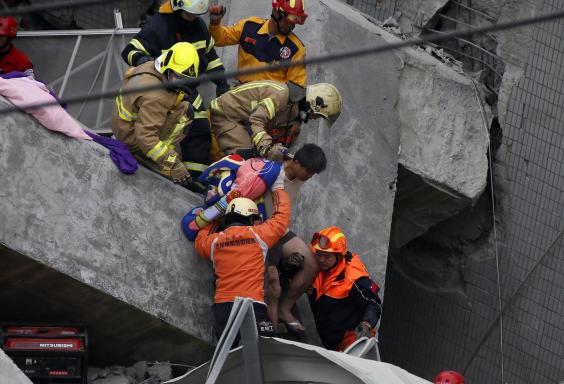 The quake was felt as a lengthy, rolling shake in the capital, Taipei, on the other side of the island with no obvious damage caused.
Residents in mainland China also reported that the tremor was felt there.
Survivors pulled from Taiwan earthquake wreckage
Survivors pulled from Taiwan earthquake wreckage
1/10

A man is rescued from his collapsed flat in Tainan City

EPA

2/10

Tainan City resident being escorted from the rubble

EPA

3/10

Rescuers search for survivors from a collapsed building

EPA

4/10

Rescue workers take an injured resident away for treatment

EPA

5/10

Emergency service personnel searching for residents in the rubble

AP

6/10

Rescue workers traversing the collapsed building

EPA

7/10

Emergency services working next to a collapsed flat complex

AP

8/10

Second hand car salesroom crushed under collapsed residential building

AP

9/10

Rescue Workers trying to safely move residents out of danger

EPA

10/10

Firefighter carry injured resident

AP
Questions have been asked whether the construction crew had cut corners when building the Wei Guan complex, which was finished in 1989.
Taiwan's interior minister, Chen Wei-zen, said an investigation would examine such allegations. 
Earthquakes frequently strike Taiwan, but most are minor and cause little or no damage.
However, a magnitude-7.6 quake in central Taiwan in 1999 killed more than 2,300 people. 
Reuse content