A TransAsia Airways plane with 58 passengers and crew on board cartwheeled into a river shortly after taking off from a downtown Taipei airport on Wednesday, killing at least 16 people and leaving about a dozen missing.
Who are they?
TransAsia Airways was founded in 1951 as Taiwan's first private civilian-operated domestic airline with its headquarters in Taipei, later expanded to overseas routes.
How big are they?
One of the region's smaller carriers with around 20 planes in its fleet - a mix of Airbus and dual-propeller ATR planes.
Where do they go?
Flies many routes between Taiwan and mainland China, and to other parts of South East Asia. Serves over 30 destinations.
Why are they popular?
Gained popularity and expanded in recent years due to its low-cost tickets.
In pictures: TransAsia crash
In pictures: TransAsia crash
1/10 TransAsia Disaster

'Dash cam" footage posted on the internet of plane crash in Taiwan

2/10 TransAsia Disaster

The plane clipped a taxi before crashing into the river

3/10 TransAsia Disaster

Rescuers lift the wreckage of the TransAsiaAirways plane out of the Keelung river

Getty Images

4/10 TransAsia Disaster

Picture from Taiwan television shows the damage to the car that the plane hit

TVBS

5/10 TransAsia Disaster

Rescuers search for survivors moments after the TransAsia plane crashed into a river in New Taipei City this morning (Reuters)

6/10 TransAsia Disaster

Rescuers use dinghies to survey the wreckage of the plane's body as it floats on the river in downtown Taipei (REUTERS/Pichi Chuang)

7/10 TransAsia Disaster

Soldiers remove aeroplane parts of the TransAsia flight 235 crashed this morning (REUTERS/Pichi Chuang)

8/10 TransAsia Disaster

An ambulance arrives to take away survivors from the crash that saw 12 die and many more injured (REUTERS/Pichi Chuang)

9/10 TransAsia Disaster

Bodies are removed from the plane by Taiwanese rescue workers (REUTERS/Stringer )

10/10 TransAsia Disaster

A man walks next to the wreckage of the TransAsia Airways plane which clipped a bridge before falling into the river February 4, 2015. (REUTERS/Stringer)
What is their crash record?
There have been four accidents recorded since 2002, including the high profile TransAsia Airways Flight 222 which crashed into buildings during its descent at Magong Airport in Taiwan, 23 July 2014. Of the 54 passengers and four crew members on board, only 10 survived.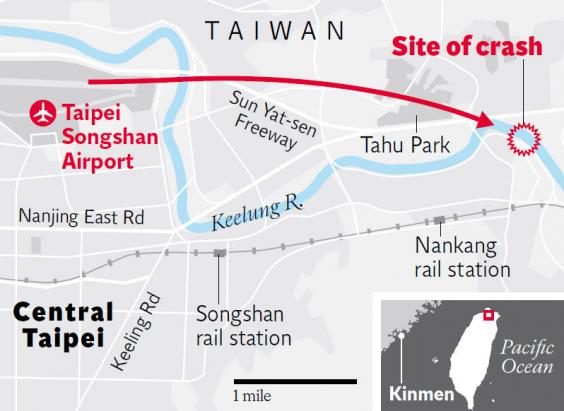 Reuse content