Six inmates killed themselves at a Taiwan prison after seizing weapons and holding guards and a warden hostage in a failed breakout attempt.
Deputy Justice Minister Chen Ming-tang told Taiwanese television six inmates shot themselves in the early hours of Thursday morning.
They were aged between 37 and 63 and were serving sentences for murder, burglary and drug crimes. The ringleader, Cheng Li-te, was known as head of the Kaohsiung branch of the notorious mafia-type organisation Bamboo Union and was serving a 28-year sentence for murder, the ministry said. The other five inmates were serving sentences ranging from 25 years to life.
The men began their escape attempt on Wednesday afternoon in the southern port city of Kaohsiung when the prisoners pretended to seek medical attention, before kidnapping several guards.
They then took rifles, pistols and 200 bullets from the prison armoury. Five prison staff sustained minor injuries in the standoff.
Authorities attempted to negotiate with the hostage takers, all serving sentences of 10 years or more, while hundreds of armed police surrounded the prison.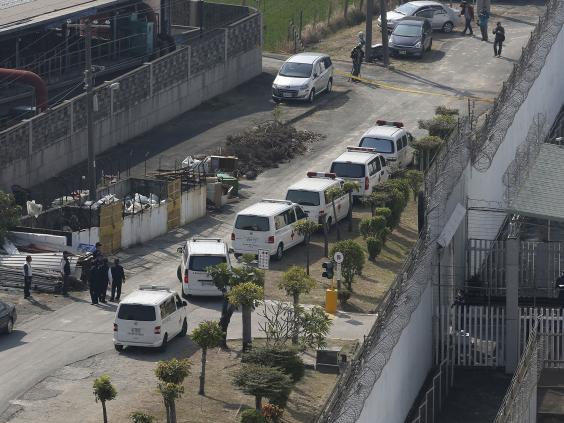 Cheng told the United Daily News via telephone that they had been planning the assault for a long time. He said they were protesting about long sentences and unfairness in the granting of medical paroles, and warned they were prepared to die.
Deputy Justice Minister Chen Ming-tang said officials rejected the group's demands for a getaway car and safe passage out of the prison, but tried to convince them to surrender peacefully during hours of negotiations.
Mr Chen told reporters the inmates fired guns at about midnight to try to shoot down drone cameras deployed by media outlets and again at about 3am to warn off police.
"We tried to give them assurances so they wouldn't do something stupid and to reconsider, but sadly they killed themselves and we feel deep regret," Mr Chen said in Taipei.
The inmates had released all hostages except the warden, who walked free after they killed themselves.
Additional reporting by agencies
Reuse content