At least ten people were killed after suspected Taliban militants detonated a suicide bomb and stormed a bank in the southern Afghan province of Helmand.
One of the attackers blew himself up at the front entrance of the New Kabul Bank in Lashgar Gah to allow the others in, it has been reported.
Once the attackers were inside, they fired at security forces which had arrived at the building and surrounded the scene, Omer Zawaj, spokesman for the provincial governor, said.
Helmand police spokesman, Fareed Obaid, said three police officers were among those killed, while the attackers were also killed in the gunbattle.
He said: "There are also 15 people wounded, including six members of the Afghan security forces."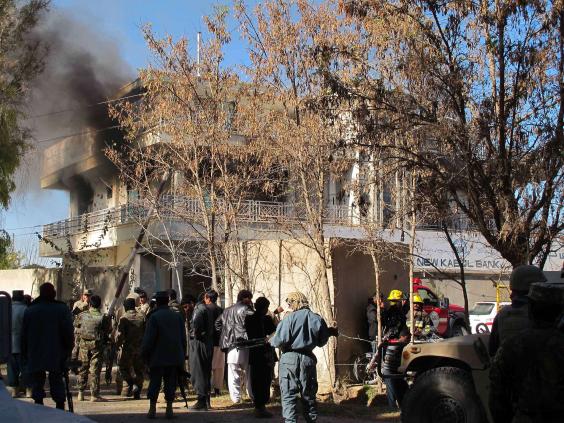 The attack came the day after fighters from the Pakistani Taliban killed 148, including 132 children, in an attack on an army-run school in Peshwar.
The Afghan Taliban has condemned the attack, saying killing innocents was un-Islamic.
The Afghan group however has claimed responsibility for an attack on a school in Kabul last week, which saw a German aid worker killed.
Additional reporting by AP and Reuters
Reuse content