Protesters in Thailand confronted troops face to face and demanded they "go back" as anger over the army's seizing of power and the declaration of a coup sparked heated protests in different parts of the country today.
In Bangkok, hundreds of anti-coup demonstrators rallied and a small number of them clashed with heavily armed troops, who dragged a number of the protesters away. There were also demonstrations in the northern city of Chiang Mai.
Meanwhile, General Prayuth Chan-ocha, head of the armed forces, announced that he was scrapping the Senate, the upper house of Thailand's parliament, and assuming all law-making responsibility. He also transferred the national police chief, the head of a special investigation unit and a senior bureaucrat in the defence ministry to so-called "inactive posts".
At the same time, the junta ordered that 35 activists, academics and journalists report to the military, taking the number of people the army wishes to detain to more than 180. Among those being held are former prime minister Yingluck Shinawatra and members of her family.
The steady tightening of the junta's grip has been widely condemned internationally. The United Nations High Commissioner for Human Rights, Navi Pillay, is the latest to add her voice to the groundswell of criticism, urging Thailand to "ensure respect for human rights and a prompt restoration of the rule of law in the country".
Most of those who have been detained were linked to the government of Yingluck Shinawatra or a political movement associated with it, or were dissidents and activists. A senior journalist, Pravit Rojanaphruk, of The Nation newspaper, was also ordered to give himself up.
A spokesman for the military, Colonel Weerachon Sukondhapatipak, claimed the various politicians and leaders who have been held were being well treated and said that the military's aim was to achieve a political compromise. He said that those who did not appear when summoned would become a matter for "law enforcement".
"This is in a bid for everybody who is involved in the conflict to calm down and have time to think," he said, according to the Associated Press. "We don't intend to limit their freedom, but it is to relieve the pressure."
Meanwhile, the junta said Thailand's King Bhumibol Adulyadej had sent a letter confirming that he in turn had received two letters informing him of developments. There was no mention as to whether the 86-year-old monarch, who has widespread support, had said anything else. In the past, the king has been used to legitimise previous coups.
Curiously, the junta found time to alter its name, informing reporters that it should no longer be referred to as the National Peace and Order Maintaining Council, but rather the National Peace and Order Council. Colonel Sukondhapatipak said it had taken this step to correct its previously incorrect grammar and to help its international image.
Thailand protests: Thai army declares martial law
Thailand protests: Thai army declares martial law
1/25 Thailand

A Thai soldier stands in front of a portrait of Thai King Bhumibol Adulyadej as he patrols near government buildings in Bangkok

2/25 Thailand

A pro-government protester points at a soldier during a cleanup at a pro-government demonstration site on the outskirts of Bangkok

3/25 Thailand

Thai soldiers patrol near government buildings in Bangkok

4/25 Thailand

A soldier walks past barefoot Buddhist monks begging for alms outside a temple near Government House in Bangkok

5/25 Thailand

Thai police and army soldiers stand guard outside a military compound before former Prime Minister Yingluck Shinawatra arrives to report to Thailand's ruling military in Bangkok

6/25 Thailand

Thai soldiers stand guard at a roadblock outside the Defence Ministry building (background) after Thailand's army chief announced that the armed forces were seizing power in Bangkok

7/25 Thailand

Thai soldiers patrol after army chief General Prayut Chan-O-Cha met with anti-government and pro-government leaders at the Army Club in Bangkok

8/25 Thailand

Thai police and military display a haul of weapons seized during recent raids since the imposition of martial law, at a press conference at the Army Club in Bangkok

9/25 Thailand

Thai soldiers stand next to the portrait of King Bhumibol Adulyadej after the declaration of martial law at the Army Club in Bangkok. Thai Army Chief Prayuth Chan-ocha, declared martial law giving the military full control to prevent further protest-related violence in the country

10/25 Thailand

Anti-government protest leader Suthep Thaugsuban (R) gives a traditional greeting to a soldier before leaving Government House in Bangkok. Thailand's army chief said rival political groups should talk to each other and that the martial law imposed would last until peace and order had been restored

11/25 Thailand

A Thai soldier stands outside the Government Public Relations Department in Bangkok

Getty Images

12/25 Thailand

Thai soldiers man a checkpoint near pro-government "red shirt" supporters encampment in suburbs of Bangkok

13/25 Thailand

(L-R) Thai Police Chief Adul Saengsingkaew, Navy Chief Adm Narong Pipattanasai, Army Chief General Prayuth Chan-ocha and Air Chief Marshall Prachin Chantong during a meeting at the Army Club in Bangkok. Thailand has been wracked by six months of non-stop protests seeking to topple the government. At least 25 people have died in political-related violence and more than 700 injured

14/25 Thailand

Motorists on their way as Thai soldiers take to the streets with a heavy machine gun on a Humvee military vehicle at a main road outside the Royal Thai Police Sports Club in Bangkok

15/25 Thailand

Outside police headquarters in Bangkok

Getty Images

16/25 Thailand

An anti-government protester waves a Thai national flag during a rally outside the Government House in Bangkok. Thailand's Senate said it was ready to choose an interim prime minister to end a political deadlock but stopped short of throwing out a beleaguered caretaker government and risking a violent backlash by its supporters

17/25 Thailand

Thai anti-government protesters shout slogans during a rally in front of the Parliament as senators debate to find and end to the country's political conflict in Bangkok. Thousands of anti-government protesters rallied the area surrounding parliament and Government House to pressure the Senate to appoint an interim government to institute political reforms before new elections while key Thai institutions are resisting the opposition's demands

18/25 Thailand

Thai anti-government protesters gather in front of the Parliament in Bangkok

19/25 Thailand

Thai riot policemen stand guard during an anti-government protest rally at the Air Force auditorium in Bangkok. Thailand's Election Commission called for the postponement of key parliamentary polls due to be held on 20 July 2014 because of political unrest shaking the kingdom

20/25 Thailand

Anti-government protesters leave an air force base after breaking into its grounds in Bangkok. Protesters seeking to oust Thailand's government broke into the grounds of an air force compound where the acting prime minister was meeting the Election Commission to fix a date for new polls, forcing him to flee

21/25 Thailand

Thai Air Force military (L) face anti-government protesters after they broke into the Royal Thai Air Force base in Bangkok. Hundreds of anti-government protesters broke into the meeting between the election commission and the caretaker government as they discussed for the planned next elections on 15 May 2014, after the results of the 02 February general elections were annulled. According to media reports, Thailand's Election Commission said that the 20 July polling is no longer possible due to political turmoil

22/25 Thailand

Thai anti-government protesters leader Suthep Thaugsuban (C-L) cheers his followers during a street rally march toward Government House and Parliament in Bangkok

23/25 Thailand

An anti-government protester (C) gives instructions to a fellow protester on how to wave a huge Thai flag from atop a barricade near the Government House in Bangkok. Thailand's beleaguered government warned people to stay away from anti-government protests, saying it had to step up security as the two sides in a lengthy political crisis squared off over who is running the country

24/25 Thailand

An anti-government protester looks at a damaged telephone booth after a grenade attack at a protest site outside Government House in Bangkok. Supporters of Thailand's embattled government warned the country's judiciary and Senate against any attempt to install an unelected prime minister, saying it would be a disaster for the nation that could spark civil war

25/25 Thailand

Anti-government protesters making a fist and waving a giant Thai flag, the symbol of the protest, on top of a truck as they rally outside Thai Parliament in a call for the final battle in Bangkok. Protesters marched on many key sites in Bangkok, police fired tear gas and some protesters have been injured. Protest leaders say they are hoping to strike the final blow at the weakened government and usher in a people's council to reform the government
The move is unlikely to do that. With the junta's grip becoming firmer, the international community has repeated its criticism of the army's move and updated travel advice for its citizens. The United States has urged Americans to reconsider all non-essential travel to Thailand, while the United Kingdom advised visitors to "exercise extreme caution".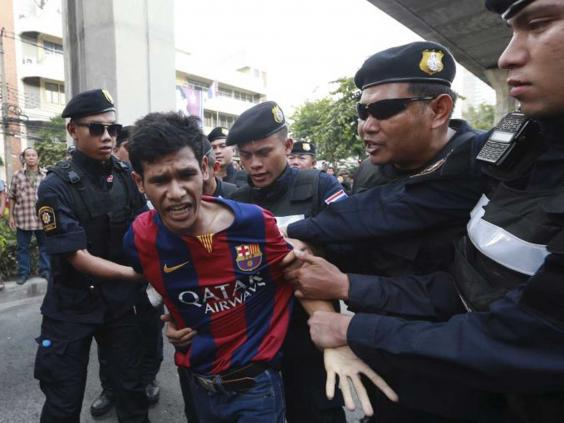 Despite the threat to them, protesters have continued to demonstrate against the coup. On Saturday afternoon, scores of them marched past the city's Saphan Kwai overhead train station, carrying banners and chanting. "We want to get our rights back – for voting," said one of the protesters, Kanokorn Kongmoul, who was riding on the back of a motorbike. "We want to get to Democracy Monument. We will break through the troops."
As it was they were pushed back by the police and soldiers, and forced to take an alternative route to the monument, the site of another demonstration later that evening. There, up to 500 protesters gathered, chanting as they circled the monument, which was built to mark the coup in 1932 that led to Thailand being a constitutional monarchy, rather than an absolute monarchy.
Among those holding up signs and placards, several of them showing images of Kim Jong-un, was a 79-year-old woman called Sunee. She said that she was 20 when she first experienced a coup and had seen many since then. She said she did not want Thailand to become like North Korea. "We want Prayuth Chan-ocha to get out. We want the coup government to get out," she said. "Prayuth has betrayed the country and he should get out."
As Thailand's coup gained strength, so campaigners sought to highlight the role of those countries who have supported the nation's military over the years. On Saturday, it was announced that the US was suspending £2.1m in military aid to Thailand from its overall aid package of £6.2m. Campaigners in Britain said that over the last six years, the UK government had licensed sales of more than £40m worth of military equipment.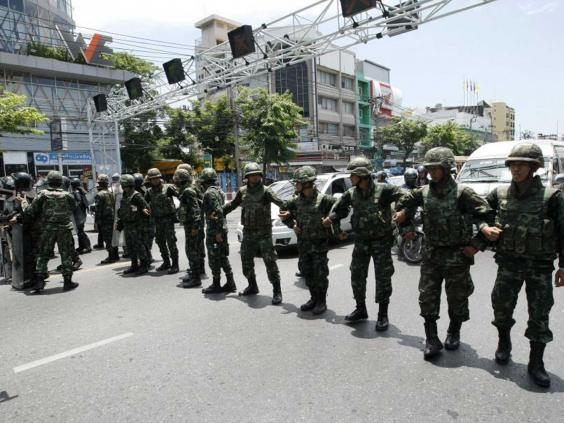 "It is shocking that despite continuing unrest in Thailand, the UK government lists Thailand as a priority market for arms exports," said Henry McLaughlin, of the Campaign Against the Arms Trade. "The government must stop promoting arms to countries such as Thailand which have ongoing internal conflict. UK-supplied weapons only reinforce a military response to the country's problems."
Thailand has suffered from turmoil since a coup in 2006 which ousted then premier Thaksin Shinawatra, a telecommunications tycoon and the brother of Yingluck Shinawatra. Since then several governments associated with Thaksin Shinawatra have been elected, only to be ousted by constitutional courts. Bangkok has for the past six months been rocked by anti-government protests that had sought the removal of Yingluck Shinawatra. The protesters had rejected elections until a series of unspecified reforms were carried out. They wanted to reduce the franchise and have an appointed premier.
Meanwhile, supporters of the government, along with members of the Red Shirt movement which have largely supported Mr Shinawatra, said the anti-government protesters threatened to destroy Thailand's status as a democratic country. Many believe an associated factor is a behind the scenes scrambling for position ahead of the royal succession that will take place when Thailand's 86-year-old king dies.
What happens next remains unclear. It does seem apparent that General Chan-ocha is seeking to purge all people associated with MrShinawatra. The situation is tense, confusing and could quickly get uglier. What is obvious is that General Chan-ocha has all the power. On Friday, he met senior officials and told them that reforms must come before any elections. Six senior military officers have been appointed to run the country.
According to reports, the army chief told the meeting: "We must have economic, social and political reforms before elections. If the situation is peaceful, we are ready to return power to the people."
Reuse content