In truth, it has gone. Just a few easily remembered words, such as those for mother and father, and a prayer said for the souls of the dead.
Other than that, Thak Majhi's command of a language that was once inextricably linked to the culture of his people – so much so it shares their name – has disappeared.
"When I grew up, the language we spoke in the house was Nepali," said the 80-year-old, a body of skin and bones but eyes still bright. "We spoke Majhi for special occasions."
A recently completed study, carried out over four years and involving more than 3,000 academics, officials and volunteers, has suggested India to be home to as many as 780 languages. Some are spoken by hundreds of millions, others by just a handful.
Apart from Indonesia and Papua New Guinea, few places can boast of such linguistic diversity and it may be that India is home to more languages than any other country.
But the People's Linguistic Survey of India (PLSI), led by a team based in the western state of Gujarat, has also highlighted the danger many of these languages face of being wiped out by more dominant tongues.
Majhi may be India's most threatened language: the survey listed just four individuals it said could be considered speakers.
But it is not unique in being so imperilled. Unesco has said any language with fewer than 10,000 speakers is potentially at risk and many of those listed in the PLSI are spoken by tiny numbers.
The danger of such languages becoming dead, and of existing only on recordings and in documents, is all too real. In 2010 it was announced that the Bo language of India's Andaman Islands had been lost after its final speaker, Boa Sr, died at the age of 85. For years she had complained sadly that there was no one to speak to in her own tongue.
"There are many such [threatened] languages," said Ganesh Devy, a former professor of linguistics who led the study.
The Majhi people are scattered across Nepal and the Indian state of Sikkim, a former kingdom that was absorbed into India in 1975.
Officials said that while there are believed to be several thousand speakers of Majhi in neighbouring Nepal and while there are several Majhi communities in India, there was no previous record of the actual language being spoken here.
After several field trips, the PLSI team concluded there were four speakers of Majhi in India. All live in Jorethang, south of the Sikkimese capital, Gangtok, where for centuries the lives of the Majhi people have been linked to the Rangeet river.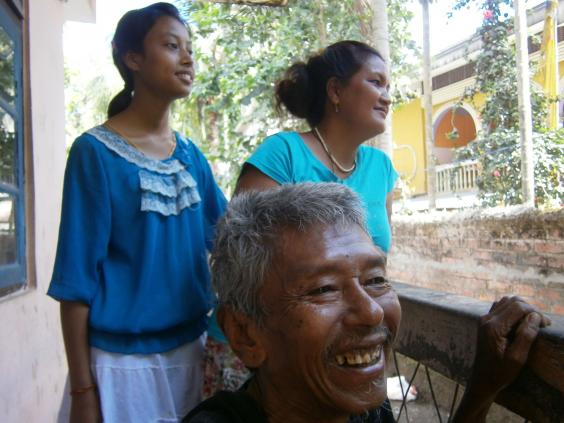 For generations, members of the tribe have worked as farmers, fishermen and boatmen, ferrying people across the river on vessels constructed from a single tree trunk and controlled by means of a pole. Alongside the Rangeet, a tributary of the mighty Teesta, they have built shrines and buried their dead. One of the four listed speakers of the language, Anil Majhi, a relative of Thak Majhi, said that when he was a child, Majhi was spoken at ceremonial occasions. "It was for christenings, marriages and funeral ceremonies," said Mr Majhi, who has two children.
Like his great uncle, the 35-year-old possesses just a handful of words – chopa for knife, chawli for rice and aghi for fire. He said he tries to learn more from a vocabulary he obtained from a researcher.
Thak Majhi has similarly limited abilities. He says that even the little he knew has been replaced almost entirely by Nepali, the dominant language in Sikkim. His six children and numerous grandchildren know just a word or two, preferring to speak in Nepali, or English, which is taught in government schools.
Indeed, it seems the extended family no longer even recite the Majhi language rituals for births or weddings. Nowadays, they said, it was used only during a 16-day death ritual, during which time the community speak to the departed person, explaining to them that they have died.
"I don't know where the Majhi language came from. We have been here for centuries," said Thak Majhi.
His youngest daughter, Deomaya, added: "Our friends used to ask us 'What is Majhi?'. People would ask 'What are the Majhi?'. I would tell them that we are from Nepal."
Another man, Iswari Prasad Majhi, who is aged 66, said he was doing what he could to save the language and had spoken to researchers and other members of the Majhi community living elsewhere in India.
Mr Majhi, who grows rice, wheat and millet, said he had also participated in ceremonies when he was younger. Yet he too possessed just a handful of words and could not speak in sentences.
Having become interested in the heritage of the language 20 years ago, he said he was trying to preserve what knowledge remained was by encouraging his children and family members use the Majhi vocabulary.
Another incentive for the community is its belief that if it can preserve the language, it can persuade the Indian government to recognise it as a "tribe" rather than a "caste".
"Right now, it's being done at an individual level. I hope we get some help from the government," said the farmer.
Professor Michael Hutt of SOAS at the University of London said India enjoyed tremendous linguistic diversity. Yet he said one of the problems of coming up with a total for any country was agreeing upon a definition of what is a language, as opposed to a dialect. In the Hindi belt of northern India, for instance, almost every village will speak a slightly differentiated version of its language.
Either way, when it comes to Majhi, experts are not optimistic about the language's survival in India. "I believe the chances of reviving it are very bleak," said Balaram Pandey, a professor at Sikkim University who worked on the PLSI project.
"There are very few speakers. We have collected some words."
And as their culture dies before their eyes, the few Majhi activists too see little hope. Anil Majhi, who has a son and a daughter and who previously served on an elected local council, said he sometimes became frustrated with other members of the community.
"They don't know about their history. They don't know what they are losing," he said. "If they lose their culture, they will lose everything."