Thousands of people have taken to the streets in Bangladesh in angry protests following the murder of a 13-year-old boy.
Samiul Alam Rajon was beaten to death by a group of men who accused him of stealing a rickshaw on 8 July.
Hundreds of people formed a human chain around his family home in the north-eastern city of Sylhet on Monday, AFP reported, and demonstrators marched through the capital, Dhaka.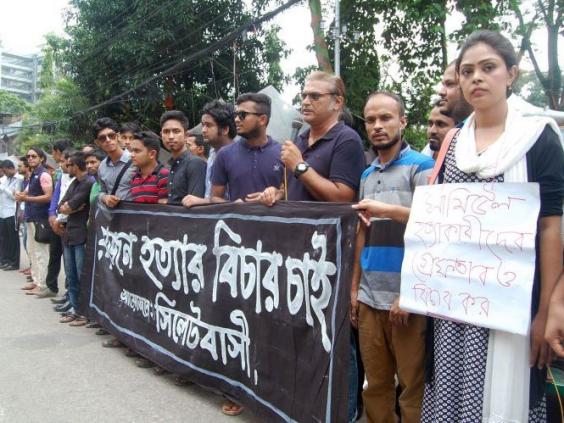 Many were demanding the death penalty, including a group who gathered at the site of the killing calling for the killers to hang.
Almost 15,000 people have also signed a petition to the government of Bangladesh asking them to hand the perpetrators the "highest punishment possible" to discourage other murders and lynchings.
Warning: The Independent is not showing the full video, but some people may still find the footage distressing.
Rajon's attackers deliberately filmed almost half an hour of torture, showing them tieing the boy to post at a bus station in Sylhet, hitting him with a metal bar and ignoring his pleas for water.
Twitter users have been voicing their sorrow and outrage using the hashtag #JusticeForRajon, calling his death "disgusting" and "sick".
Charity Save the Children wrote: "Justice for Rajon is not enough, there must be positive and permanent change in the way we treat children in Bangladesh."
In the footage, the tormentors can be heard laughing in the background and urging each other to "beat him more" as he cries and begs for mercy.
The disturbing video has gone viral in Bangladesh and provoked a national debate over the prevalence of violence in the country.
A post-mortem concluded that the cause of Rajon's death was a brain haemorrhage and found more than 60 wounds on his body, officials told bdnews24.
Five suspects have been detained in connection with the murder so far, including one who had fled to Saudi Arabia.
One suspect, 22-year-old Muhit Alam, was arrested by local residents after reportedly being found trying to dump Rajon's body in a bus on the day of the crime.
His father, Sheikh Azizur Rahman, told the Dhaka Tribune that his son dropped out of school to support the family by selling vegetables from a rickshaw.
Reuse content