Chinese authorities are using small caged animals to test the living conditions in Tianjin, where a giant chemical explosion last week killed more than 100 people.
The photographs show a number of rabbits, pigeons and chickens placed on the ground amid the devastation wrought by the blast that has provoked fears of chemical contamination.
In one of the photographs, a man wearing a gas mask can be seen running behind the animals in Binhai new district.
The images come amid news that Chinese authorities are investigating the deaths of thousands of fish in the River Hai, around 6km from the centre of the explosion.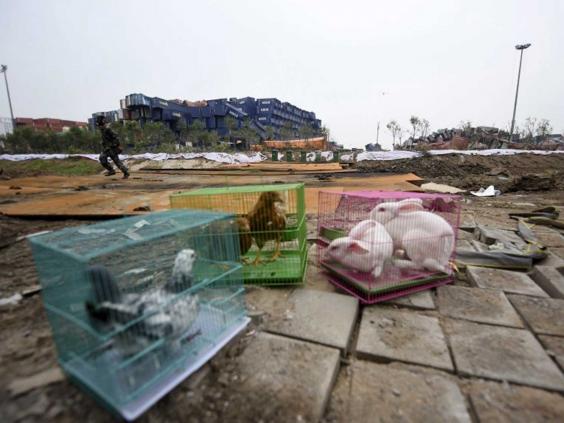 The images have been condemned by animal rights organisation, with Peta UK director Mimi Bekhechi telling The Independent: "Technology eliminated the use of animals as 'canaries in the mines' long, long ago, so to expose animals to chemical poisoning by placing them inside tiny, cramped cages on the Tianjin wasteland is cruel, primitive and just wrongheaded."
Authorities have said that around 40 chemicals – including more than 100 tonnes of potentially deadly chemical sodium cyanide – were stored in the warehouse at the epicentre of the explosion on 12 August that killed 116 people.
In the week since, officials have attempted to calm fears of chemical dangers.
Despite this a two-mile evacuation of the area surrounding the epicentre has been ordered and locals remain reluctant to return home.
Wang Hongjiang, vice mayor of the town, claimed 200 tonnes of sodium cyanide had already been collected as the clean-up operation continued.
Contamination around the blast site was now under control and the density of air pollutants in the immediate area has declined, he told Chinese news agency Xinhua.
Local media have reported that the caged animals were still alive after two hours near the blast's epicentre.
Officials have denied the fish deaths have any connection to the chemical blast last week, claiming that the fish died as a result of oxygen starvation.
Reuse content