The before and after pictures say it all. And now, exactly 10 years on, it is almost unimaginable that Aceh was left devastated by a massive tsunami, triggered by an undersea earthquake so powerful it made the earth itself wobble on its axis.
On the western tip of Indonesia, Aceh province was the closest landmass to the earthquake epicentre, and by far the worst affected. About 170,000 people died, hundreds of thousands more lost their houses and livelihood. Most man-made structures, some of them three miles inland from the 500-mile coastline, were completely destroyed.
The disaster triggered a massive influx of international aid, and a decade later, Aceh can say it has been successfully rebuilt. "On the ground, if you look around, things are really normal, much better than before," says Kuntoro Mangkusubroto, who headed Aceh's reconstruction agency.
Some 140,000 houses were rebuilt across the province, as well as clinics, schools and other buildings. A total of 3,500 roads were rebuilt. "I think it's the only place in Indonesia where village roads are paved," says Mr Mangkusubroto.
Ten years on from the tsunami
Ten years on from the tsunami
1/8 The 2004 tsunami (Then/Now)

Damage in front of the Baiturrahman mosque in Banda Aceh, Indonesia, on 27 December 2004, and a view of the same area this month

AFP/Getty

2/8 The 2004 tsunami (Then/Now)

The devastation at a hotel along Patong Beach in Phuket, Thailand on 27 December 2004, and a view of the La Flora Resort on the same beach this month

AFP/Getty

3/8 The 2004 tsunami (Then/Now)

Damage caused by a boat on top of a destroyed house in Banda Aceh taken on 15 January 2005, and a woman walking past the same spot this month

AFP/Getty

4/8 The 2004 tsunami (Then/Now)

Damage in front of the Baiturrahman mosque in Banda Aceh, Indonesia, on 26 December 2004, and a view of the same area this month

EPA

5/8 The 2004 tsunami (Then/Now)

Bodies lie waiting to be transported by boat in Phi Phi Village, on Ton Sai Bay, Thailand on December 28, 2004, and below, the same area this month

AFP/Getty

6/8 The 2004 tsunami (Then/Now)

A partly damaged mosque in the Lampuuk coastal district of Banda Aceh on January 16, 2005, and the mosque today

AFP/Getty

7/8 The 2004 tsunami (Then/Now)

Debris scattered across the grounds of Banda Aceh's Baiturrahaman mosque on December 28, 2004, and the same scene today

AFP/Getty

8/8 The 2004 tsunami (Then/Now)

Debris covering the streets of Banda Aceh after the tsunami and the same location today

AFP/Getty
Banda Aceh, the province's capital, is now a small pleasant city on the seaside. But most of its inhabitants today are survivors who lost relatives. Buildings might have been rebuilt, but the disaster still dominates the identity of the city and its people.
Across the city, tsunami landmarks have been preserved for remembrance. In Gampong Lampulo, a fishing boat stranded on top of crumbling houses stands out. The tsunami's massive waves flung it here, nearly two miles from the sea.
Fauziah, 45, sells souvenirs to tourists who come see the "boat on the roof". Her house used to be under the fishing boat, and she is one of 59 people who managed to climb on to it and survive the waves.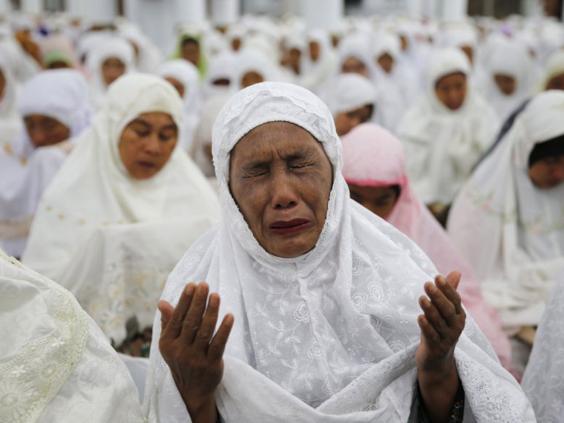 "After the earthquake, my son went to see what was going on," she remembers. "He came back running and screaming 'Go upstairs, Mum, upstairs'." Fauziah took her five children to the second floor, but, "in seconds the water was everywhere." Soon, they had water up to their chests. "We thought it was the end, that Judgement Day had arrived," she says, as she shows how she carried her five-month old baby with outstretched arms to try to save her. "Then we heard people screaming that there was a boat stuck on the roof.
"My son managed to kick a sheet of metal from the ceiling, just enough for one person to get through. He climbed on to the roof, and then helped us out, and on to the boat." For hours, they watched their city being destroyed. "The sea was everywhere, no building standing. The waves hitting houses sounded like bombs being dropped."
Today, Fauziah sells dried fish that she prepares herself and displays in boxes decorated with photos of the boat.
While she feels grateful for the fact that the boat became a tourist attraction, allowing her to make a living, she admits to having mixed feelings. Fauziah's five children survived, and the baby she held above her head is now a shy 10-year-old girl. But her husband, her mother and brothers and sisters all died in the tsunami.
"Sometimes I feel sad," she says. "I see people over there having fun and laughing. As if this is a place for having fun."
Elsewhere in the city, a 2,600-tonne cargo boat brought in by the waves was also left untouched. This boat hasn't saved any lives; it razed an entire neighbourhood. "We suspect there are still lot of bodies under it," says Herlina, 29, who works as a guide on this site.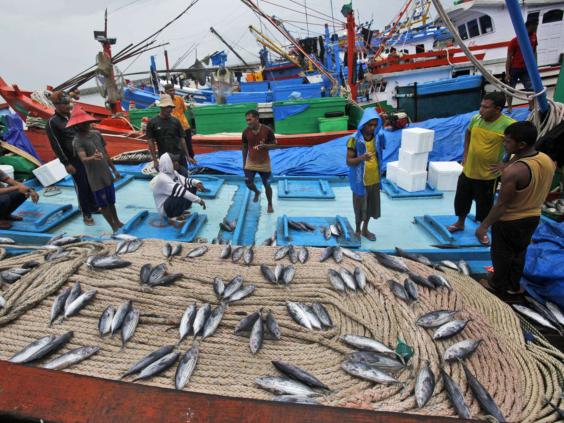 Like most of those who work on tsunami-landmarks-turned-tourist attractions, she's also a survivor of the tsunami. "At first, it was very hard to talk to people about what happened. But working here, I got used to it," she says, adding that her job has actually helped her. "As time goes by, I feel like this is trauma therapy for me."
As many as 1,000 people visit the cargo ship on weekdays, at least twice as many during weekends and holidays, and many locals in the area benefit from this unexpected boost in tourism. "It's turned into a good thing after the bad thing," Herlina believes.
The most noticeable tsunami landmark in town is the massive museum dedicated to the tsunami, built in the city centre during reconstruction. Visitors enter through a dark, cave-like tunnel, water running down the high walls to the sound of echoing, almost monastic, chants. In one narrow, high-ceilinged tower inside the museum, names of victims are displayed on the wall, and only receive light from a small, round window at the top.
Its director, Zuhardi Hatta, says the museum is essential "to remember the hundreds of thousands of people we lost." But many have found its high cost hard to swallow – the local tourism department says 150 billion Indonesian Rupees (£7.7m) has already been spent on it. People also complain there is not much inside. Even Mr Mangkusubroto, whose reconstruction agency contributed to building the museum, is less than positive.
"I don't regret that we built a tsunami museum. The structure is good and it's a beautiful building. But you go inside, you see nothing. There is no soul in this museum," he says. Azhari Aiyub, who runs a local cultural centre, calls the museum a waste of money, and says it's "ridiculous."
"I went there yesterday, I saw all these people taking pictures, smiling. This is not about sadness, this is entertainment," he says.
But the local authorities are proud that the museum has been conceived to serve as an escape building in case of a new disaster alert. "It can resist 12 to 15m waves and hold around 3,000 people," Mr Hatta says.
Authorities have made disaster prevention a priority. Other escape buildings have been built, and people have been educated on evacuation procedures.
The country's meteorological agency monitors potential earthquakes and tsunamis, a warning alert system has been put in place, and signs indicating the route to the nearest escape-building have been placed across the city.
The disaster prevention system has also been criticised – the warning sirens failed to ring during an earthquake in 2012 – but locals say they're now prepared.
Rusmaizar, a 48 year-old fisherman living near the small port of Deah Glumpang in Banda Aceh, says "everyone ran straight to the escape building" following the 2012 earthquake. In case of a new disaster, "people will know what to do," he says.
Reuse content