At least two Britons are feared missing following deadly blizzards and avalanches in Nepal, according to local authorities.
They have not been officially named and the Foreign and Commonwealth Office said it was "not aware" of any British nationals affected by the disaster.
But friends of 31-year-old Lizi Hamer, who lives in Singapore, have not been able to contact her since she went trekking in the Annapurna range on Wednesday.
It was one of several areas of the Himalayas hit by blizzards and avalanches that day that killed at least 29 people.
The rescue operation continues and around 220 people have been taken off the mountains but many people are still missing and there are fears the death toll could rise as bodies are recovered.
Ms Hamer wrote in her most recent Facebook post in the early hours of Wednesday morning that she was starting the trek with friend Lisa Walton, although it was unclear whether they set off.
Family members and friends have appealed on the internet for the pair to get in contact.
Survivors of the disaster said they were caught off-guard when the weather changed quickly along high-altitude trekking routes in northern Nepal.
Paul Sherridan, 49, a police sergeant from Doncaster who survived the blizzard, claimed people had been "herded to their deaths" in the Annapurna range.
He said a bad weather forecast meant they should have been prevented from going up the mountain in the first place.
"They were herded up that mountain to their death," he told BBC Radio 4.
Mr Sherridan was half way through a month-long trip with friend Steve Wilson when the storm struck.
He said: "My view is that this incident could have been prevented. I knew the weather forecast before I set off.
"Having spoken to my guide, who wasn't there but obviously has been there, they say that the weight that the porters carry is so great that they leave their own personal safety equipment behind to lighten their load. That to me is an absolute disgusting folly.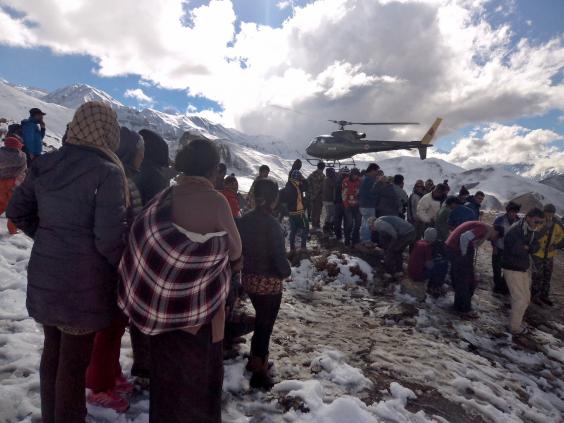 "All they are doing is leading people to a certain death, and themselves.
"If someone had taken the responsibility just to stop people going up there, I'm sure the fatalities would have been a lot less."
He and hundreds of others eventually found their way to safety by following a line of poles down the mountainside for two hours.
The snowstorms and avalanches were caused by the tail end of Cyclone Hudhud, which had previously caused flooding and storm damage across India.
At least 29 people had been confirmed killed by Thursday and dozens more are still taking shelter in isolated mountain huts.
The dead and injured include foreign travellers as well as Nepalese guides and local villagers caught in the storms, which struck at the height of the climbing season.
Five Canadians, three Indians and three Nepalis were among the victims but the nationalities of several bodies have not been confirmed.
Most of the affected people were on or near the popular Annapurna circuit, a 140-mile trail through the Annapurna mountain range. Mount Annapurna is the 10th highest mountain in the world.
Five climbers were killed in a separate avalanche about 45 miles to the west, at the base camp for Mount Dhaulagiri.
Rescue helicopters expanded their search area on Friday as the weather improved, looking for people who took shelter in small lodges and huts along trails where deep snow made walking extremely difficult, said Baburam Bhandari, a government official of the Mustang district.
Helicopters rescued 40 trekkers on Friday, and received information about another 50 people stranded but safe in another village, he said.
Another 78 trekkers had been rescued from Mustang and 157 from the neighbouring Manang district on Wednesday and Thursday.
A government committee has been formed on the orders of the Prime Minister to monitor the rescue operation and co-ordinate the army, police and local authorities.
Additional reporting by AP
Reuse content