The British National Party (BNP) may have collapsed into political irrelevance here in the UK, but it appears to be making waves elsewhere: in Bangladesh.
Foreign Office official travel advice for people going to Bangladesh warns visitors of a "British National Party (BNP) enforced general strike (hartal) called on 15 January; reports of clashes between rival groups, arson and vandalism continue across Bangladesh".
The warning by the Government that the far-right group is at large and leading nationwide general strikes in South Asia is unlikely to be true.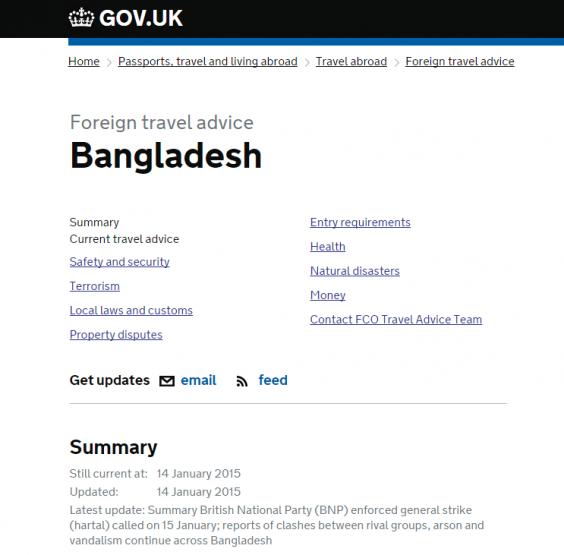 The instructions are almost certainly a misprint for a the "Bangladesh Nationalist Party", which is also abbreviated BNP.
The Bangladesh Nationalist Party did indeed call a general strike on 15 January.
If the advice were true, however, a general strike would not be the first intervention the British National Party had made abroad.
Last year former leader Nick Griffin travelled to Syria after being invited to a conference in Damascus to discuss terrorism and religious extremism with political and social figures from more than 80 countries.
BNP controversies
BNP controversies
1/13 November 2014: Controversial poster

George Gill did not give permission to the BNP to use his image or his quote, and had no idea he was the subject of a recruitment poster, calling it "disgusting"

BNP

2/13 November 2014: BNP calls for Remembrance Day minute silence – a day late

'Others forget but we remember', the BNP said of the traditional Remembrance Day silence on Twitter on 12 November, only they managed to forget the very date on which the First World War ended themselves

3/13 October 2014: Nick Griffin expelled from BNP

The British National Party expelled former leader Nick Griffin for allegedly "trying to cause disunity" in a bid to destabilise the organisation

Getty images

4/13 May 2014: Fight Back video

BNP released the Fight Back video, featuring Jack Renshaw as the leader of the BNP youth

Facebook

5/13 April 2014: BNP food banks 'are for indigenous Brits only' says Nick Griffin

Nick Griffin tweeted: "For the avoidance of doubt, our BNP food banks are for indigenous Brits only. 'Minorities' all have their own (taxpayer-funded) charities"

Getty

6/13 BNP accused of using 'food bank' handouts to win support

British National Party activists are going door to door with mobile food banks in a bid to win support ahead of the local and European elections. The far-right party has even produced a YouTube instruction video to teach volunteers how to build trust with voters in deprived areas by offering soup, teabags and washing powder on the doorstep

7/13 January 2014: Nick Griffin stars in first cookery role as BNP TV chef offering 'traditional British fare'

The BNP leader Nick Griffin appears to have made a first attempt at launching himself into a career as a TV chef, with what threatens to be the first of many cookery programmes on BNP TV. Dressed in a Help for Heroes rugby shirt and standing in his home kitchen, Mr Griffin talks the viewer through his recipe for a beef stew, in a video posted to YouTube entitled "Recipe for beating the Tory blues"

YouTube

8/13 January 2014: BNP leader Nick Griffin declared bankrupt

BNP leader Nick Griffin announced his bankruptcy claiming the declaration made him happy as it freed him from "financial worries"

Getty Images

9/13 December 2013: BNP wish members a 'White Christmas' in racist looking greetings card

The far-right British National Party's (BNP) Christmas card appeared on its website, and features the sinister slogan: "Wishing you a White Christmas". Signed from the party's leader Nick Griffin and the BNP, a photo of a blonde-haired Caucasian girl holding a white box wrapped with a red ribbon appears on the front. The gift is tagged with a heart-shaped BNP logo. According to the BNP website, recipients included those officially signed up to the party, as well as "various people in the media, bishops and opposition politicians" 

British National Party

10/13 June 2013: BNP and anti-fascists clash on the streets of London

At least 58 people were arrested in London after anti-fascist demonstrators clashed with British National Party members outside the Houses of Parliament. The far-right group's march was one of around 60 planned across the country to mark the death of Drummer Lee Rigby, murdered in Woolwich

Rex Features

11/13 June 2013: Nick Griffin urges supporters to ignore police ban on planned march at scene of Drummer Lee Rigby's brutal murder

The leader of the far Right British National Party Nick Griffin urged his followers to ignore a police ban on the organisation's planned march near the scene of the brutal murder of Drummer Lee Rigby in Woolwich. The call comes despite police warnings that any BNP members who try to demonstrate in south east London risk arrest

Getty

12/13 November 2012: Nick Griffin makes B&B gay couple tweets

Michael Black and Jonathan Morgan were told they could not stay at a guesthouse by its Christian owner, who was later prosecuted for discrimination. Following the decision to take action against the guesthouse owner, Mr Griffin had urged his Twitter followers to demonstrate outside the couple's home. As a consequence they had a police presence at their house for several days

GETTY IMAGES

13/13 July 2012: The General Synod of the Church of England clears the way for a ban on clergy membership of the BNP

Members of the Church's national assembly gave final approval to legislation making it "unbecoming" or "inappropriate" conduct for clergy to be members of a political party with policies and activities declared "incompatible" with Church teaching on race equality

Getty
He claimed to have done "nearly a dozen" media interviews in one day with the Syrian media. He had also visited the country the year before.
The British National Party is a far-right group which won two MEPs in the 2009 European Parliament election under Mr Griffin.
Mr Griffin has since left as leader of the party, which has collapsed into infighting. It lost both its European representatives in the 2014 elections and nearly its entire local councillor base.
Its policies, widely criticised as racist, have included the repatriation of non-white citizens.
Reuse content