Tony Abbott has called Australia's state broadcaster ABC "out of control" after it broadcast an offensive tweet about the much-derided prime minister.
During a debate on whether politicians' social media feeds were more honest than their memoirs, Q&A, a weekly panel discussion programme, featured a live tweet from a viewer.
The tweet itself was harmless, reading: "I prefer ones twitter feed to their biographies". But the handle listed below it on screen, "AbbottLovesAnal", prompted outrage and was soon trending on Twitter nationwide.
ABC apologised for the tweet, which comes at a difficult time for relations between the government and the state broadcaster.
The Coalition has accused ABC, and in particular the producers of Q&A, of anti-government bias ever since the programme allowed former terror suspect Zaky Mallah on as an audience member to question junior minister Steve Ciobo live on air.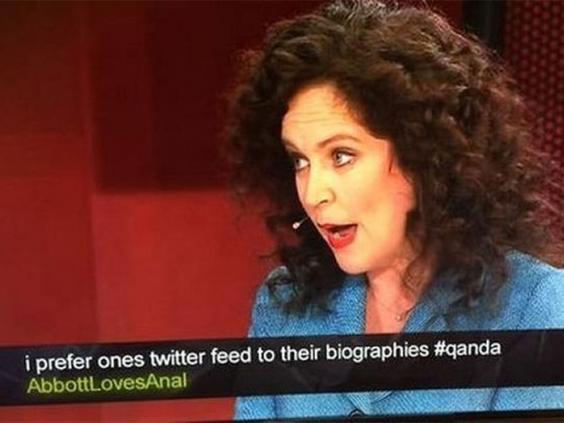 An inquiry into ABC was launched by the government after it then chose to rebroadcast the episode, and Mr Abbott said he thought "heads should role".
Speaking on Tuesday morning, Mr Abbott said he was yet to respond to an apology text sent by ABC managing director Mark Scott.
He said: "I just hope that the ABC management get on and do what they said they were going to do with that programme.
"I think it is a bit out of control and I think it's important for the ABC not just to talk about tighter management structures, tighter management control on that particular programme, but actually do it."
Crazy things Tony Abbott's said (mainly about women)
Crazy things Tony Abbott's said (mainly about women)
1/16 1979

"I think it would be folly to expect that women will ever dominate or even approach equal representation in a large number of areas simply because their aptitudes, abilities and interests are different for physiological reasons."

Rex

2/16 March 17th, 2004

"Abortion is the easy way out. It's hardly surprising that people should choose the most convenient exit from awkward situations."

Getty

3/16 March 17th, 2004

"Why isn't the fact that 100,000 women choose to end their pregnancies regarded as a national tragedy approaching the scale, say, of Aboriginal life expectancy being 20 years less than that of the general community?"

Getty

4/16 November 9th, 2006

"I won't be rushing out to get my daughters vaccinated [for cervical cancer], maybe that's because I'm a cruel, callow, callous, heartless bastard but, look, I won't be."

Rex

5/16 February 2nd, 2010

"The climate change argument is absolute crap, however the politics are tough for us because 80 per cent of people believe climate change is a real and present danger."

Getty

6/16 February 11th, 2010

"We just can't stop people from being homeless if that's their choice."

Getty

7/16 2010

"While I think men and women are equal, they are also different and I think it's inevitable and I don't think it's a bad thing at all that we always have, say, more women doing things like physiotherapy and an enormous number of women simply doing housework."

Getty

8/16 2010

"I'd probably say I feel a bit threatened… as so many people." On homosexuality.

Rex

9/16 April 5th, 2010

"Jesus knew that there was a place for everything and it's not necessarily everyone's place to come to Australia."

Getty

10/16 2010

On indigenous Australians "There may not be a great job for them but whatever there is, they just have to do it, and if it's picking up rubbish around the community, it just has to be done."

Getty

11/16 2013

"If you want to know who to vote for, I'm the guy with the not bad looking daughters".

Getty

12/16 January 27th 2014

"I would say to my daughters if they were to ask me this question... [their virginity] is the greatest gift that you can give someone, the ultimate gift of giving and don't give it to someone lightly, that's what I would say."

Rex

13/16 May 2014

"I shouldn't have done it... I should've been more focused on the caller and less focused on the interviewer." After winking at a radio show presenter while taking a call from a listener.

Getty

14/16 October 2014

"I am going to shirtfront Mr Putin – you bet I am – I am going to be saying to Mr Putin Australians were murdered, they were murdered by Russian backed rebels."

Getty

15/16 November 2014

"A good economy is good for the environment…As the world's largest producer of coal, I'd like to stand up for coal." At G20 summit

16/16 May 2015

'Nope, nope, nope': Tony Abbott makes it very clear that Australia will not accept any Rohingya Muslims fleeing systematic persecution in their home country of Burma

AFP
ABC said in a statement that a formal letter of apology would be sent to Mr Abbott. "Q&A handles a very high volume of tweets during its live broadcast every week," it said. "Last night's program was no different and contained a vibrant discussion on a range of topics and featured some lively Twitter exchanges.
"This particular tweet was not published on purpose and the ABC regrets any offence caused."
While one rogue tweet cannot represent the thoughts of the general public, the incident came as it emerged that Mr Abbott had dropped behind the opposition Labor leder Bill Shorten in popularity ratings for the first time since May.
The latest Newspoll survey, published in the Australian, showed personal dissatisfaction with the prime minister's performance was up two points, and an election tomorrow would result in an emphatic loss for his government.
Reuse content