It was Australia's national day – but many Australians, waking to the news that their Prime Minister, Tony Abbott, had made Prince Philip a Knight of the Order of Australia, wondered if it was really April Fool's Day.
Last year, the Prime Minister was ridiculed for reviving Australian knighthoods and damehoods, after they were abolished in 1976. Today, his most loyal supporters questioned aloud his decision. "We're expected to go out and defend it," fumed one MP, calling it "beyond the call of duty", according to the Sydney Morning Herald.
A cabinet minister described the move as "stupid", while Adam Giles, chief minister of the Northern Territory and usually on Mr Abbott's political wavelength, lamented: "It's Australia Day, we're not a bunch of tossers."
The decision was all the more extraordinary given that, barely a year after he swept the Labor Party out of office, Mr Abbott is already so unpopular that there is talk of him being ousted by his own conservative Liberal-National coalition.
Crazy things Tony Abbott's said (mainly about women)
Crazy things Tony Abbott's said (mainly about women)
1/16 1979

"I think it would be folly to expect that women will ever dominate or even approach equal representation in a large number of areas simply because their aptitudes, abilities and interests are different for physiological reasons."

Rex

2/16 March 17th, 2004

"Abortion is the easy way out. It's hardly surprising that people should choose the most convenient exit from awkward situations."

Getty

3/16 March 17th, 2004

"Why isn't the fact that 100,000 women choose to end their pregnancies regarded as a national tragedy approaching the scale, say, of Aboriginal life expectancy being 20 years less than that of the general community?"

Getty

4/16 November 9th, 2006

"I won't be rushing out to get my daughters vaccinated [for cervical cancer], maybe that's because I'm a cruel, callow, callous, heartless bastard but, look, I won't be."

Rex

5/16 February 2nd, 2010

"The climate change argument is absolute crap, however the politics are tough for us because 80 per cent of people believe climate change is a real and present danger."

Getty

6/16 February 11th, 2010

"We just can't stop people from being homeless if that's their choice."

Getty

7/16 2010

"While I think men and women are equal, they are also different and I think it's inevitable and I don't think it's a bad thing at all that we always have, say, more women doing things like physiotherapy and an enormous number of women simply doing housework."

Getty

8/16 2010

"I'd probably say I feel a bit threatened… as so many people." On homosexuality.

Rex

9/16 April 5th, 2010

"Jesus knew that there was a place for everything and it's not necessarily everyone's place to come to Australia."

Getty

10/16 2010

On indigenous Australians "There may not be a great job for them but whatever there is, they just have to do it, and if it's picking up rubbish around the community, it just has to be done."

Getty

11/16 2013

"If you want to know who to vote for, I'm the guy with the not bad looking daughters".

Getty

12/16 January 27th 2014

"I would say to my daughters if they were to ask me this question... [their virginity] is the greatest gift that you can give someone, the ultimate gift of giving and don't give it to someone lightly, that's what I would say."

Rex

13/16 May 2014

"I shouldn't have done it... I should've been more focused on the caller and less focused on the interviewer." After winking at a radio show presenter while taking a call from a listener.

Getty

14/16 October 2014

"I am going to shirtfront Mr Putin – you bet I am – I am going to be saying to Mr Putin Australians were murdered, they were murdered by Russian backed rebels."

Getty

15/16 November 2014

"A good economy is good for the environment…As the world's largest producer of coal, I'd like to stand up for coal." At G20 summit

16/16 May 2015

'Nope, nope, nope': Tony Abbott makes it very clear that Australia will not accept any Rohingya Muslims fleeing systematic persecution in their home country of Burma

AFP
With federal politicians preparing to return to Canberra next month after the long summer break, Mr Abbott had been expected to put the annus horribilis of 2014 behind him and squash the leadership speculation by starting 2015 in decisive fashion.
Instead, "Libs must wonder who can help a PM apparently determined to be seen as a joke", tweeted respected political journalist Laurie Oakes.
Libs must wonder who can help a PM apparently determined to be seen as a joke. #jokeknighthood

— LaurieOakes (@LaurieOakes) January 25, 2015
Conservative commentators were aghast. "Is there no one in the [Mr Abbott's] office capable of uttering the simple phrase 'This is a dumb idea that is all pain and no gain'?" asked Chris Kenny, a columnist.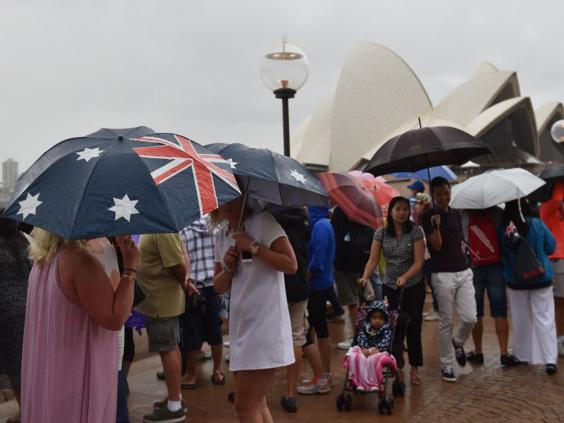 Mr Abbott dismissed critics, describing Prince Philip as "a great servant of Australia".
Although Australians, like many Commonwealth subjects, are enamoured with the younger royals, the Queen's husband of 62 years is less well regarded. Today there were fond recollections of the Duke's many gaffes, particularly an incident in 2002 when he asked an Aboriginal leader and businessman, William Brim: "Do you still throw spears at each other?"
Reuse content