The largest of the wildfires wreaking havoc across New South Wales was started by the Australian military, investigators have found.
One man has died and more than 200 homes destroyed in the country's most populous state since Thursday as a result of more than 100 different fires.
Investigators were called after reports that the biggest of them, near the city of Lithgow to the west of Sydney, started at around the same time as the army was performing training exercises.
Today, the Rural Fire Service issued a statement which said the blaze "was started as a result of live ordnance exercises" at an army range.
Though it has not caused any deaths or injuries, as the single biggest fire it has burned through 47,000 hectares (180 square miles) of land and destroyed a number of homes. It was only downgraded from the highest emergency category this morning.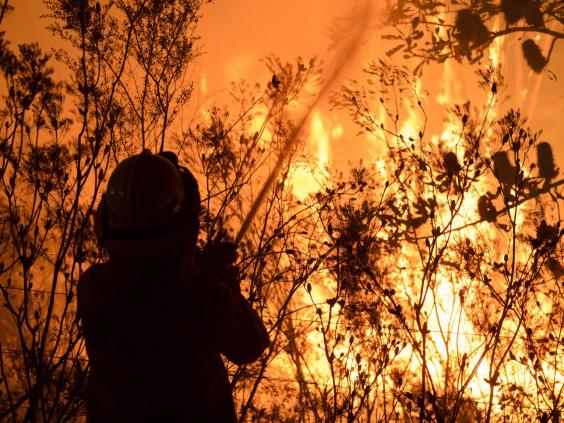 The Australian Defence Department said it would not comment further on the fire service investigators' findings, but it had previously confirmed it was engaged in exercises at the time and has been carrying out its own inquiries.
The news drew anger from Mark Greenhill, mayor of the community of Blue Mountains, which has been ravaged by several of the fires over the past week.
"I would have hoped on a day like that — which was a dry day, a hot day, with the winds — the Australian military would have known it wouldn't be a good time to be igniting," Greenhill told the Australian Broadcasting Corp.
New South Wales Premier Barry O'Farrell came to the military's defence, however.
"I want to ensure that this doesn't detract from the efforts that Defence have made over the past week in assisting the state's emergency services battle these fires," he told the Seven Network.
Meanwhile, winds that were fanning wildfires and showering embers on threatened communities eased late Wednesday, after scores of Blue Mountains residents evacuated their homes.
Residents were told they could return to their homes on Wednesday night, as cool weather settled across the region and fears lifted that the fires could spread and threaten homes. There were no reports of property loss or injuries on Wednesday.
While many hours of firefighting are still to come, "the broader risk to a much larger, more widespread population has certainly eased", Rural Fire Service commissioner Shane Fitzsimmons said.
Additional reporting by The Associated Press
Video: Firefighting drones to battle fires in future
Reuse content