Rebecca Cameron was one of the lucky ones. The flames that destroyed half the houses in her street, Emma Parade, came within a couple of metres of her front door. Only swift action by her next-door neighbour, who pumped water out of his swimming pool, saved her home.
That was last Thursday, when bushfires flared up across New South Wales, amid high winds and baking heat normally only seen in midsummer. But Ms Cameron barely had time to count her blessings, before fire authorities warned of even worse conditions ahead, with forecasts today of temperatures in the high 30s Celsius and wind gusts of up to 100kph.
So she and other residents of the Blue Mountains, west of Sydney, where nearly 200 homes were obliterated last week, spent the day battening down the hatches – hosing their roofs and yards, chopping back combustible native vegetation, and filling every available receptacle (fish tanks, wheelie bins, bathtubs) in case of another fiery onslaught.
The fear in small communities such as Winmalee, where Ms Cameron lives, was that hot winds would whip up massive fires still raging, their combined fronts covering several hundreds of kilometres, as well as sparking new conflagrations. "It's scary, but I grew up in the mountains, and you get used to it," she said, giving her charred front garden another drenching.
Down the road, Ron Fuller surveyed the ruins of his three-bedroom home, which he built 23 years ago on a ridge overlooking the picturesque Grose Valley. His 19-year-old son, Harry, was the only one home when fire ripped through the valley last week, raining lethal embers on Winmalee. Harry grabbed the family's laptops and his bass guitar, jumped in his car and fled.
"There was thick black smoke all around, and the winds were just ripping the trees out of the ground. It was incredible," said Harry, wandering through the wreckage of his bedroom. Ron was systematically sifting rubble in the hope of finding some of his wife's jewellery.
Across the Blue Mountains, residents were weighing advice by the commissioner of the state's Rural Fire Service, Shane Fitzsimmons, to leave by this morning. Mr Fitzsimmons warned that conditions would be "about as bad as it gets", adding: "There is a very real potential for more loss of homes and loss of life." A 63-year-old died of a heart attack last week while defending his house on the Central Coast, north of Sydney.
While cooler weather on Tuesday allowed fire crews to carry out defensive back-burning operations, they were unable to slow the advance of the major fires. Hundreds of tankers and engines were sent in from around the state in readiness for today, while extra firefighters were drafted in from Melbourne and Queensland.
Despite a light drizzle, the air in Winmalee was smoky, and ash swirled in the air. Three nursing homes in the nearby hamlet of Springwood were evacuated, and in the main street shoppers coughed and rubbed their eyes. All Blue Mountains schools will be closed today.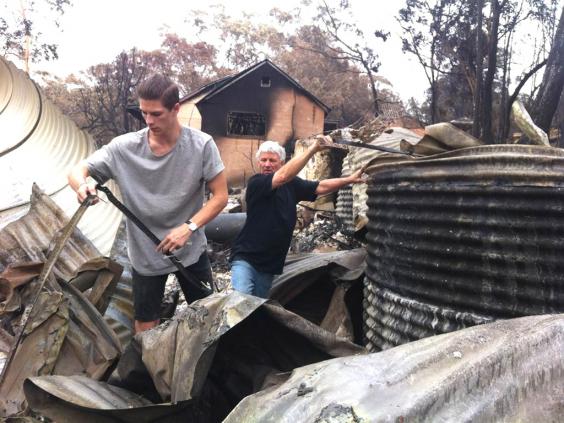 In Emma Parade, 83-year-old Margaret Schutte was filling buckets and moving wooden furniture inside. She planned to pack bags for herself and her husband, Jan, 85, and turn the car around in the driveway, so they could make a quick getaway. "I'm frightened, and my husband is very affected," she said. "He said the street [with its rows of ruined houses] looks just like a war zone. It looks like when he was a little boy growing up in Holland during the war."
The couple moved to Winmalee six years ago from Wentworth Falls, higher up the mountains, because of the frequent bushfires there. "We thought we'd be better protected here," said Margaret. "But we've had enough. We want to move into town, perhaps into a retirement village."
The Fullers are already planning to rebuild in the same spot, and looking to the future. "We can have a whole new life, build something different, facing in a different direction, with more sunshine," said Ron.
Like many other stricken residents, his family would not dream of leaving the mountains. "It's no different to living in a floodplain – you know a flood's going to come through some time," he said. "If you live in the bush, you know the bush is going to burn some time."